Edison Outdoor Ice Skating Rink
November 20, 2019 - The outdoor ice skating rink in Edison is now open for the 17th season.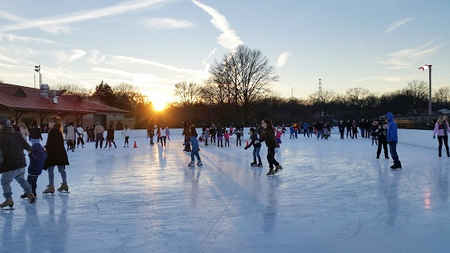 Located in Roosevelt Park adjacent to the Menlo Park Mall on Parsonage Road, Edison's Family Outdoor Ice Skating Rink offers recreation and fun for the entire family.
Besides the open skating, the rink is also available for birthday parties and private events.
If you're tired of eating at
Oak Tree Road Indian restaurants
, you can try
Skate Zone Cafe
concession stand at the rink for a change.
Skate Zone Cafe
offers a range of hot and cold beverages and snacks like chicken nuggets, hamburgers, pizza, mozzarella sticks and grilled cheese sandwiches.
Edison Ice Skating Rink - Location & Hours
The Roosevelt Park
151 Parsonage Road
Edison, NJ 08837
Information Line: 732-494-3785
During Rink Hours: 732-494-2980
Weather Hotline : 732-745-4484
Skating Season
- November 20, 2019 to March 29, 2020
Hours
:
Wednesday-Friday: 5PM-9PM
Saturday, Sunday & Holidays: 12:30PM-2:30PM, 3PM-5PM, 6:30PM-8:30PM
Christmas Eve & New Year Eve: 12PM-2PM & 3PM-5PM
Closed Mondays, Tuesdays, Thanksgiving day & Christmas Day
Admisssion Fees
(includes sales tax):
Adults: $6
Seniors, Children 17 & under: $5
Skate rental: $5
Skate sharpening: $8