How to Enjoy Your Wkend on Oak Tree Rd

Little India - Weekend Thrills
On the U.S. East Coast, it's hard to beat
Oak Tree Road
that runs from Iselin to Edison and all the way up to South Plainfield (morphing into Oak Tree Avenue along the way) as the No-1 shopping and dining destination for Indians.
Oak Tree Road is known as
Little India
because of the sheer number of
desi
jewelry stores, restaurants, grocery stores, Dum Biryani places, Paan stores, fashion boutiques, temples and beauty parlors dotting the street.
Sleepy during week days, Oak Tree Road comes to life during the weekend with Gujjus, Punjabis, Tamils, Telugus and other Indians descending on the area like a swarm of locusts.
Here's a list of activities you can delight in during your upcoming weekend visit to Oak Tree Road
10:30AM - Hindu Temple
Start your visit to Oak Tree Road with prayers at the nearby
Shirdi Sai Mandir
on RT-27.
Shirdi Sai Baba (1838-1918) was a respected Hindu
Guru
, worshipped by people of all religions.
Christians can drop by at the
church
on Middlesex Ave (adjacent to the parking lot) in Iselin and revel in the glory of Jesus Christ.
Even if you're not a believer in any God, a visit to a religious place can be an interesting experience.
11AM - Tiffin
Fortify yourself with some Samosa Chaat and Pani Puri at Jassi Sweets, Raj Bhog, Cafe Royal Paan, or Moghul Express before tackling the day.
Try some Rabri at Talk of the Town in the Nazrana Plaza.
If you're hankering for South Indian treats, go for a plate of Idli and Medhu Vada at Swagat, Dosa Express or Kamat Dosa.
Eat light because there's still the lunch buffet ahead.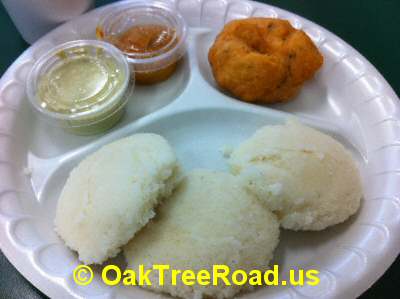 Idly, Vada on Oak Tree Road
11:30AM - Shopping
Get a new dress for the upcoming party or festival like Diwali or Christmas.
Don't forget the visit to the beauty parlor (Kangan) to get your eyebrows done, hair trimmed or more elaborate work if you're attending a party or wedding.
If a big event like marriage is imminent, drop some big $$$ for gold and diamond jewelry (Raj Jewelers, Premji Valji, Virani, Rajni Jewelers, Pinto Jewelers, Sona Jewelers etc).
12:30PM - Indian Grocery
Oak Tree Road is not short of Indian grocery stores.
There's Patel Brothers, Subzi Mandi, India Grocers and Apna Bazaar.
Stock up for the week on Basmati Rice, Atta, Green Chilies, fresh vegetables like Tindora, Karela, Baingan, etc.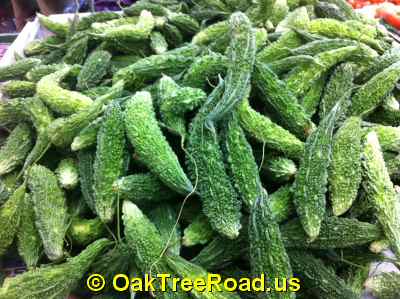 Karela on Oak Tree Road
Pick up novelties like Kolhapuri Techcha (chili garlic pickle), South Indian Murukku, a bottle of Limca or some heat-and-eat Paneer Masala curry packet from the frozen food section.
If it's summer, get some mangos to take home.
1:30PM - Lunch Buffet / Thali
It'd be a sin to visit Oak Tree Road during the weekend and not stuff yourself to the gills with an all-you-can-eat buffet.
Several Indian restaurants on Oak Tree road offer a 40 or 50 item
Grand Lunch Buffet
during weekends.
Oak Tree Road offers both North Indian and South Indian buffet options.
If you're inclined toward North Indian food, there's Tabaq, Moghul, Rasoi and Urban Spice.
South Indians will find Karaikudi, Red Chutney and Mirchi more to their tastes.
Brahmins and other vegetarians need not despair since they can head to a South Indian or Gujarati vegetarian restaurant for a
vegetarian buffet or thali
.
Jump on the Navratan Korma, leap on the Chili Chicken and Paneer 65, dig into the Tandoori Chicken and Hara Bhara Kabab, go wild on the Lamb Vindaloo.
Hog on the assortment of Indian spicy delights till your stomach is ready to burst.
But make sure to leave room for Ras Malai, Gajar Halwa and Gulab Jamun.
After a heavy meal, you must park yourself somewhere for a couple of hours.
What better place to rest your legs and catch your breath than at a
desi
movie house.
3PM - A Bollywood Movie
Catch an Indian movie at Big Cinemas on Oak Tree Road (or snooze in AC comfort).
Drool over the crazy antics of your favorite Indian star - Ileana, Sonakshi Sinha, Deepika Padukone, Salman Khan, Shahrukh Khan, Akshay Kumar, Allu Arjun, Ram Charan Teja, Vijay, Ajith, Surya etc.
Latest Hindi, Tamil, Telugu and Malayalam movies play at the Big Cinemas. So you'll be watching what your friends and relatives are seeing in India.
Don't forget to sneak in some Samosas (a far superior alternative to the pricey theatre popcorn).
6PM - Snack Time
After the movie, leave the Big Cinemas complex and make a left turn on Oak Tree Road.
Head to Swadisht in the
Sugartree Plaza
on Oak Tree Road.
Order a Masala Dosa and a Tomato Uttapam.
Top it off with a South Indian coffee.
6:45PM - Take Out
Pick up some Indian-Chinese food at Chopsticks (two doors from Swadisht) or Calcutta Chinese (at Kumar Soni Plaza).
If you're a vegetarian, go for Gobi Manchurian and Chilli Garlic Noodles.
Meat-eaters have dependable favorites in Chilli Chicken, Kai Chi (Drums of Heaven) and Chicken Manchurian.
Don't forget to pack some spicy Dum Biryani at Dakshin Express, Trupti, Hyderabad Bawarchi Biryani or Paradise Biryani Pointe.
Of course, you must buy a pound of assorted sweets at Tabaq, Anmol, Shalimar Sweets, or Jassi Sweets.
God
created Indian sweets when he was in his best mood!
7:15PM - Head Back Home
Time to return home.
Wait for the next weekend when you can escape the drudgery of daily life with another visit to Oak Tree Road.
See you next week on Oak Tree Road.