Indian Dinner Buffets in Edison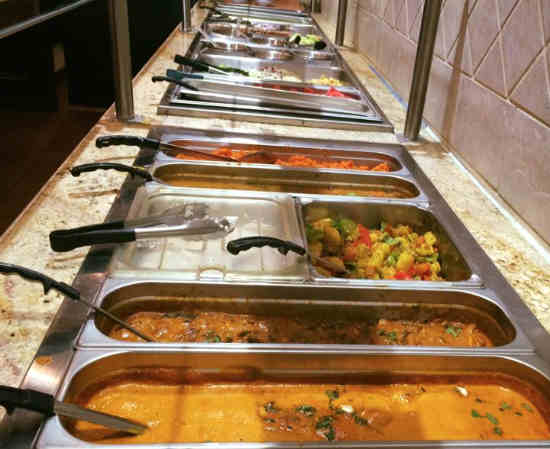 While lunch buffets are common at New Jersey Indian restaurants, dinner buffets are still an unusual feature.
Even in Middlesex County, the epicenter of New Jersey Indian restaurants,
desi
dinner buffets are rare.
Only a few Indian restaurants in Middlesex County offer dinner buffets.
Indian restaurants provide value only for buffets. Given the dicey quality and habitually poor service at Indian restaurants,
a la carte
prices are usually a rip-off. So your best bet at an Indian restaurant is either a lunch or dinner buffet.
Some Edison restaurants like Saravana Bhavan do not offer dinner buffets but offer dinner
Thalis
and mini-meals.
Here're a few Indian restaurants on Oak Tree Road and neighboring areas that offer dinner buffets or
Thalis
:
Dinner Thali

Edison, NJ 0880
Dinner: $9.95 (Gujrati);
$10.99 (Kathiawadi)


Oak Wood Plaza
Edison, NJ 08820

Edison, NJ 08820
Veg Thali - $11, Non-Veg Thali - $13
Dinner Buffet
Rajdhani

1667 Oak Tree Rd
Edison, NJ 08820
Dinner Buffet - $12.95 6:30PM-9:30PM


Disclaimer: We are not responsible for any changes/mistakes in Oak Tree Road Indian buffet / thali prices listed above.