Shalimar Sweets Iselin NJ Review
Shalimar Sweets: Disappointing Indian & Pakistani Sweets
I am no stranger to Indian and Pakistani sweets peddled by Pakistani restaurants.
I have had sweets from Pakistani restaurants like
Mithaas, Gourmet Sweets
and
Bukhari
on Coney Island Ave in Brooklyn, and
Gourmet Sweets
in Jackson Heights and Atlantic City.
I found them delicious and never felt disappointed with Indian sweets peddled by Pakistani restaurants in New Jersey and New York until I visited
Shalimar
on Oak Tree Road in Iselin.
Problems Galore
When I spotted Shalimar's sign board with the tag line
King of Sweets and Restaurant
, I impulsively decided to buy assorted sweets.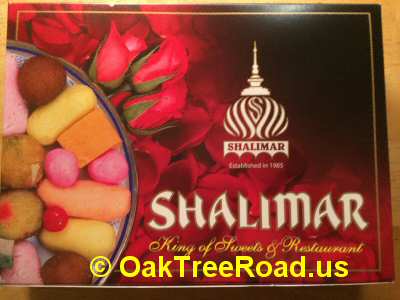 What a Big Disappointment
Following my impulse, I placed an order for one pound initially and subsequently changed the order to one and half pounds.
In retrospect, I should not have stepped into Shalimar at all to purchase sweets.
The old lady at the counter seemed to be in an irritated mood.
And her irritation level increased when I changed my order from one pound to one and half pounds.
You see, I increased the quantity of my order because I couldn't get my favorite Habshee Halwa included since the counter woman declared the weight was already one pound.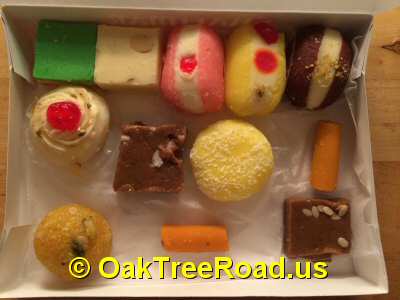 Assorted Sweets - $14 for 1 1/2 Pounds
Unlike other Pakistani restaurants, sweets at Shalimar Oak Tree Road are pricey. At other places like Gourmet Sweets in Atlantic City the assorted sweets are $7 a pound. And Shalimar charges $9 a pound and I shelled out a total of $14 for one and half pounds.
As if the rip off price and rude service were not bad enough, Shalimar sweets turned out to be disappointing overall on freshness and sweetness.
Here's my miserable experience:
Habshi Halwa suffered badly from low sugar and it felt like we were eating boiled milk paste rather than a mithai item. The only good thing about it was the dry nuts.
Pink Khoya Chum Chum was low on sweetness and the khoya stuffing in the middle was lacking in freshness.
Cherry Khoya Chum Chum could have been little more moist. Like the other sweets, it was low on sugar.
Kala Jamun was equally bad and the inside cream / khoya had a stale taste.
Yellow Khoya Chum Chum suffered from lack of freshness and did not have enough sugar.
Badam Roll was not in the least bit fresh.
Despite inclusion of Coconut, Yellow Coconut Chum Chum packed very little sweetish taste.
Motichoor Ladoo had two issues - low on sweetness and low on flavor. Seriously, if a desi sweets store can't get Motichoor Ladoo right, does it have any reason to be in business.
Tri-Color Barfi, like the other Mithai, suffered from low sugar.
Barfi with Nuts tasted fresh but suffered from excessive sweetness.
Shalimar Sweets Rating
If you crave Indian sweets, avoid Shalimar Sweets on Oak Tree Road in Iselin.
These guys are clueless when it comes to getting the basics of
Mithais
right.
Overall, sweets peddled by Shalimar turned out to be a mighty disappointment and a total waste of money.- ©
OakTreeRoad.us