Phantom - Every Indian's Wild Fantasy
Actors
: Saif Ali Khan, Katrina Kaif
Story
: Kabir Khan, Parveez Shaikh
Director
: Kabir Khan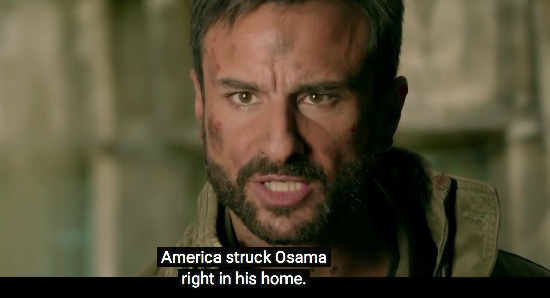 Kabir Khan's new Bollywood movie
Phantom
is a 2:15 hour taunt at India's impotency.
Nearly seven years after Pakistan's sadistic attack on Mumbai via 10 semi-literate rustic blockheads, India has still been unable to respond to the carnage and bring the culprits to justice.
Besides the tragic loss of 166 lives and injuries to hundreds, the Mumbai attacks exposed to the world the utter impotency of the Indian state and its people.
Indians are good at bitching, moaning and bragging but when it comes to responding to insults or injuries, the pussies run for the hills.
Phantom Movie
Featuring Bollywood's sole
Flop Khan
(who goes by the earthly name of Saif Ali Khan) and the British import Katrina Kaif,
Phantom
is a fanciful revenge tale that has no bearing in logic or reality.
Although Indians have miserably failed to punish Pakistan's atrocities in the real world, they do so without much sweat in the reel world.
Saif Ali Khan plays a disgraced Indian Army officer Daniyal Khan recruited in the name of honor by the intelligence agency
RAW
to avenge the bloody attack on Mumbai and stop future attacks.
A covert RAW operation conjures up a cockamamie plan to kill the Mumbai attack masterminds in the US, UK and Pakistan and make it all appear like accidents.
Katrina is Nawab Mistry, a security consultant for
Dark Water
(a crude shot at
Blackwater
) in London.
The movie starts with a ho-hum car chase in Chicago before retreating into a flashback six months earlier and then returns to the present.
Daniyal Khan is a one-man demolition squad.
Killing two Pak agents in London, killing the tightly guarded Pak-American terrorist David Headley in a Chicago prison, slipping into the lion's den of Pakistan and killing a powerful Mumbai attack mastermind in Lahore may be impossible hurdles for other spies, but to Daniyal Khan it's all a walk in the park. Bring it on, he seems to shout!
In a bizarre frenzy,
Phantom
shifts from Kashmir to London, Chicago, Beirut, Syria (filmed in Beirut), Lahore (filmed in India's Punjab), a Karachi jetty (likely filmed in an Indian port), the high seas where the intrepid patriot Daniyal Khan makes the ultimate sacrifice leaving his lady love to be rescued by an Indian submarine, and finally to Mumbai where the murderous attacks happened in 2008.
Stupid Farce
Director Kabir Khan is not one easily deterred by mundane challenges such as logic.
How killing a few Pakistanis will stop further attacks against India by a determined, relentless foe is not fathomable to sane minds!
For a movie that supposedly features top spies, what we encounter is unacceptable pishposh.
I fell off my chair in shock at the clumsy grotesquerie of top spooks like Daniyal and Nawab shadowing a Paki terrorist on the streets of London like high school kids.
As if to prove the loyalty of Indian Muslims to India,
Phantom's
Producer, Director, Writer, Nawab and RAW sleeper agents in Pakistan are all Muslims.
It's as if
Phantom
is telegraphing a subliminal message that Hindus are eunuchs incapable of retaliating against any insult to India's manhood.
Saif Ali Khan is a passable actor and, by Bollywood's abysmal standards, mostly endurable.
Au contraire
, Katrina Kaif is a reminder of Nabokov's Pnin, a
schlemiel
as hopelessly inept at acting as Pnin was at teaching Russian in Waindell College.
Given Sai Ali Khan's miserable track record at the box office and the Indian distaste for spy movies without item numbers, it's a certainty that
Phantom
will fail to create much ripples.
I'd be extremely surprised if
Phantom
recovers its investment.
Phantom
is a stupid farce not worth your time or money!
More Bollywood Movie Reviews
Welcome Back Review - 200% Fun
Baby Review - Maximum Fun, Minimum Junk