Parking on Oak Tree Road
Thank God, parking on Oak Tree Road Indian shopping district in Iselin is no longer a nightmare.
Parking is now plentiful and free for Indian shoppers heading to Oak Tree Road.
You can park your vehicle at any of the three different areas while shopping for gold jewlery, wedding salwars, Indian grocery or placating the hunger gods.
Middlesex Ave Church Compound Parking
Free public parking is available in First Presbyterian Church compound at the intersection of Middlesex Ave and Oak Tree Road behind the Baba Ram Dev Center.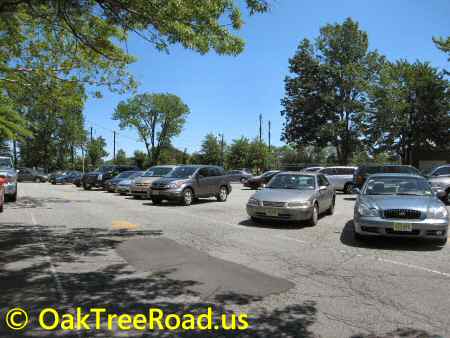 Free Public Parking in First Presbyterian Church Compound
The Church compound public parking has two entry points.
You can enter the church compound parking facility near the intersection of Oak Tree Road and Middlesex Ave oppposite Shalimar Halal Grocery store.
The other entrance is near the intersection of Middlesex Ave and Rt 27 opposite now closed Jalaram Sweets store.
First Presbyterian Church compound parking is spacious with over 100 spots available.
Street Parking
Free stree parking is also available on the main Oak Tree Road Indian shopping stretch between Correja Avenue and Middlesex Ave.
Whether you want to buy Indian grocery from Patel Brothers, grab a quick bite from Punjabi Express II or festival clothing from Sahil or pick up a Hindi movie DVD from the Indian music store, you can parallel park your car on the street and finish your shopping.
Parking in the Shopping Malls
All the major shopping destinations like Sardar Patel Plaza, Mahatma Gandhi Plaza, Sugartree Plaza, Parkway Plaza, Nazranaa Plaza, Monat Plaza, Kumar Soni Plaza, Big Cinemas complex have their own parking facilities.
If you are visiting the Indian jewelry store, fashion clothing store or a restaurant in any of these shopping centers, you can park your vehicle in the designated parking areas.
Recommendation
If you are visiting the main Oak Tree Road section between Correja Avenue and Middlesex Ave, the best and worry-free parking for your Lexus, Mercedes or BMW in my opinion is the Church compound.
No worries about getting a traffic ticket or scratches on your car in the church compound.
Related Content
Directions to Oak Tree Road
Oak Tree Road Gas Stations
Indian Restaurants in Iselin, NJ