Indian Jewelry Stores on Oak Tree Road
Oak Tree Road and its surrounding roads like Middlesex Avenue and Marconi Avenue in the Edison and Iselin areas of New Jersey are choc-a-bloc with Indian jewelry stores.
Oak Tree Road Gold Jewelry Stores
These jewelry stores sell gold biscuits as well as a wide variety of finished gold jewelry, beads, gemstones and silver jewelry.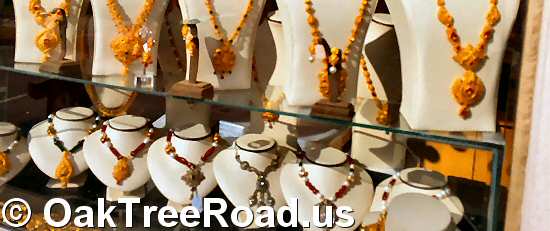 Some of the Indian jewelers in the vicinity of Oak Tree Road even offer gift items, statues of Hindu Gods like Ganesha, astrological stones and miniature Tanjore paintings.
The first Indian jewelry store on Oak Tree Road is said to have opened in 1989 but today there are about 20 stores in a one-mile radius.
While weekends are the busiest times for the Indian jewellers here, it's fairly common to see Indian women on weekdays also at these jewelry stores shopping for glittering ornaments for weddings and other festive occasions.
Whether it's to deck themselves with gold or hoard it for their daughters' wedding or for a rainy day, the Indian desire for gold shows no sign of abating.
To pander to the Indian obsession for gold, beads and diamonds, several jewelers have set up shop in New Jersey and New York.
Such is the popularity of the Indian jewellery stores in the Edison/Iselin area that they attract customers from New York, Pennsylvania, Delaware and even as far as Virginia, Maryland, North Carolina and Ontario (Canada).



Gehena

1367 Oak Tree Road
Iselin, NJ 08830



Zaveri

1393 Oak Tree Road
Iselin, NJ 08830
Indian Gold Consumption
Compared to a lot of ethnic groups, Indians have an obsession to buy and hoard gold.
According to a report in the
Times of India
, Indian households hold gold worth over $950 billion, about half of the country's GDP in dollar terms.
Our observation among friends and family suggest that Indians in the U.S. are no different from their brethren in India in their fondness to buy and hoard gold.