An Indian meal without
mithai
(sweets) is like sex without an orgasm.
I do not know about you, but I always top off my Indian meal with either Gulab Jamun, Kheer or some kind of
Mithai
.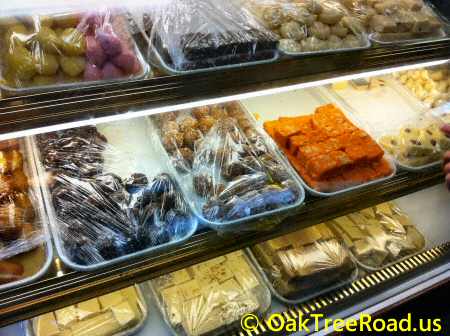 Indian Sweets Counter
Like me, if you have a sweet tooth there are several
mithai
shops in Edison and Iselin where you can satisfy your sweet cravings.
Whether it's Mango Barfi, Champakali, Chum Chum, Rasogolla, Gulab Jamun, Jalebi, Motichor Ladu, Pista-Almond Rolls, Kaju Katli, Andhra Ariselu, Kajjikayalu or any of the gazillion varieties of Indian sweets, you get them all and more.



Sukhadia's

Disappointing Sweets & Snacks


Iselin, NJ 08830



Jassi Sweets

Divine Sweets


Iselin, NJ 08830
In addition to the sweets, Oak Tree Road's Indian Sweets stores also sell spicy snacks like Kara Boondi, Plantain Chips, Mixture etc as well.



Tabaq

Hit or Miss


Edison, NJ 08820



Quality Sweets

Not So Good Quality Sweets


Iselin, NJ 08830
Oak Tree Rd & NJ Indian Sweets Stores