Demystifying Indian Food on Oak Tree Rd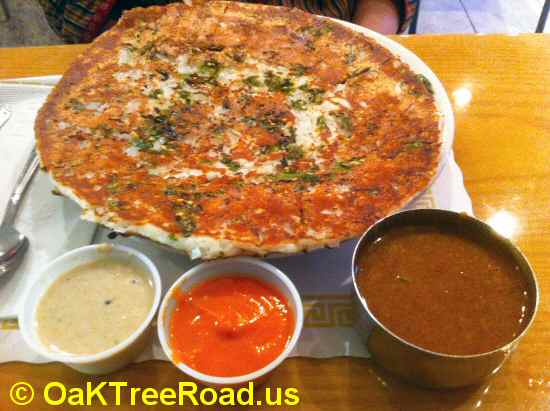 Uttappam, Chutneys & Sambar
Indian food at Oak Tree Road restaurants comes in a dizzying variety.
There's North Indian, Gujarati, Rajasthani, Punjabi, Bengali, South Indian, Chettinad and Kerala cuisine, to name just a few.
Together, the Oak Tree Road Indian restaurants offer every Indian dish you can dream of.
From South Indian favorites like Dum Biryani, Masala Dosa, Avial and Pongal to North Indian treats like Chicken Makhani, Tandoori Chicken, Dal Makhani, Paneer Tikka Masala and Kadhi, Oak Tree Road Indian restaurants offer all these and more.
Below you'll find brief descriptions of a sample of Indian food items that we've enjoyed over the last several decades at Oak Tree Road restaurants in Edison and Iselin.
Avial - A melange of Green Banana, Carrot, Suvarna Gadda or Kanda, Beans cooked in a Coconut, Ginger, Green Chillies and Yogurt Sauce.


Bhel Puri - A popular India street snack made with hard puri, puffed rice, boiled Potato, chopped Green Chillies, Cilantro, Sev toppings topped with Garlic, Tamarind and Green Chutneys/Sauces.



Masala Dosa, Chutneys & Sambar



Bisi Bele Bath - A favorite from the South Indian state of Karnataka, Bisi Bele Bath is made from Rice, Toor Dal, Red Chilli, Cloves, Cinnamon, Dhaniya and Vegetables (onion, potato, carrot, green beans).


Channa Masala - Spicy thick vegetable entree prepared with boiled Chickpeas, Onions, Tomato, Cloves, Cinnamon and other spices.


Chettinad Chicken - Spicy Chicken dish originating in the Chettinad region of Tamil Nadu in South India. Made with Pepper Corn, Cumin Seeds, Coriander seeds, Cinnamon, cardamom, Dried Red Chilly, Garlic, Ginger, Curry Leaves and, of course, Chicken.



Tandoori Chicken



Chegodilu - A fried snack prepared with rice flour, chilli powder and sesame seeds. Chegodilu is popular in South Indian states of Andhra Pradesh and Telengana.


Chole Batura - A combination of thick round Puri served with Channa Masala Curry and sliced Onions.


Chicken 65 - Spicy deep fried bar snack cum appetizer prepared with Chicken, Ginger, Cayenne Peppers, Mustard powder, Vinegar and Curry Leaves.


Chicken Manchurian - Deep fried Corn flour battered boneless Chicken seasoned with Scallions, minced Garlic and Ginger.


Dal Makhani - A medley of finely cooked Black Dal and Rajma Red Beans and seasoned with sliced Ginger and Butter.


Dum Biryani - An aromatic, flavorful rice dish made with Basmati Rice, Clove, Cardamom, Bay Leaves, Cinnamon, Ginger, Garlic, Mint leaves and cooked with Vegetables and or Chicken, Lamb, Goat on a slow flame with a tight lid covering for several hours. Dum Biryani is the Hyderabadi version of Biryani.



Idly, Medhu Vada, Chutneys & Sambar



Gongura Pulusu - A speciality of Guntur district in Andhra Pradesh, Gongura Pulusu is prepared with Dekenee Hemp or Sorrel leaves. Washed Gongura leaves are cooked in oil along with Mustard, Jeera, Bengal Gram Dal, Black Gram Dal condiments and dry Red Chilli powder seasoning. The sour Gongura Pulusu is usually served along with finely cooked plain Toor Dal seasoned with salt, sliced Onions and Ghee.


Gajar Halwa - Carrot pudding made with milk, ghee, cardamom and sugar that's popular across India.


Gulab Jamun - A popular Indian fried ball dessert made with All Purpose Flour, Sugar, Milk Powder and dipped in a thick Cardamom flavored sweet syrup.


Gutti Vankaya - Popular curry from Andhra Pradesh prepared with small round Eggplants, Coconut, Garlic, Ginger, Cinnamon, Cloves, Cardamom, dry Red Chilli and Curry Leaves.


Idli - Wildly popular breakfast item from South India prepared with Urad Dal (Black Gram Dal) and boiled rice / ravva batter fermented overnight. Usually served with Sambar, Coconut Chutney, Milagai Podi, Tomato and Ginger Chutneys.


Kadhi - Prepared from Yogurt, Coriander Seeds, Channa Dal / Basin Flour is popular in Gujarat, Punjab, Andhra Pradesh, Karnataka and Tamil Nadu. Gujarati Kadhi is sweetish while Punjabi and South Indian versions are spicy.


Lassi - Yogurt-based thick sweet drink made with mango. A salt version is also available.



Garlic Naan



Maddur Vada - Originates in the small town of Maddur in the South indian state of Karnataka. A deep fried snack made with Rice flour, Semolina, All Purpose Flour or Maida, sliced Onion and Curry Leaves.


Masala Dosa - A thin crepe prepared with Urad Dal (Black Gram Dal) and Rice. Comes in different varieties - Plain, Masala Dosa, Mysore Masala Dosa, Paneer Dosa, Ghee Roast, Paper Masala, Rava Dosa etc.


Medhu Vada - Deep fried Urad Dal battered (Black Gram Dal) fritters with Onion, Green Chilli, Black Pepper Corns seasoning.


Mirchi Baji - Chick Peas flour battered and deep fried long hot peppers stuffed with chopped onion, Ajimono Seeds and Tamarind.


Naan Bread- Unleavened bread prepared with wheat flour or all purpose flour and roasted in a Tandoor and served with a daub of butter. Garlic Naan, Onion Kulcha, Kheema Naan, and Tandoori Roti are some types of bread usually served at Oak Tree Road indian restaurants.



Gulab Jamun



Palak Paneer - A North Indian entree prepared with finely ground Spinach leaves cooked with Green Chilli and Fennel seeds and seasoned with fresh or fried Paneer cubes.


Pongal - Common to South India, Pongal is made from rice, greem dal and Ghee. Comes in sweet and spicy (black pepper) versions.


Punugulu - A deep fried crispy appetizer prepared with leftover fermented Idli or Dosa flour mixed with black Pepper Corns. Punugulu is very oily as fermented flour is used and hence very bad cholesterol friendly fritter.

Poondu Kuzhambu - Thick fried Garlic curry set in a hot Garlic, Coriander, Black Pepper, Black Gram, dry Red Chilli Powder gravy with Curry Leaves and Asafoetida seasoning from the Chettinad region of Tamil Nadu in South india.


Rasam - Hot and sour thin soup prepared with Tamarind juice, Pepper Corns, Coriander seeds with Curry Leaves seasoning.


Sambar - Thick soup made with Toor Dal, Vegetables(Onion, Carrot, Green Squash, Beans, Raddish), Tamarind, Black Pepper, Coriander Seeds, Coconut with Curry Leaves and fresh Cilantro seasoning. Mixed with Plain Rice or as an accompaniment for Dosa, Idli and Medhu Vada.


Samosa Chaat - Indian street snack made with Potato Curry filled turnovers and chopped Onion, Green Chilli, Cilantro, boiled Chick Peas, Sev toppings and Garlic, Tamarind and Date Chutneys/Sauces.


Tandoori Chicken - Chicken marinated in yogurt and a medley of finely ground Indian spices and cooked in a Tandoor (Indian clay oven).


Upma - A popular South Indian breakfast item made with Wheat/Corn/Rice Ravva, Vegetables, Ginger, Curry Leaves, Mustard, Jeera and Ghee seasoning.


Uttapam - A fat version of Dosa made from fermented flour, vegetables (Onion, Tomato, Cilantro) and Green Chillies served with Sambar and Coconut, Tomato Chutneys.
Related Indian Food Links
Indian Curry Packets on Oak Tree Road
Oak Tree Rd Biryani Restaurants
Oak Tree Rd Indian Lunch Buffet Restaurants
Oak Tree Rd Indian Vegetarian Restaurants
Oak Tree Rd Indian Sweets