Punjabi Kitchen Edison
Punjabi Kitchen Oak Tree Rd: Skip the Plight
When I heard Rajkamal vegetarian restaurant on Oak Tree Road had been replaced by
Punjabi Kitchen
, I was eager to try it out.
I love Punjabi food as it's usually spicier compared to say Gujarati or Rajasthani food.
Thali, No Buffet
Like its deceased predecessor Rajkamal, Punjabi Kitchen is a no frills restaurant without much ambiance to speak of.
Unlike its neighbors like Tabaq, Dakshin Express and Mirchi, Punjabi Kitchen does not offer all you can eat Lunch Buffet (it used to but stopped).
Instead, it offers vegetarian and non-vegetarian Thalis for lunch and
a la carte
menu after lunch hours.
There was a hand-written board behind the cash counter about the day's Lunch Thali menu.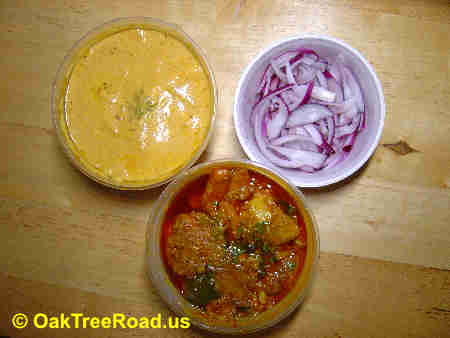 Since I visited after lunch hours, I ordered two curries (Chicken Jalfrezi and Paneer Adraki) for takeout.
Here's my take on Punjabi Kitchen's Chicken Jalfrezi ($9.99) and Paneer Adraki ($8.99):
Chicken Jalfrezi - $9.99
Set in a medium thick brown gravy, Chicken Jalfrezi included Tomato, Zucchini, Potato, Cauliflower, Capsicum and Carrot vegetables.
With just the right amount of oil, Chicken Jalfrezi looked attractive and smelled nice.
But it failed at a basic level of spice and quantity of Chicken vis-a-vis the vegetables.
Jalfrezi dishes are spicy and come packed with heat.
But Punjabi Kitchen's Chicken Jalfrezi was only mildly spiced despite requesting the lady who took my order to make it spicy and hot.
Then the proportion of vegetables to chicken was so high leading me to wonder if the restaurant had provided me with Vegetable Jalfrezi instead of Chicken Jalfrezi.
For $9.99, the serving size of Chicken Jalfrezi was small. Worse, the entree did not even come with white rice.
Paneer Adraki - $8.99
Unlike my Chicken Jalfrezi order, Paneer Adraki packed heat and was spicy.
Set in a pale yellow watery gravy, Punjabi Kitchen's Paneer Adraki included sliced fresh Ginger.
The watery gravy abosorbed the Ginger flavor nicely.
But on the negative side, Paneer Adraki included just 10 small cubes of Paneer.
And the Paneer cubes were too hard suggesting they were not of good quality.
Also, the serving size was small for $8.99.
Paneer Adraki too did not come with any white rice on the side.
Punjabi Kitchen Edison Rating
To put it simply, skip the pricey plight of Punjabi Kitchen Indian restaurant on Oak Tree Road in Edison, NJ.
Even after paying $20.31 including taxes, I was forced to cook white rice.
And Punjabi Kitchen's waitress who took my order never alerted me about absence of white rice which comes as a side to an entree at most New Jersey Indian restaurants.
The small serving size and domination of vegetables in Chicken Jalfrezi makes Punjabi Kitchen an unattractive proposition.
For the price of Paneer Adraki ($8.99) before taxes, you can get an all you can eat weekday lunch buffet available till 4PM with over 20 items at nearby Tabaq restaurant on Oak Tree Road in Edison.
If you love your wallet as much as I do, skip Punjabi Kitchen and explore alternatives like Dakshin or Tabaq. - ©
OakTreeRoad.us
More Oak Tree Rd Punjabi Restaurants
Jassi Sweets & Cafe - Divine Sweets, Devilish Pakoras
Punjabi Express II, Iselin - Not Worth It
Shan & Punjab, Iselin - Disappointing Lunch Platters
Sher-E-Punjab, Edison - Horrid Vegetable Biryani & Oily Entrees