Red Chutney Iselin
Red Chutney Oak Tree Rd: Impostor! Stay Away
Not since the Nixon Presidency have I found something so disagreeable and distasteful in America.
I was burning with excitement when I heard that
Red Chutney
, a new Indian Chinese restaurant, had opened at 1538 Oak Tree Road in the same spot as the closed
Nan King
.
Red Chutney! Ah, the mere name conjured up enticing images of spicy Indian-Chinese food in my mind and sent me into paroxysms of ecstasy (I mean the feeling, not the tablets). :)
Setting aside all other work, I quickly made a dash to Red Chutney on a hot Spring afternoon.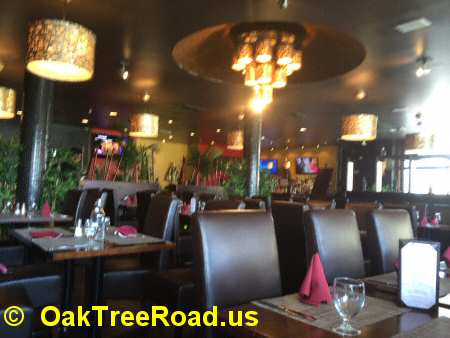 Red Chutney Ambiance
Approaching the restaurant, I smacked my lips in anticipation of the hurricane of spicy Indian goodies that would soon lash my palate and transport me into a swoon.
For an Indian restaurant in New Jersey, Red Chutney has a nice ambiance.
Tables and floors were clean.
The decor was pleasing and the furniture several notches above what you'd find at most Indian restaurants in the Oak Tree Road area.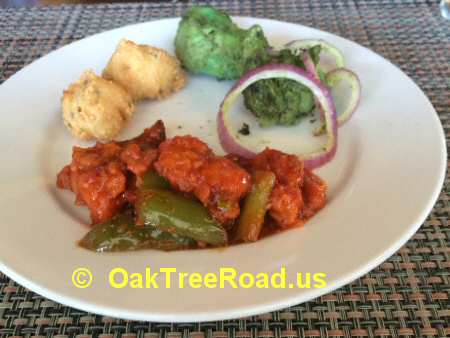 Veg Pakora, Chicken Kabab
No sooner was I at the restaurant, than I launched myself whole hog on the food.
I dived into the appetizers with mucho gusto.
Yeeks! Vegetable Pakoras were terrible. Classy Pakoras will pack flavor even without accompaniments like green chutney or tamarind sauce.
But mine were an atrocity.
I jumped out of the Pakora pothole and pounced on the Chicken Kebabs. They were a strange green in color. Reminded me of a cartoon character I detest.
It packed a bit of flavor but nothing that made me want to try another piece.
So I headed in the direction of Hot Chilli Chicken.
Damn, some bozo in Red Chutney's kitchen was playing a cruel prank on me. Hot Chilli Chicken was neither hot in temperature nor in the spice level.
What sin had I committed to be at the receiving end of such an odious prank.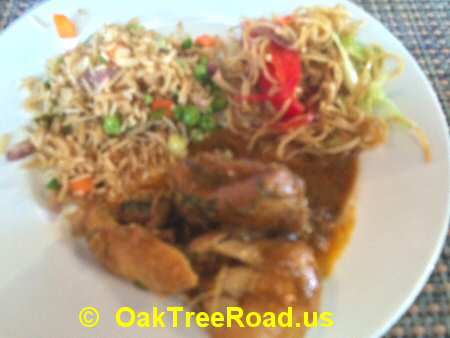 Veg Noodles, Fried Rice, Chicken Curry
Home style Chicken Curry was an insult of Brobdingnagian proportions.
Not even a wee bit spicy and the chicken nestling in a weak gravy, I was totally aghast at the shabby treatment being meted out to me.
Did I do something bad in my previous life? Ah, I must have voted for a Republican candidate in my last life and am reaping the ill-effects in this life!
Any day, I'll take waterboarding or other forms of "stress positions" in Dick Cheney's vast torture arsenal to this effete Chicken Curry.
This junk is not Home Style Chicken Curry! Whom are they trying to fool!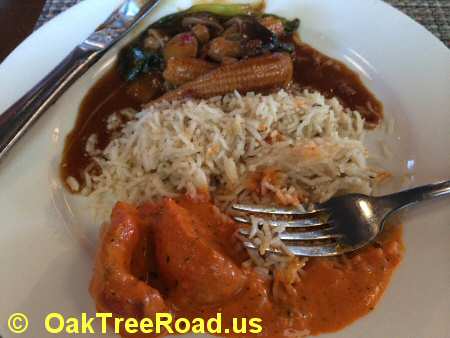 Chicken Tikka Masala, Szechuan Vegetables
When it rains, it pours.
So say the wise ones! Well, the so-called Wise Ones!
My Chicken Tikka Masala was a torment I'd not wish on my Al Qaeda enemy.
Chicken pieces were way too hard and the gravy was little comfort.
If the Chicken pieces were any harder, they'd use them in New Jersey construction projects to fill the countless potholes on the turnpike. I swear I'm not exaggerating!
Now if there's one thing I love passionately in life, even more than my better half, it's Indian-Chinese food.
So when I spotted Szechuan Vegetables on the buffet station, the result was a Pavlovian tsunami of drool on the floor.
Little did I know that
Shani
(Satan) was at his most vengeful worst during my visit.
Sob! Sob!
I swear upon Scarlett Johansson's unborn child that no spices or chillies went into the making of Szechuan Vegetables.
By now, I was convinced that I had mistakenly entered a den of depravity.
Nobody but depraved
Shaitans
would call their restaurant Red Chutney and then launch a fusillade of inedible dishes at sweet souls like yours truly.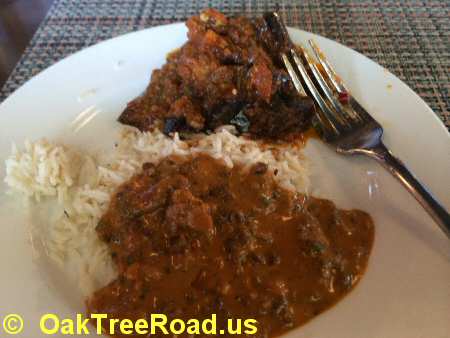 Baingan Tomato, Dal Makhani
Dal Makhani was one of the few pleasing items of the day.
But praising the commonplace Dal Makhani is like paying compliments to someone who can walk and chew gum at the same time! Now you tell me, is that a hard thing to do???
Baingan Tomato failed to move the needle. A mushy disgrace that no self-respecting chef would lay on my table!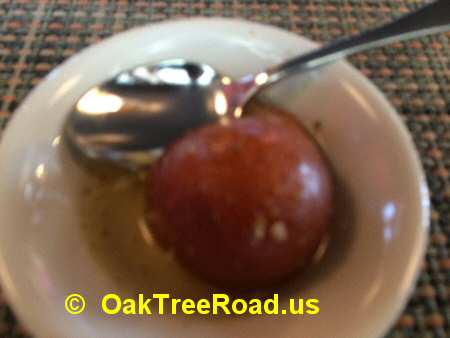 Gulab Jamun
Gulab Jamun was too soft inside.
Did the Red Chutney chef nod off during its preparation??
Was my misery not to end? Was my torment endless??
Of the Caramel Custard monstrosity, the less said the better.
It was a punishment I'd wish on no man, woman, beast or Chris Christie (the lane closing
ReThuglican
).
Give me a bad Gajar Halwa any day and spare me tasteless indignities like Caramel Custard!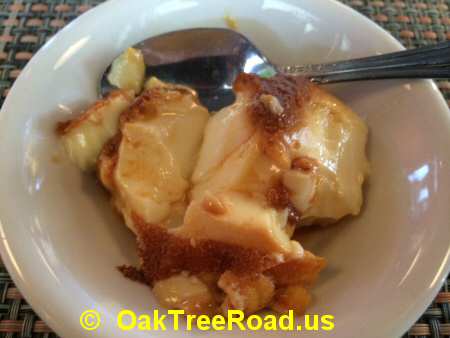 Caramel Custard
Pitiful Service
As I entered Red Chutney, the waiter in Black uniform gave me a cold stare.
Of course, as an Indian I immediately recognized the stare and his telepathic signals -
Who are you? Why are you here? Why are you disturbing my peace
?
After all, I had experienced, and endured, such unwelcome stares at countless Indian restaurants in New Jersey and New York!
So I soldiered on and bravely entered the
War Zone
. Hey, when one Indian encounters another Indian in New Jersey, it's often kind of hostile territory!
Throughout my meal the waiter wore such a sullen expression that I wondered if smiling had been declared a felony in Middlesex County!
Red Chutney Iselin Rating - Miserable
Surely, the prisoners at Auschwitz, the lifers at Angola prison in Louisiana and the gaol birds in Agra jail (where they keep undertrials for decades) enjoyed more flavorful food than what was dished out to me by the bonobos at Red Chutney.
Much of the food that came my way at Red Chutney were epitomes of culinary disasters, the stuff of
How Not To Cook Indian Food
.
My Verdict - The folks at Red Chutney know as much about authentic Indian cuisine as my late Grandma back home in
Incredible India
(Lord bless her saintly soul) knew about tap-dancing!
If you see me anywhere within 100-meters of Red Chutney ever again it must only be my cortege passing through Oak Tree Road to my final resting place! My soul would appreciate a doff of your hat!- ©
OakTreeRoad.us