Punjabi Express II Iselin
Punjabi Express II Iselin Review: Not Worth It
When we spotted a bright orange board screaming
Punjabi Express II
on Oak Tree Road, we impulsively crossed the road in drooling hopes of a nice, quick Punjabi meal.
For Punjabi food is famed for its flavor and spiciness.
In retrospect, it was a mistake and we should not have crossed the road.
For much of the food we tasted at Punjabi Express turned out to be unpalatable and some were downright nausea inducing.
Punjabi Express Ambiance
Sandwiched between Virani Jewelers and Valery Boutique, Punjabi Express II is a new addition to the overcrowded gaggle of Indian restaurants on Oak Tree Road.
The spot was previously occupied by the 24 hrs restaurant
Alibaba & Grill
.
Punjabi Express is a no-frills fast food restaurant with zero ambiance to speak of.
As you enter the restaurant, you have food counter/steam table on the left, and tables on the right and rear.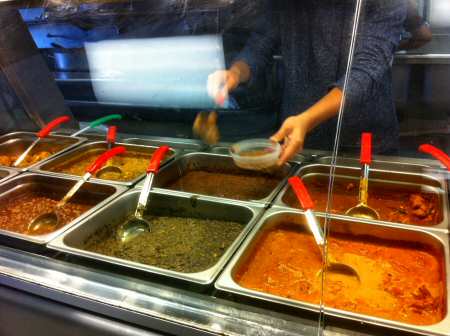 Punjabi Express Food Counter
You pick up a menu or check the menu on the wall behind the food counter, place your order, pay for it and wait at a table for your food to arrive.
We ordered a Non-Veg Thali ($5.99 for dine in) and a Veg Thali ($4.99 for dine in).
The takeout Thali costs one dollar extra.
Current Thali prices are promotional and valid only until end of March.
Our Veg Thali came to the table in about six minutes, followed shortly by the Non-Veg Thali.
Thalis came in styrofoam plates along with two napkins and a plastic spoon.
Non-Veg Thali
Non-Veg Thali comes with a choice of one non-veg item, one veg curry, dal, rice and a choice of naan or roti.
As requested, our Non-Veg Thali included Achari Chicken, Palak Paneer, Dal Makhani, white rice, a small salad, pickle and a medium size Naan.
Serving size of curries and rice was decent. No issues there.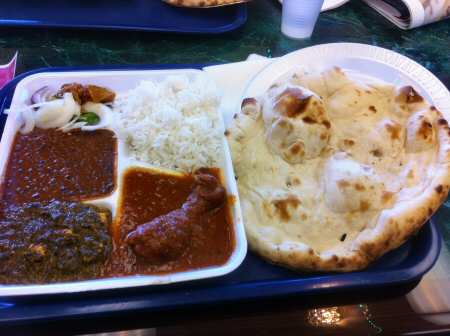 Non-veg Thali $5.99
But the biggest problem that confronted us at Punjabi Express was finishing up the Thali items.
For they were so awful that we had difficulty pushing more than five to six spoons into our mouth.
Set in a brown color watery gravy, Achari Chicken included one Chicken piece.
After one bite into the Chicken along with the gravy, we retreated in horror. For the weird, off-putting taste triggered a severe puking sensation.
Mighty disappointed, we moved on to the vegetarian items in the Thali.
Palak Paneer was mildly spiced, slightly sour and included a few pieces of Paneer. Paneer was slightly hard.
Dal Makahni was a brown abomination that we'd not offer to cats, dogs, horses or any other quadrupeds. It was nothing but cooked lentils without any flavor or taste.
Also, the curries in Non-Veg Thali were lukewarm.
White rice was fresh and piping hot.
So was the Naan bread. But in the absence of any palatable entree to go with the rice and naan we had no choice but toss the Non-Veg Thali into the trash.
Veg Thali
Veg Thali comes with a choice of two vegetable curries, dal, rice and a choice of Naan or roti, pickle and salad.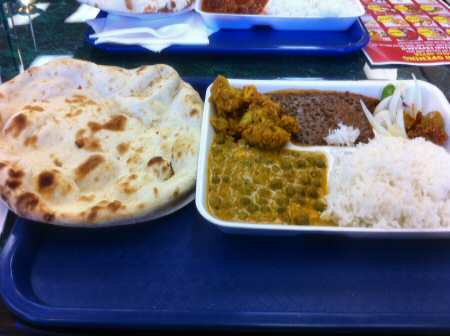 Veg Thali $4.99
As per our order, the Veg Thali came with Mutter Paneer, Cauliflower Curry and Dal Makhani along with rice and naan bread.
With a surfeit of turmeric powder, Mutter Paneer was so pitiful that it brought tears in our eyes. Also, the proportion of Paneer was so little that it did not merit the label Mutter Paneer.
Just like Mutter Paneer, Cauliflower was not in the least bit spicy. It included three medium size pieces of Gobi with generous amount of oil. Needless to say, we did not enjoy it one bit.
In the absence of a palatable vegetable entree, we had to toss most of the Veg Thali into the trash.
Service
When we walked into Punjabi Express, the fast food place was humming with activity.
Three diners were digging into their meat items and another three were waiting to place the order.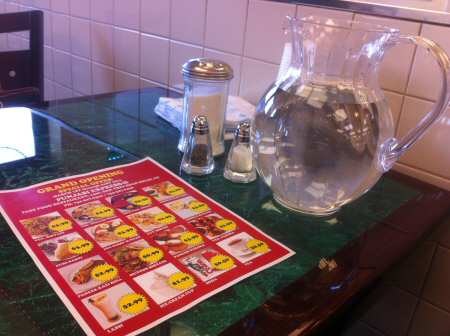 Perhaps the cheap opening promotional prices are drawing people.
Hey, it's hard to get a Veg Thali for $4.99 on Oak Tree Road or any other place in New Jersey.
Ordering was a breeze and we also got a copy of the bill without asking for it.
Our food came in a clean tray with two napkins and a plastic spoon.
Also every table has a bunch of napkins, water jug, plastic glasses, salt, sugar and black pepper powder.
Tables and chairs were clean.
Punjabi Express Rating
While the promotional prices are attractive, the food we tried at Punjabi Express was most unattractive.
For much of the food we tasted turned out to be distressingly bad. ©
OakTreeRoad.us