Kamat Dosa Delight Iselin NJ Review
Kamat Dosa: Divine Gongura Dosa, Shitty Chutney
If there's one thing in life I never tire of, it's eating Dosas.
Dosas are rice crepes popular in South India.
Masala Dosa, Rava Dosa, Plain Dosa, hey, being South Indian I'm always game for any kind of Dosa.
So when I spotted
Kamat Dosa Delight
at Monat Plaza Desi Galaxy on Oak Tree Road in Iselin, I stopped to check the menu.
Once I saw Gongura Dosa ($6) on the menu, I promptly ordered one for dine-in and Pongal ($5) for takeout.
It took about 10 minutes for the Bangladeshi cook to make my dosa.
Gongura Dosa
Gongura Dosa came with the standard accompaniments - Sambar and Coconut Chutney on the side and potato+onion curry stuffing inside the Dosa.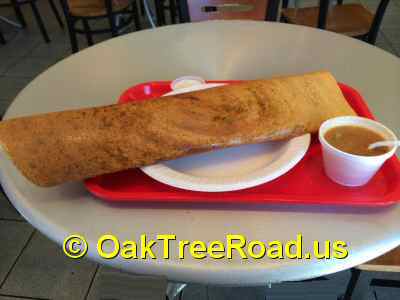 Yummy Gongura Dosa
One bite into the Dosa, I was transported to heaven.
Man, this is delicious
, I told myself.
There were several things right with Kamat Dosa's
Gongura Dosa
:
A key thing in a Dosa is its crisp texture. To my delight, Kamat Dosa's Gongura Dosa turned out to be crisp and tasty with the right fermented flavor.
Second, Gongura masala was smeared evenly inside. The blackish brown Gongura masala paste was sour and spicy as it should be. Gongura, popular in coastal district of Guntur in Andhra Pradesh, is a sour leafy green vegetable rich in iron.
Third, the Potato Onion curry stuffing was large, yummy and flavorful.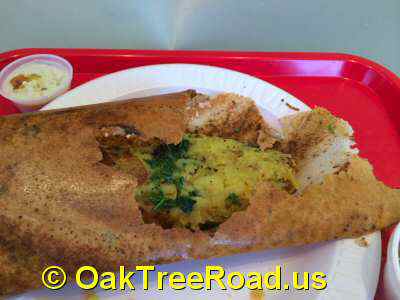 Gongura Dosa - Inside Story
Then the size of the Gongura dosa - hey it was big and solid value for $6.
The medium thick Drumstick, Tomato, Green Squash Sambar side was hot, flavorful and refreshing on a cold day.
Shitty Coconut Chutney
But the Coconut Chutney side was miserable and launched a shitty assault on my spice hardened South Indian palate.
It was atrociously bland and tasteless. I doubt any Green Chillies ever went into its preparation.
To make matters worse, the Chutney was cold and clearly not fresh.
Shameful that a South Indian Dosa restaurant serves cold, tasteless Coconut Chutney.
Luckily with the flavorful Sambar, Potato Curry stuffing and the sour, spicy Gongura paste, I was able to enjoy the Dosa at Kamat Dosa Delight.
Pongal
Any visit to a South Indian restaurant is incomplete without ordering a rice dish - either Pongal, Tamarind Rice, Lemon Rice or Bisi Bella Bath.
Since I love Pongal (and Bisi Bella Bhath was not part of the Kamat menu), I ordered a Pongal takeout.
In one word, Kamat Dosa Delight's Pongal was "
Good
"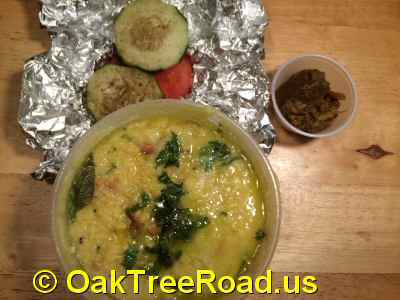 Pongal with Salad and Pickles
It was medium thick, packed a strong flavor of Moong Dal and came seasoned with cashew nuts curry leaves and cilantro leaves.
The flavor from the black pepper seeds was subtle and worked magic on the Pongal.
Serving size of Pongal was decent for $5.
I would have sung paeans for the Pongal if the pepper flavor was stronger and a bit more ghee used in its preparation.
Pongal came with salad (two Cucumber and Tomato slices and one Onion slice) and pickle but not the usual Coconut Chutney and Pappadum sides.
Salad was alright but the pickle packed an offputting vinegar and chemical flavor.
Ambiance and No Bill
Since it's part of a food court, Kamat Dosa Delight has no ambiance to speak off
As you step into Monat Plaza Desi Galaxy from Oak Tree Road, Kamat Dosa Delight is the third counter on the right.
You check the menu at the counter, place your order, pay for it and wait at one of the tables for your Dosa to be ready.
During my visit, the tables and chairs were in disarray and a few tables had food stains. Sometimes this food court gets so crowded it's difficult to find a seat.
To my irritation, Kamat Dosa Delight did not give me a receipt for payment.
Kamat Dosa Rating - Go for It
If you love Dosas, I suggest you give Kamat Dosa Delight a chance.
Kamat Dosa is not for those looking for great ambiance and pampered table service by wait staff.
I'm already making plans to revisit Kamat Dosa Delight to try some of the other Dosas. - ©
OakTreeRoad.us