Cafe Royal Paan Edison
Cafe Royal Paan Oak Tree Rd: Lousy Samosa Chaat
A good
Samosa Chaat
can put a smile on the face of even the most sour person.
On the other hand, a bad Samosa Chaat can drive even a calm person to a savage fury.
Located in the Big Cinemas complex of Oak Tree Road in Edison,
Cafe Royal Paan
, a recent addition to the endless growth of Indian restaurants in the area, offers a variety of Chaats including Samosa Chaat.
Given our immense fondness for Samosa Chaat, we opted for this favorite Indian street food during our recent visit to
Royal Paan
.
Damn!
Damn! The Samosa Chaat peddled by Cafe Royal Paan brought tears to our eyes.
Samosa Chaat was not in the least bit spicy.
Samosa Chaat included two Samosas, chopped Onion, Potato, sev, chopped Cilantro, and fried Peanuts and Pomegranate seeds toppings.
But the Samosa Chaat failed at a fundamental level - Taste.
Also, the Potato pieces in the Chaat were not fully cooked.
Raining
sotto voce
curses on the restaurant, we moved on to
Amritsari Chole Bhature
.
Amritsari Chole Bhature - $7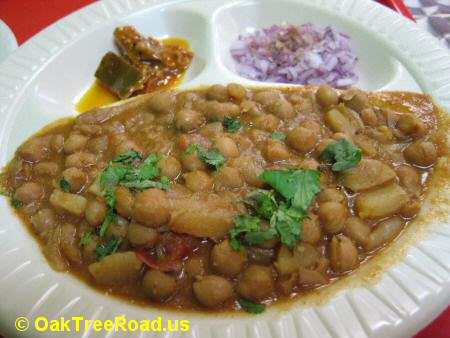 Alas, Amritsari Chole too was a bland abomination that should never have been served to a paying customer.
Amritsari Chole Bhature came with two medium size Bhature, Channa Masala curry, chopped Onions and mixed Vegetable Pickle.
Bhature was not fried properly and had raw, partially cooked texture near the edges. Also the edges were too thick.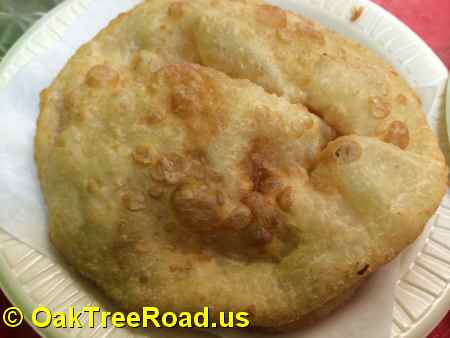 It included well cooked Chole, Onion and Tomato but lacked the spice-heat that lends allure to this popular North Indian dish.
Also the Chole was so hot (temperature wise) as if it were run through a nuclear reactor before placing it on the styrofoam plate.
Further, the whipped yogurt side mentioned in the menu was never provided with our Amritsari Bhature Chole.
Paan - Poor Hygiene
Mighty disappointed with our Samosa Chaat and Amritsari Chole Bhature, we sauntered over to the Paan counter only to retreat in horror.
We were aghast to see the senior citizen working at the Paan counter not wearing gloves, picking up the spilled paan masala powder from the countertop (next to cash register) and placing it on the betel leaves.
Upset with the lack of hygiene, we cancelled our order for Calcutta Paan.
Ambiance, Service
Cafe Royal Paan was empty when we entered around 1PM on a weekend day.
As you enter you have tables on the right, and Paan, cash and food counters on the left. You pick up a menu, place your order and wait at a table for your food to arrive.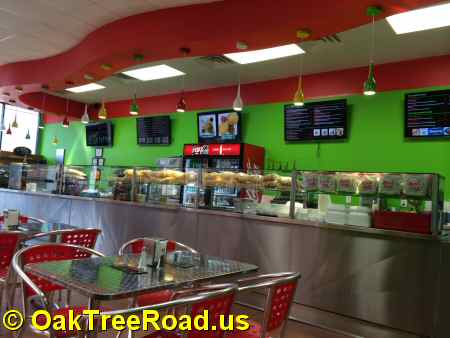 Although eager to help, the waiter and the elderly lady behind the counter had enormous difficulty communicating in English.
While the tables looked clean, we did not like the fact that water glasses were placed upside down on the table and spoons were lying on the tray directly.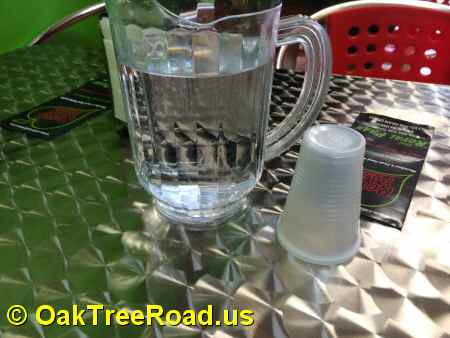 Cafe Royal Paan Edison Rating
We entered
Cafe Royal Paan
with great anticipation and left with tremendous disappointment.
Don't expect to see us at this restaurant any time soon! - ©
OakTreeRoad.us