Tabaq Restaurant Edison
Tabaq - Holy Cow! Where's the Beef
Shocked! Stunned! Bewildered!
How can an Oak Tree Road restaurant like
Tabaq
claim to serve "
Authentic Pakistani Food
" in a big poster right on its front-door and yet
not
offer Beef?
Beef Kebab, Nihari (slow-cooked Beef stew), Beef Karahi, Beef Korma, Achari Biryani, Ground Beef Curry, Beef Pasanda, Beef Paratha Roll, etc are staples of Pakistani cuisine loved and relished by millions daily.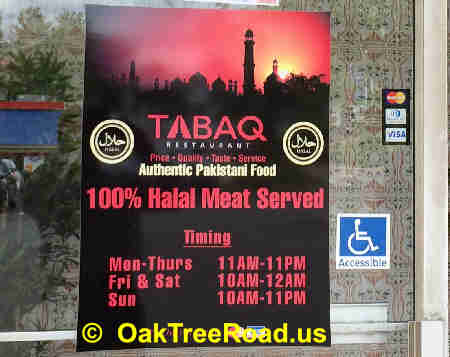 So why is Tabaq depriving New Jersey diners of popular Pakistani Beef treats?
Even Tabaq's takeout menu makes it clear on the front page that "No Beef is Served" at the restaurant.
Is there a food
fatwa
against Edison South Asian restaurants not to serve Beef or risk alienating Hindu immigrants from India who abhor Beef and worship the cow?
Holy Cow! What's the world coming to in Edison?
Gold Standard of Indian Buffets
Tabaq's beef issues notwithstanding, the restaurant is a solid haven for South Asian food.
After digging through Tabaq's sumptuous lunch buffet recently, I have no hesitation in declaring it the
Gold Standard of Lunch Buffets on Oak Tree Road
.
For a mere $8.99 (weekdays), Tabaq lays out a lavish spread of delicious meat and vegetarian dishes that puts other Indian and Pakistani restaurants in the area to shame.
Folks, Tabaq is the rare South Asian restaurant on Oak Tree Road for which the French expression
embarras de richesses
would not be an exaggeration.
Several Appetizers
Surely, the Gods must have been smiling during my visit!
Because there were five appetizers - Vegetable Samosas, Pakoras, Tandoori Chicken, Chicken Kebabs and Chilli Chicken.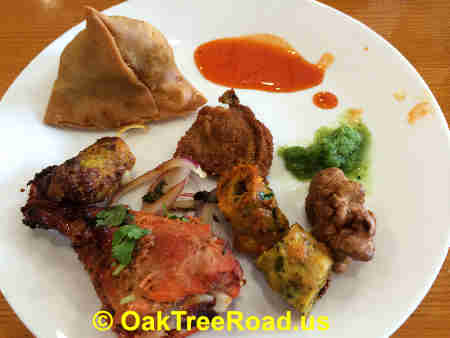 Vegetable Samosa was big, well fried and the Potato stuffing with Coriander seeds seasoning flavorful and yummy.
Onion Pakoras were spicy but cold.
Alu Bonda was delicious with cashewnut seasoned flavorful Potato stuffing.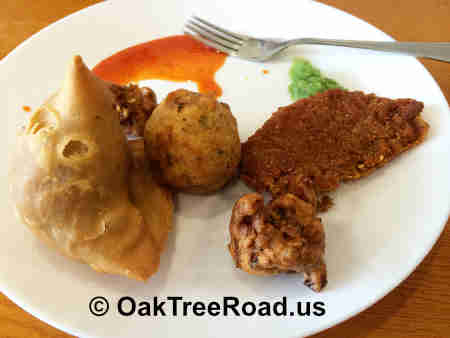 Tandoori Chicken and Kebabs were a succulent treat the likes of which I've never encountered on Oak Tree Road or elsewhere in Middlesex County.
Simply divine, I swear. At most Indian restaurants in New Jersey, Tandoori Chicken and Kebabs leave me deeply unsatisfied because of poor marination.
Au contraire
, they were perfectly marinated, spicy treats at Tabaq.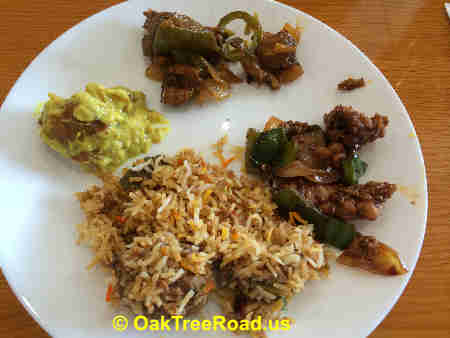 Chicken Biryani was nothing short of magic.
Rightly spiced for Indian palates, it sent me into a drooling swoon.
Tabaq's Chicken Biryani leaves the much ballyhooed Hyderabad Dum Chicken Biryani in the dust!
Tabaq's Chilli Chicken was an orgasmic delight. The mere thought of it sends a tingling sensation over my body.
More joy came in the form of the deliciously moist Kabab Curry.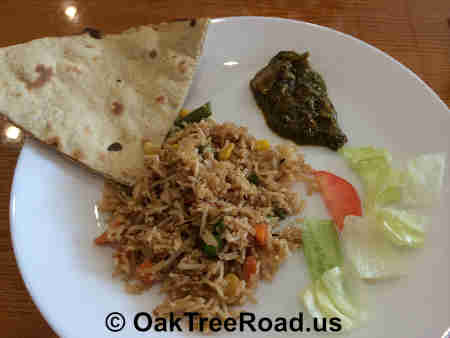 There was no respite from Tabaq's orgy of treats.
Was there a magician in Tabaq's kitchen, I wondered
sotto voce
. Although mildly spiced compared to other items, Palak Chicken was another blessing.
I had to reluctantly stay away from Chicken Haleem and Goat Achari since yours truly was already bursting at the seams.
Even a
gourmand
like me can eat only so much!

Vegetarian Thrills
Vegetarian or non-vegetarian, Tabaq's kitchen knows how to please a spice hardened Indian palate.
Yellow Dal with crushed red chilli and whole red chilli seasoning was easily the best Dal I've had in nearly two decades of dining out in New Jersey.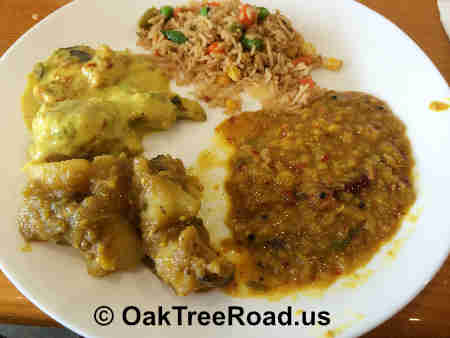 Ditto with the medium thick Kadi Pakora. Unlike at most Indian restaurants, the Pakoras in Kadi Pakora were firm and tasty.
Alu Baingan was a close rival to Yellow Dal and Kadi Pakora in taste and flavor.
The mashed Eggplant with cubed Potato pieces with right spice level was good with both Naan bread and Roti.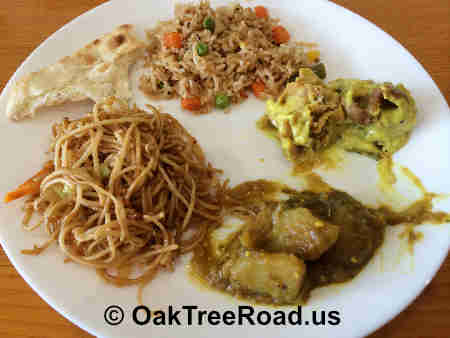 The subtly spiced Vegetable Fried Rice with Green Beans, Green Peas and diced Carrots amply satisfied my Indian-Chinese obsession.
Vegetable Noodles with sliced Carrots was OK. Nothing much to write home about.
Naan Bread
Naan bread was served hot at the table.
Alas, that's the only good thing about Tabaq's Naan bread.
It was slighly hard, tasteless and daubed with too little butter to make a difference.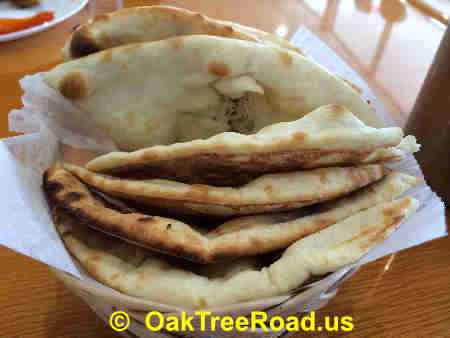 In a service snafu, bread was served even before we could get our appetizers.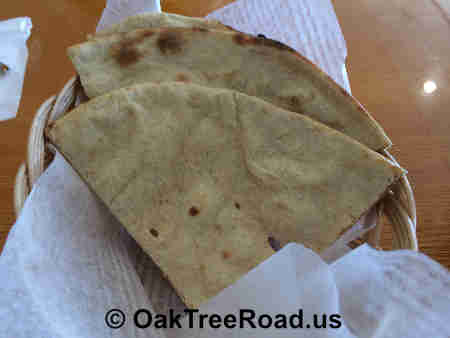 But Tabaq amply compensated for its Naan mishap by bringing us fresh Roti.
Unlike the Naan bread, Roti was tasty, piping hot and much relished with the spicy curries.
No White Rice
In a huge
no-no
, Tabaq failed to include White Rice at the buffet counter.
White Rice is a must at an Indian buffet, particularly for mixing with Yellow Dal and Kadi Pakora.
When we asked our waiter about absence of White Rice, he mumbled about complaints from other diners as well over the issue and suggested we order White Rice separately.
If Tabaq is serious about attracting Indian diners, they should
anon
add White Rice to the buffet counter.
Two Desserts
Gulab Jamun and Khoya Barfi were the desserts on offer during my visit.
Khoya Barfi was a work of art. Surely, there's a
Picasso in the kitchen
!
With a freshly prepared taste, the Khoya Barfi hit all the right notes - sugar, ghee and milk were in perfect symphony.
At first, I had one piece. Then two, finally three!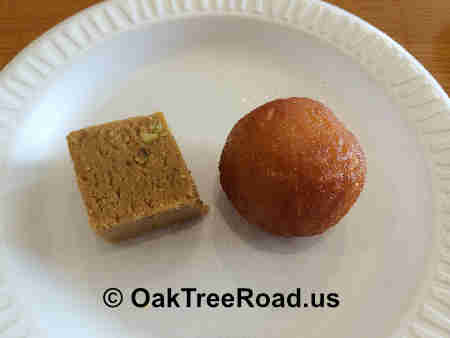 Gulab Jamun was of the dry type. Though it packed the right sweetness and texture, I prefer Gulab Jamun soaked in warm cardamom flavored sugar syrup.
Besides the two desserts, there were three Sodas (Sunkist Orange, Coke and Canada Dry Ginger Ale) and a jug of Mango Lassi at the buffet counter.
Dirty Place
Like a lot of South Asian restaurants, Tabaq is dirty.
The floor was a horrible mess of food spills. It was so dirty that I did not care to pick up two coins I'd dropped.
Our adjacent table was dirty and not properly cleaned.
The paper-napkins holder was dirty and some of the napkins had stains.
Our waiter was more interested in chatting with diners than cleaning the floor (only occasionally did he pick up the mop).
The toilet did not have paper towels!
Of course, keeping the ambience dirty might be a clever strategy on Tabaq's part to make its South Asian customers feel at home!

Outstanding Value
To its credit, Tabaq did not indulge in the nasty habit of many Indian restaurants that fail to replenish empty buffet counter vessels promptly.
I am pleased to note that Tabaq's buffet counter trays were frequently monitored and replenished.
Also, every single item on the buffet counter was labelled making it easy to identify vegetarian and non-vegetarian items.
Tabaq's buffet is not merely excellent but solid value ($8.99 on weekdays and $11.99 on weekends).
I can't wait to return to return to this curry heaven on Oak Tree Road. - ©
OakTreeRoad.us
Related Information
Tabaq Sweets Edison - Hit or Miss
Oak Tree Road Halal Meat & Grocery
Shalimar Grill- Dealicious ($8.99) Lunch Buffet
Sunshine Palace - Average Indian and Pakistani Curries