Flavor Junction Food Court Iselin Review
Flavor Junction Food Court Iselin: Expensive
Flavor Junction Food Court, a recent addition to the Indian food scene on Oak Tree Road in Iselin, is expensive.
It doesn't make sense to pay $6-$14 for a single entree at Flavor Junction Food Court when you can gorge on All-You-can-Eat Indian buffets for just a few dollars more on Oak Tree Road.
The food court located on the second floor of Kumar Soni Plaza is a self-serve place.
Given that seating is cramped and tables not in a pristine state, it's ridiculous to charge so much for a single item.
No Water Served with the Food
And the worst part is you do not even get a glass of water with your food after paying $6-$14.
Most Indian restaurants serve water along with the food.
The two restaurants (
Chatkaz
and
Hyd Bawarchi Biryani
) we dined at the Flavor Junction food court didn't provide us with water.
We had to buy water separately.
Also, Flavor Junction Food Court does not allow customers to carry their own water.
There is a warning note pasted on the door stating:
Outside water bottles not allowed in the food court. No Exceptions.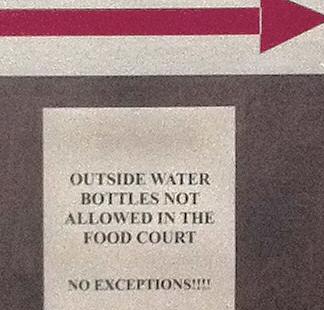 When $6-$14 is charged for a single entree, the least a food court like Flavor Junction should do is to leave water jugs with plastic glasses at a designated common area along with plastic spoons, forks and napkins.
Flavor Junction Restaurants
Here are the Indian Restaurants at Flavor Junction (Aug 4, 2012):
Calcutta Wok - Entrees served with rice are priced at $6.95 (Vegetables & Chicken), Fish, Shrimp and Combos at $7.95 and weekday lunch specials with soup at $5.95.
Chatkaz - At Chatkaz, the Chaats are all priced at $5.99 and Gujarati Thali $9.99.
Haandi - Entrees are priced at $8.99, $9.99 and higher.

Tastee Curritos - Prices are available only for wraps and Subs. According to printed menu, Tastee Curritos also offers Malai Kofta, Chilli Paneer Chicken Teriyaki, Chicken Tikka Masala but no pricing was provided on the menu.
Hyderabad Biryani - Prices for Biryani range from $8.99-13.99. Chicken Biryani is pricey at $13.99. The humble Okra Curry is $7.99 at Hyd Bawarchi Biryani.
Raavi Naan Kabab Express - Single order of any Vegetarian Punjabi Curry is $7.99. Mutton Platter is $14.99. The humble, omnipresent Gulab Jamun is priced at $3.49.
Flavor Junction Restrooms
Restrooms are located at the far end of the food court, near Calcutta Wok.
During my visit, I found toilet paper on the floor.
The restroom ought to be cleaner.
Severe Competition
I remain skeptical about the survival prospects of the Indian restaurants at Flavor Junction food court.
Two Indian restaurants (Toasty Paprika and Chandni Chowk) have already disappeared from the Flavor Junction food court.
I suspect another one or two will bite the dust soon.
Plus, now that the Desi Galaxy food court (at intersection of Oak Tree Road and Correja Ave) has been reopened after the fire accident it's going to be very tough for the Flavor Junction food court.
The Desi Galaxy food court has the following restaurants -
Desi Wok
, Bombay Spice, Desi Dhaba, Dakshin Snacks, Punjabi Junction, Quality Sweets, Chaska Chaat and Rizwi Icecream.
In addition to Desi Galaxy food court, there are other food courts in the area like
Shri Ganesh's Dosa House
at Middlesex Ave. Ganesh Dosa House joint includes Bombay Spice and Hyderabad Delights.
There is also Nirula's
Desi Galaxy
in Sugar Tree Plaza with Bombay Spice, Desi Galaxy Chaats and iWok Indian Chinese restaurants.
Bottom line, the competition is severe for Flavor Junction Indian restaurants and they'd have a better chance of survival if they cut their prices. - ©
OakTreeRoad.us