Sunshine Palace Iselin
Sunshine Palace Iselin: Average Indian & Pakistani Curries
The other day we ordered takeout from
Sunshine Place
, a Pakistani place that's been around for 15 years and still escaped our attention.
Located not far from the main Oak Tree Road strip,
Sunshine Place
is opposite
Sai Baba Temple
on Rt-27 in Iselin, NJ.
Ambience
Like a lot of South Asian restaurants in Iselin and Edison,
Sunshine Place
is a dive with little ambience to speak of.
Certainly not a place you can take your date to.
As you enter, there are a few tables on the left, food and cash counter on the right and kitchen at the rear.
Our Hostess was very pleasant. She patiently explained the dishes and their ingredients to us. We noticed that she was eating when we entered the restaurant, but she got up, and greeted us with a smile, which won us over right away.
Menu
Sunshine Palace menu is small but well organized. Menu is not very elaborate, but dishes are categorized by the kind of meat, or vegetable.
Some of the entrees are precooked and stacked neatly in the food counter on the right side.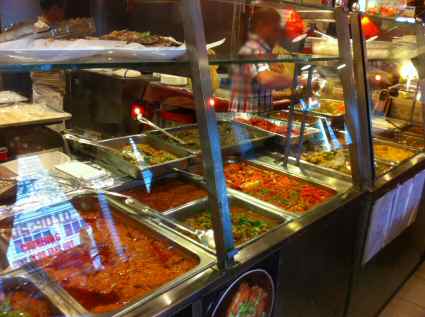 Our Order
Our Order included Chicken Tikka Masala ($7.00), Sunshine Special Biryani ($7.00), Chicken Bihari Kebabs ($7.00), Chilli Chicken ($7.00) Aloo Ki Sabzi ($5.00), Channa Masala ($5.00), Kadi Pakora ($5.00) and two Vegetable Samosas ($1.50). In our opinion, pricing is fair for the quantity of food.
On top of it, the hostess gave us a free
Naan
, saying, "You must try our Naan" ($1.00) on their menu. It is this kind of hospitality that wins customers over. We are likely to order food from this joint versus other places.
Oddly, you do not get any plain white rice with your entrees and that has to be ordered separately ($4.00).
Here's our take on Sunshine Palace food starting with the chicken items:
Average Chicken Tikka Masala
We found the Chicken Tikka Masala to be average at best.
We were expecting it to be super delicious, being that it is one of the main dishes in Pakistani/Indian Cuisine, but the chef didn't do justice to the Chicken Tikka Masala.
We expect Chicken Tikka Masala to have a rich, mildly spicy, orange texture, and that unforgettable flavor that stays with you long after you are done with your meal.
I think the dish we got here was made home-style, which is not necessarily a bad thing, but if you are going to charge people money for something, please give them something to come back for.
| | |
| --- | --- |
| Oily Average Chicken Tikka Masala | Above Average Chicken Kababs |
Above Average Chicken Bihari Kebabs
Chicken Bihari Kebabs were made fresh in front of our eyes.
The chef put marinated pieces of chicken on the seekhs, and put them in the tandoor.
The Kebabs were moist, not too dry, and full of flavor.
The pieces were boneless, and the right size. Every restaurant has their own recipe for Kebabs and we feel Sunshine really shines when it comes to Kebabs.
We asked the hostess why their Chicken Seekh Kebabs were $20 for a dozen, when their competition has them for $15 - $18, and she replied with a pleasant smile that if they are already getting business with $20 a dozen, why would they drop the price?
We like that kind of confidence. We must admit, their chicken seekh kebabs looked bigger, and more inviting, but that is for another day.
Chilli Chicken
Chilli Chicken looked far better than it tasted with sliced green and red bell peppers on top.
Unlike the Indian version of Chilli Chicken, the Sunshine Palace version is mildly spiced and has watery gravy.
Also, the chicken pieces were a bit hard.
Overall, Chilli Chicken did not appeal to our spice hardened taste buds.
| | |
| --- | --- |
| Chilli Chicken | Above Average Biryani |
Above Average Sunshine Special Biryani
There is a marked difference between the Hyderabadi Dum Biryani, and Pakistani Biryani.
The biggest difference we feel is the difference in preparation, rather than ingredients.
Dum Biryani is made by cooking the chicken/meat first, then adding layers of rice in between layers of the prepared chicken/meat, whereas the Pakistani Biryani employs different methods depending on the chef.
The Sunshine Special Biryani was very well prepared, had the right amount of heat, and the right proportion of rice vs. boneless chicken.
One has to taste it to appreciate the flavor this dish has to offer.
Raita was provided with the Biryani, instead of the gravy offered with Hyderabadi Dum Biryani.
Vegetarian Dishes
Samosas looked emaciated and the potato filling inside was not in the least bit tasty.
It was not cooked completely inside and had a raw flour taste inside.
Though Samosas were priced at 75 cents each, they did not come with any sauce on the side.
| | |
| --- | --- |
| Vegetable Samosa | Aloo Curry |
Aloo Sabzi
We have long held the opinion that Pakistanis don't shine at vegetarian dishes, compared to their Non-Vegetarian dishes.
The Aloo Sabzi was a simple dish prepared by adding boiled Potatoes to a gravy of onions, and tomatoes, I feel there is not much they could have done with this dish anyways, but I have tasted much better versions of Aloo Sabzi.
Average Channa Masala
The Chhole were again disappointingly plain, and average.
I have had much better tasting chhole prepared by my mother, and wife. If you are going to Sunshine Palace, you are better off ordering the kebabs, and some non-vegetarian dishes.
There is no reason to spend on Vegetarian dishes, unless your wife is out of the country, and you are craving some of the dishes they make including these two dishes, Baghare Baigan, or Aloo Saag.
| | |
| --- | --- |
| Channa Masala | Kadi Pakora |
Disappointing Kadi Pakora
Kadi Pakora was yet another vegetarian disappointment at Sunshine Palace. It had no flavor and was way low on good taste.
The three Pakoras were firm but tasteless. It felt like eating oil slick yellow color flour mixed with Pakoras and not the yummy Kadi Pakora that we are used to eating.
Delicious Naan
The complimentary Naan we got with the order was definitely one of the highlights of the meal.
Naans are usually the unsung heroes of any meal, but one can't ignore the importance of this delicious bread.
Sunshine Palace sells them for $1 per piece, and trust me, it is the best value for money in all of Iselin, and perhaps the Tri-State Area.
Definitely go with their Naan.
We were provided generous quantities of Raita, Chutneys, and Salad. We were also offered Paper Plates, and Plasticware, which we declined.
Sunshine Palace Rating
Overall, our experience was Average, to Above Average at Sunshine Palace Restaurant in Iselin, NJ. - ©
OakTreeRoad.us