Kandahar Oak Tree Road
Kandahar Iselin : Delicious Afghani & Turkish Food
When I heard that
Lovely Restaurant
in Iselin Oak Tree Road had been replaced (the sweets/snacks portion survives) by a Afghani/Turkish restaurant
Kandahar
, I quickly made time to vist the new place.
Like a lot of Oak Tree Road restaurants,
Kandahar
will not win any awards for fine ambience.
My Kandahar Order
Kandahar
, as the name suggests, offers a variety of Afghani and Turkish food items.
For my dinner, I choose two Chicken dishes and a Lamb item.
My Chicken dishes were Chicken Gyro Shawarma over Pita Roll ($5.00) and Chicken Adana over Afghani Rice ($10.00).
Lamb Shish Kebab over Turkish Rice ($12.00) was my lamb pick.
Here's my take on Afghani entrees I tried at
Kandahar
on Oak Tree Road:
Tasty Chicken Gyro Shawarma on Pita Roll
Of the three items, the Chicken Gyro was the clear winner in terms of price, value, taste and flavor.
If you are starving, this sandwich can more than satisfy you.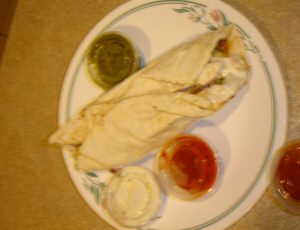 Nice Chicken Gyro Pita
The sandwich consisted of chicken that was on the rotating grill, and very tender and moist, lettuce, tomatoes, onions, white sauce, and hot sauce.
Every bite put us in hog heaven.
One should definitely try the Gyro at this place before going to any of the local sandwich joints.