Rajbhog Foods Iselin Review
Rajbhog Foods Iselin: Disappointing Samosa Chaat, Awful Motichoor Ladoo
We are no strangers to
Rajbhog Foods
on Oak Tree Road in Iselin, New Jersey.
Our first visit to this Indian sweets and snacks store was over a decade back during a trip to Oak Tree Road.
The other day we revisited Rajbhog Foods for a quick lunch.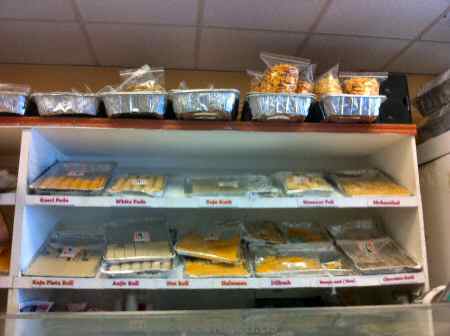 Sweets Counter
As you enter Rajbhog, you have a few tables upfront, and sweets and snacks counters further ahead.
Sweets counter included a variety of Indian sweets from Kaju Katli to Mesoor Pak, Anjeer Rolls and so on.
The snacks counter included pre-cooked Mirchi Bajji, Gota, Vegetable Pakora etc.
The combos menu was pasted on the wall, near the cash counter.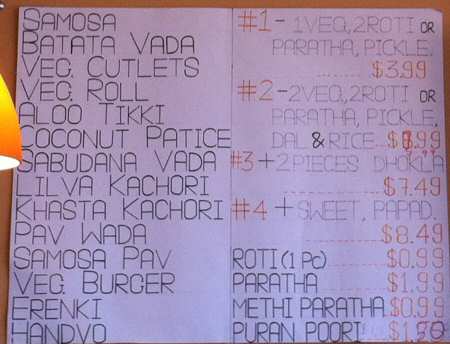 Combos on Menu - Denied
We wanted to order from one of the four "combos" pasted on the menu on the wall.
But the lone waiter in the store refused to accept our combo order, shook his head and rudely responded, "No, No, you order from Chaat."
We decided not to make a fuss and ordered a Samosa Chaat ($4.49) and a pound of assorted Rajbhog Sweets ($11).
Subsequently we added one packet each of Kerala Mix and Channa Dal succumbing to the sales pitch of the waiter.
Here is our take on various items of Rajbhog Foods:
Samosa Chaat
Samsoa Chaat included one samosa, sev, chopped coriander leaves and cut onions. The chaat was drizzled with Chick Peas, red chilli, green chutney, tamarind sauces and yoghurt.
Alas, the Samosa was not well cooked inside, prematurely removed from the frying pan.
Also, the proportion of sauces to the other ingredients like sev and onions had gone wrong leaving an unsatisfying taste in the mouth.
A good Samosa Chat should be both spicy and piquant at the same time. This one was a bit spicy but not piquant enough.
A little more Tamarind Sauce would have done the trick.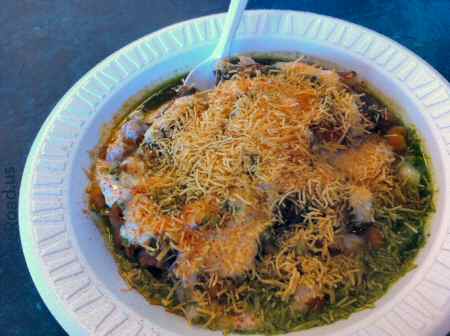 Samosa Chaat - $4.49
Assorted Sweets - $11
To put it in one word, the $11 per lb Rajbhog Sweets were "
Disappointing
" overall.
While some were not bad, others packed either a stale or spoiled taste.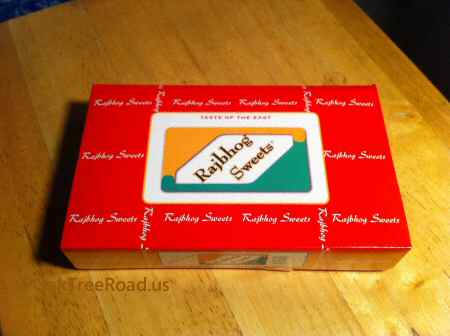 Assorted Sweets Box - $11
Motichoor Ladoo was stale and had a horrible smell. It should have been discarded and not offered to paying customers.
Kaju Katli was not bad but could have done with bit more sugar.
Tricolor Peda, with kesar, green and white colors was hard and stale.
Basin Ladoo was a little hard and low on ghee, sugar and packed the taste of raw flour.
Mango Barfi was soft and had too mild a flavor of mango.
Chocolate Katli was slightly rubbery and did not have a strong flavor of chocolates.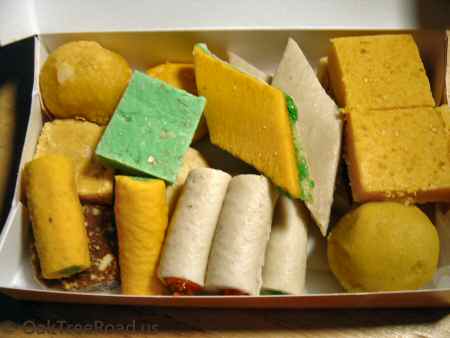 Assorted Sweets
Mesoor Pak was badly lacking in sugar and packed a poor taste.
Kaju Anjeer Roll was not bad.
Milk Peda was not good and had a floury taste.
Kesar Peda was not bad but could have done with a bit more sugar.
Kaju Pista Roll and Almond Pista Rolls were stale and should not have been offered to paying customers.
Pista Barfi was a little hard, lacking in ghee and sugar.
Ditto with Halvason, deficient in sugar, ghee and taste.
Rajbhog Snacks
We also picked up Kerala Mix and Channa Dal priced at $1, a discounted offering.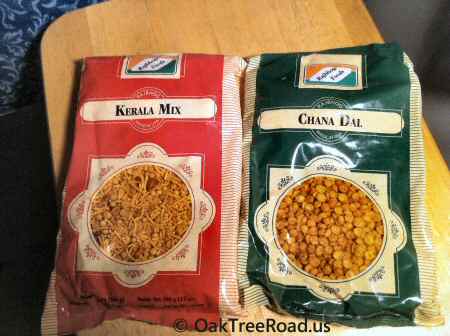 Rajbhog Snacks - $1 Each
Kerala Mix
Kerala Mix included kara sev, kara boondi, channa dal and peanuts.
Kerala Mix tasted as if it was prepared during the era of dinosaurs and was stale.
In retrospect, it was not worth paying even a buck for this garbage. Not worth picking up even if it were offered free.
Channa Dal
Channa Dal was alright but nothing to get excited about.
At least, it was not stale.
Service
Service at Rajbhog sucks as it is the case in many Indian restaurants on Oak Tree Road.
The cash counter fella either has a hearing problem or just does not give a hoot to customer requests.
While purchasing sweets, we requested him to put only one piece for each of the assorted sweets.
Yet when we opened the Rajbhog assorted sweets box, we found two or more pieces for some varieties.
Also, the waiter was in a grumpy mood and refused to let us order lunch from the menu pasted on the wall without offering any reason.
The place wore the look of a cramped dump with a Frigidaire air-conditioner box hogging a lot of space in the sitting area.
Rajbhog Foods Iselin Rating - Avoid
If you crave Indian sweets like we do, steer clear of RajBhog Foods on Oak Tree Road in Iselin.
For much of the sweets we tried belonged in the average or below average category. Some like Motichoor Ladoo were awful.
There is no dearth of
Indian sweets stores
on Oak Tree Road in Iselin and Edison.
Also, the Samosa in Samosa Chaat was not cooked properly and the proportion of various sauces had gone awry.
It's unlikely we'll be returning any time soon to Rajbhog in Iselin. - ©
OakTreeRoad.us