New Shan & Punjab Iselin NJ Review
Shan & Punjab Iselin: Not Worth It
We were saddened to learn that
Green Chilli
South Indian restaurant on Green St (near Oak Tree Road) had kissed the dust.
Although
Green Chilli
made a fine Chicken Biryani and decent vegetarian curries, fierce competition from the dozens of Indian restaurants in the Edison and Iselin area likely killed it.
Now a North Indian restaurant
New Shan & Punjab
has come in Green Chilli's place.
Like any North Indian restaurant,
New Shan & Punjab
offers the usual array of Punjabi dishes like Sarson Da Saag and Maki De Roti, Chole Batura, Chicken Makhani, Paneer Masala, Baingan Bartha etc.
We recently had a meal at
New Shan & Punjab
and here's our experience.
Baingan Bartha - Disappointing
Like its predecessor
Green Chilli
and like a lot of Indian restaurants in Edison and Iselin,
New Shan & Punjab
is a hole in the wall operation.
Nothing by way of decor here.
Certainly not a place to bring your date.
But a hole-in-the-wall Indian restaurant like
New Shan & Punjab
that does not provide rice with a vegetarian curry takeout costing $8.99 is unlikely to survive for long.
What justification can there be for not throwing in a small plate of rice with a $9 vegetarian Curry takeout?
None in our opinion except a fervent wish to down its shutters soon.
Baingan Bartha with out Rice - $8.99
To make matters worse, despite requesting twice that our Baingan Bartha be spicy, the curry was anything but spicy.
It's hard to explain such cavalier indifference to paying customers by a new restaurant.
Baingan Bartha was a wee bit on the oily side and the absence of a spicy flavor to the curry robbed us of any joy in eating this curry.
The onion salad that accompanied (see picture above) the Baingan Bartha contained nothing but some horrid chilli powder sprinkled on it. Hey, they could have at least provided a cut-lime piece along with it so that we could have squeezed it on the onion.
Non-Veg Platter - $8.99
Besides the Baingan Bartha, we also ordered a Non-Vegetarian platter (8.99) for dine in.
It took about 25-minutes for our food to arrive at the table.
Our platter included Chicken Curry, Lamb Curry, Dal, a small bowl of rice, one Naan and a pathetic apology of a salad without any dressing.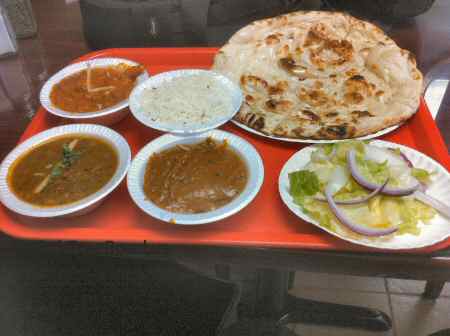 Non-Veg Platter - $8.99
Both non-veg curries were medium-spiced as requested.
We wouldn't consider either of them as exceptional but they were better than a lot of Curries we've had in Edison and Iselin.
Chicken Curry was the better of the two. Set in a thick creamy tomato sauce, it tasted more like Chicken Tikka Masala.
Lamb Curry was not as flavorful as 'Chicken Curry' and the gravy was way too thick for our liking. But famished as we were, we quickly polished off the Lamb Curry with rice.
Dal Makhani was one of the better Dals we've had in Edison/Iselin. A flavorful Dal Makhani that even packed some good Indian heat!
Usually, Dal gets a step-motherly treatment at most Indian restaurants. We're glad that
New Shan & Punjab
takes its Dal seriously.
Not Value for Money
But
$9
for an Indian non-veg lunch platter on plastic plates in a hole-in-the-wall joint is just not value for money.
For just a few dollars more, you can get an all-you-can-eat Indian buffet containing a lot more items at nearby restaurants like
Rasoi
or
Urban Spice
.
Shan & Punjab Rating
Indian restaurants in New Jersey are notorious for their poor service and
New Shan & Punjab
is no exception.
When we walked in on a recent afternoon, there were two employees near the counter. One fellow was handling a catering order while the other was potting around. After seeing us standing there for 10-minutes, the second guy came over and took our order.
Some 10 minutes after we placed our order, another guy walked over to our table and asked us if we wanted to order a non-vegetarian platter!
There were no plates, forks/spoons or napkins in our takeout paper bag.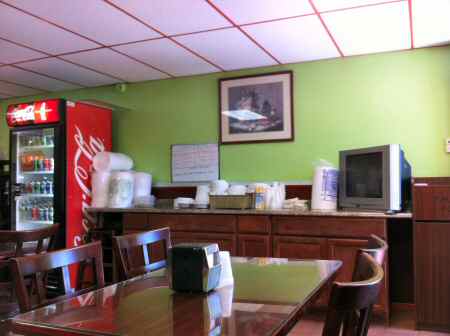 Drab Interiors
Like most Indian restaurants in Edison and Iselin,
New Shan & Punjab
does not provide a receipt to customers.
When we paid $20, the guy at the cash counter mumbled "no taxes" and returned two $1 bills.
Overall, we did not find any highlights at
New Shan & Punjab
that would prompt us to return. - ©
OakTreeRoad.us