Curry Crust Pizza Review
Curry Crust Edge Pizza: Skip the Plight
When it comes to indulging my Pizza craving, I am not a huge fan of big chain brands like Pizza Hut, Papa Johns etc.
Smaller stores do a better job at Pizza.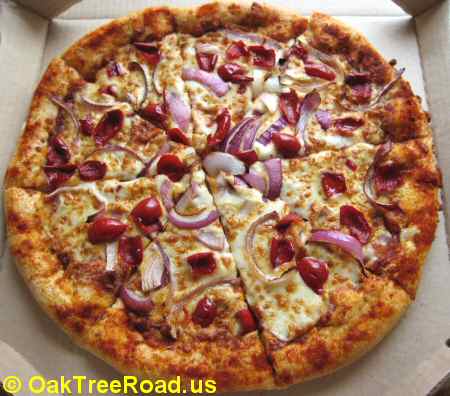 But when I heard that Pizza Hut is offering a
Curry
Crust Edge flavor pizza under the rubric "
Get Curried Away
", I promptly took the bait and ordered one.
In retrospect, it was a mistake as my
Curry
Crust Edge Flavor Pizza turned out to be a big disappointment.
My Curry Crust Pizza Order
My order was for a large two toppings pizza for the promotional price of $7.99.
I chose a hand tossed pizza with premium crushed tomato sauce and fresh red onions and Peruvian cherry peppers for toppings.
And for the option "
Add flavor to your Crust Edge
", I chose
Get Curried Away
flavor.
My pizza was ready for pick up within 20 minutes of placing the online order.
Here's my take on the new
Curry
Crust Edge flavor Pizza from Pizza Hut:
To put it in two words Pizza Hut's new Curry Crust Edge flavor Pizza turned out to be a "Big Disappointment" for my curry hardened Indian palate.
The Curry Crust Edge flavor Pizza failed at the most basic level i.e., the curry flavor.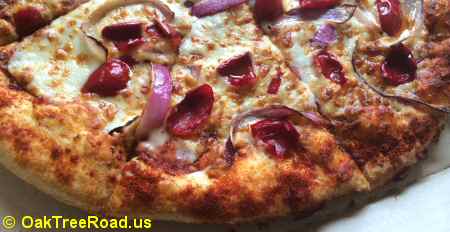 Pizza Hut's web site described
Get Curried Away
flavor as:
A heated, savory blend of traditional curry spices including coriander, cardamom and fenugreek.
But one bite into the crust edge of my Pizza Hut pizza, I retreated in horror.
For the so called Get Curried Away flavor tasted like red chilli powder mixed with a wee bit of salt.
Nothing more and nothing less.
No Curry spices, coriander, cardamom, fenugreek flavor. Zilch, nada, zip.
Besides the absence of the touted Curry flavor, Pizza Hut's large 2-topping pizza was disappointing on other fronts like quality of cheese used and taste of toppings.
The quality of cheese was so bad that it gave a nauseating feeling by the time I finished the second slice.
Peruvian cherry peppers - a new topping offering - hardly packed any heat and taste.
Curry Crust Edge Pizza Rating
If you love curry and pizza like me, steer clear of Pizza Hut's
Curry
Crust Edge Flavor pizza.
It's plain junk.
Instead, walk into any of the Oak Tree Road Indian restaurants and enjoy a hearty curry meal or buffet for a few dollars more.- ©
OakTreeRoad.us