Trupti Biryani Iselin NJ Review
Trupti Curries & Biryani: Delicious Andhra Food
When news trickled down that
Trupti Biryani & Curries
had opened on Green St (extension of Oak Tree Road) in Iselin, it got my blood pumping.
Biryani - Indian Kate Upton
You see,
Biryani
for Indians is like
Kate Upton
to Americans.
Just as Americans can't get enough of their favorite luscious beauty, Indians can't have enough of their favorite rice dish, Biryani. The profusion of Biryani places on Oak Tree Road in Edison and Iselin testify to our insane addiction to Biryani.
The mere sight and sound of Biryani gets Indians into a drooling ecstasy.
During my visit to Oak Tree Road/Green St on a recent weekend, I resolved to try Trupti's Biryani. The restaurant is located in the same spot as the now closed Anjappar Express, just across the street from
Deccan Spice
.
As it was way past lunch time, I settled for a Biryani and Curry takeout instead of dining in.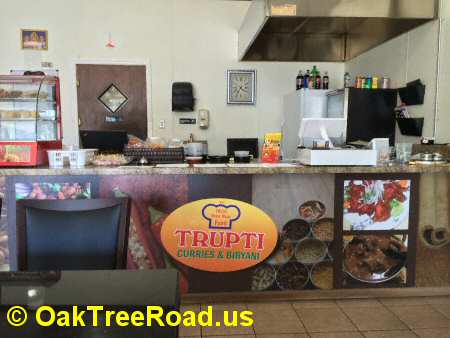 Counter with Andhra Snacks and Sweets
My takeout order included Egg Biryani ($7.99), Gutti Vankaya ($6.49) and Chegodilu snacks ($3.99), all popular Andhra treats.
Trupti Biryani's kitchen took about 20 minutes to get my food ready.
Egg Biryani
For my cultivated Indian taste-buds, Trupti's Egg Biryani is the second best egg Biryani I have enjoyed in Iselin/Edison.
Folks, I have had Egg Biryani at Dakshin Express and Paradise Biryani Pointe on Oak Tree Road in Edison.
While Trupti Biryani is not in the class of Dakshin Express's
Sooper
Biryani category, I would rate it as one of the good Biryanis on Oak Tree Road.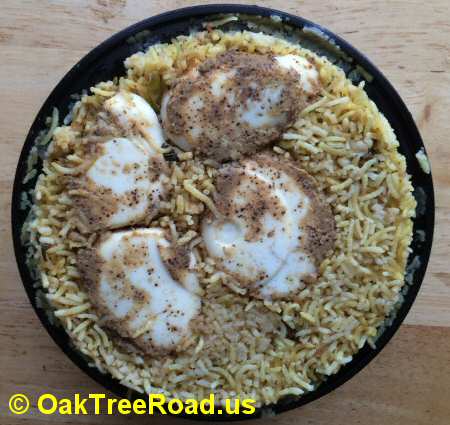 Egg Biryani - $7.99
There were several things in favor of Trupti's Egg Biryani:
First, with right proportion of Biryani spices, Trupti's Egg Biryani packed a nice flavor and aroma. Biryani spices seeped well into the Basmati rice making it a delicious dish.
Second, Trupti Egg Biryani included four halves of boiled egg that had seeped well with biryani spices. To my lecherous mind, the egg pieces seemed like Kate Upton's tatas peeking out from their enclosures. I can dream, can't I?
Third, the accompanying medium thick gravy and raita boosted Egg Biryani. Trupti's gravy is one of the best I've had in recent months. Although tasty, the onion raita side was a little watery.
Fourth, the serving size of Egg Biryani for $7.99 was decent and sufficient for one meal for two light eaters.
On the flip side, I found Trupti's Egg Biryani a bit dry. While it is healthy from a cholesterol perspective, a tad more cooking oil could have easily put Trupti Biryani on par with the heavenly Dakshin Express' Egg Biryani.
Also, Trupti's Egg Biryani did not include any vegetables save a few tiny onion pieces and mint leaves.
It did not come with the customary slice of lime and chopped raw onion.
Gutti Vankaya
Close on the heels of Egg Biryani was Trupti Biryani's Gutti Vankaya.
Set in a medium thick flavorful and delicious gravy, Trupti Biryani's Gutti Vankaya included six small whole eggplants.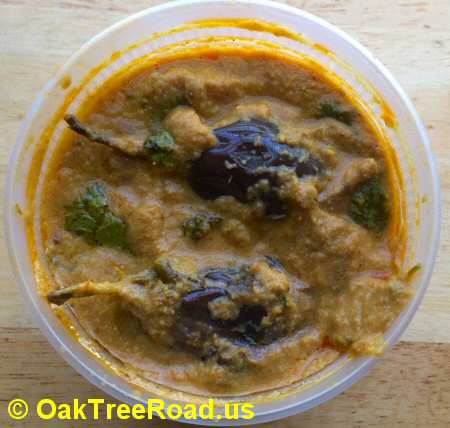 Gutti Vankaya - $6.49
Unlike the Gutti Vankaya I've tried from other Andhra restaurants in Jersey City and South Plainfield, Trupti's version was neither bitter nor an oil slick.
With right amount spices and oil, Trupti Biryani's Gutti Vankaya was greatly relished.
Even the serving size was decent for $6.49. My small grouse was that Gutti Vankaya did not come with white rice on the side.
Chegodilu
I impulsively picked up a packet of Chegodilu ($3.99) from the counter and added it to my order.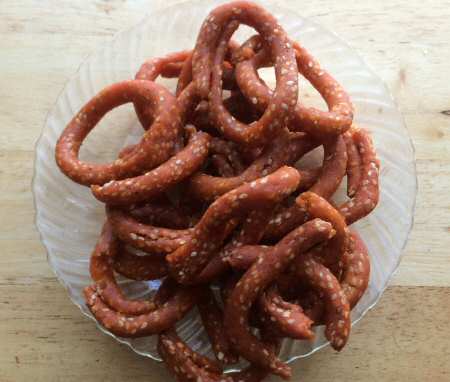 Chegodilu - $3.99
At first I was a little uneasy about the Chegodilu due to its fiery red color. I wondered if food color was added to make it look attractive.
But my trepidation disappeared as I crunched into a small piece. Chegodilu was crunchy as it should be and packed strong flavor of white sesame seeds.
Chegodilu was so fresh that in retrospect I regretted not picking up more packets.
No Receipt
When I walked into Trupti around 4PM, the restaurant was empty.
An Andhra waitress in her late 30s came out of the kitchen and took my order.
The lady did not care to provide me with a copy of bill after making the payment.
When I was at the door, I noticed that my takeout did not include napkins, plastic spoons or paper plates. I went back and got them from the counter.
Trupti Biryani Rating
Not withstanding the indifferent service, I recommend Trupti Biryani for its delicious Andhra food.
During my next visit, I intend to pick up some Andhra Ariselu, Laddu and Murukulu as well.
Hey, I may not be able to get my hands on Kate Upton but I sure can lay my hands on good Biryani when I visit Oak Tree Road. - ©
OakTreeRoad.us