Bombay Spice Iselin NJ Review
Bombay Spice Iselin: Disgustingly Bad
There's nothing we Indians love more than keeping our jaws constantly in motion.
We're either wolfing down mounds of Biryani, talking nineteen to the dozen, chewing tobacco or spitting paan.
I'm no different from the herd when it comes to exercising my jaws!
I love snacking on Cut Mirchi, Jalebis, Pakoras, Samosas, Cutlets, Mixture, Murukku etc.
So when I spotted Indian snacks at Bombay Spice in Monat Plaza Desi Galaxy on Oak Tree Road, I promptly ordered a bunch of them.
In retrospect, I should not have bothered. For the three snacks I purchased (Cut Mirchi, Jalebis, Pakoras and Samosas) turned out to be disgusting.
Here is my tale of woe:
Cut Mirchi
Cut Mirchi looked better than it tasted.
It had the usual masala filling and came with a few slices of Onion, Green Chutney and Tamarind Sauce on the side.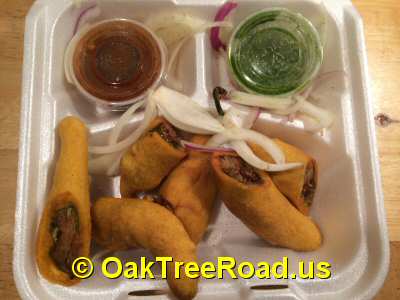 But one deep bite into Bombay Spice's Cut Mirchi, I tripped into soggy, partially cooked chickpeas flour in the inside layer.
Whoever fried the Cut Mirchis at Bombay Spice removed it too quickly from the oil once the outer cover turned golden brown without allowing the inside portions to get cooked evenly.
Tamarind Sauce was alright. Green Chutney packed a mild mint flavor and was not spicy unlike the usual Green Chutneys I am so used to.
But in the absence of evenly fried Cut Mirchi, I really could not relish it.
Jalebi - $3.89
Bombay Spice's Jalebi came in two flavors - Rose Essence and plain one.
But I was disappointed with both as they failed at a basic level - sweetness.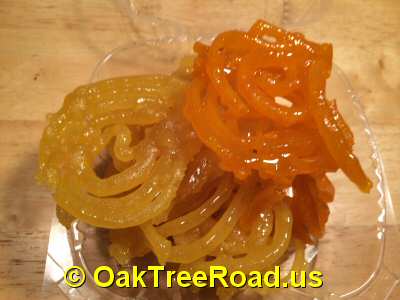 Both were low on sugar. Indian sweets lacking on sweetness is like Pamela Andersen without those magnificent jugs.

Also, the Rose Essence Jalebi packed only a mild flavor of rose.
To its credit both Jalebis were crisp. But in the absence of enough sweetness, I did not enjoy the Bombay Spice's Jalebis one bit.
Vegetable Samosa - $1 Each
Now comes Vegetable Samosas, perhaps the most popular Indian snack.
The two Vegetable Samosas came only with Tamarind Sauce side. And they did not include the Green Chutney side.
The inside filling included Potato, Onion seasoned with crushed dry Red Chilli, crushed Coriander or Dhania seeds.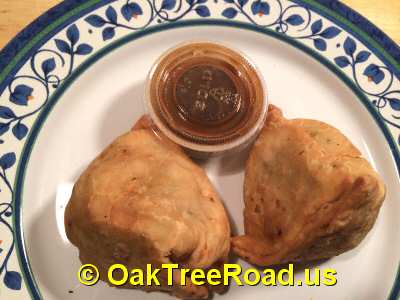 To be fair, the Potato filling was tasty.
But I felt miserable eating the Vegetable Samosa.
The inside layer of Vegetable Samosa was not cooked properly. The inside flour layer was slightly pasty, partially cooked and it felt like I was eating raw, slightly wet flour.
It was so bad that I scooped up the Potato stuffing with a spoon and trashed the outer Samosa flour shell.
Bombay Spice Monat Plaza - Avoid
The woman at the Bombay Spice counter in Monat Plaza Desi Galaxy does not know how to do basic calculation in billing.
She miscalculated the charges for Cut Mirchi and Samosas.
Going by my overall experience at Bombay Spice in Monat Plaza Desi Galaxy food court, I suggest you stay away. - ©
OakTreeRoad.us