Dakshin Express Edison Biryani Review
Dakshin Express: Delicious Andhra Biryani
Even by the lowly standards of Oak Tree Road Indian restaurants,
Dakshin Express
sports a dingy appearance, both inside and out.
But the restaurant's offputting appearance and ambiance has not prevented me from visiting the place time and again.
You see, over the years the overall quality of Biryani at Dakshin Express has remained consistently good - Spicy and flavorful.
Dakshin Express is primarily a South Indian restaurant although it peddles a few North Indian favorites like Palak Paneer, Navaratan Korma and Mutter Paneer.
Recent Visit
Like most South Indians, I'm a huge fan of Andhra style Biryanis. So I quickly ordered an Egg Biryani and Special Chicken Biryani (Andhra Style) takeout.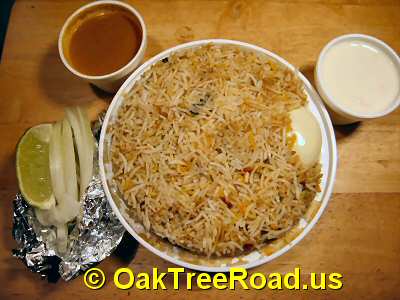 For both Biryanis combined, I paid $23.01.
Biryanis were neatly packed in plastic boxes and came with sliced onions, a cut lime piece, Gravy and Onion Raitha.
Here's what I think about the two Biryanis, starting with Andhra Style Special Chicken Biryani:
Andhra Style Special Chicken Biryani - $12
Dakshin Express' Andhra Style Special Chicken Biryani is of the boneless variety.
Prepared with Basmati rice, the Special Chicken Biryani included one boiled egg, boneless chicken pieces, cloves and green cardamom.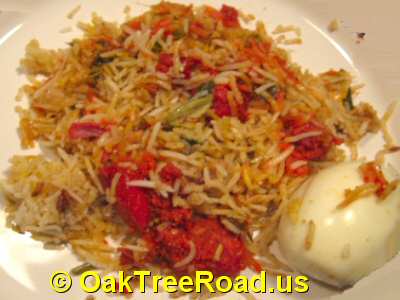 The chicken pieces were small to medium in size and generously strewn through the rice.
The texture of the rice was fine and cooked right. It was neither dry nor pasty.
Besides the single boiled egg and chicken, the Andhra Style Special Chicken Biryani included two small pieces of capsicum and curry leaves. I'm happy to report that the Chicken Biryani was flavorful and spicy on this occasion too.
Not obscenely spicy but rightly spiced.
Chicken pieces were tender and absorbed the Biryani spices well.
But what I did not relish is the reddish-orange color of chicken pieces.
I am not in favor of adding food colors to meat or Vegetables to enhance their looks.
My only other cavil is that the Andhra Style Special Chicken Biryani could have done with a bit more oil.
Egg Biryani
The moment I opened the Egg Biryani box, I felt a tinge of buyer's remorse since it included just one boiled egg.
For $9.50, I felt the Egg Biryani should have included at least a couple of eggs.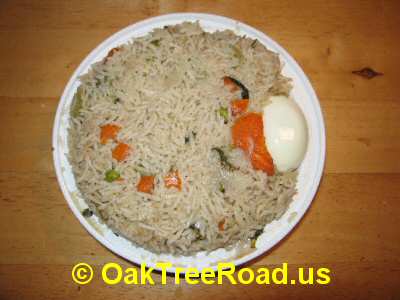 > Also the boiled egg did not pack as much Biryani flavor compared to my previous visits. If you ask me, the eggs should have been marinated with some light Masala.
Besides one boiled egg, the Biryani included Carrots, Green Peas, Capsicum, Zucchini and, of course, cloves and green cardamom.
The rice texture was fine, neither dry nor overcooked but it could have done with a little more oil.
Biryani rice was flavorful and spicy and I had no complaints with.
Biryani Gravy and Raitha
Both Biryanis came with Gravy and Onion Raitha.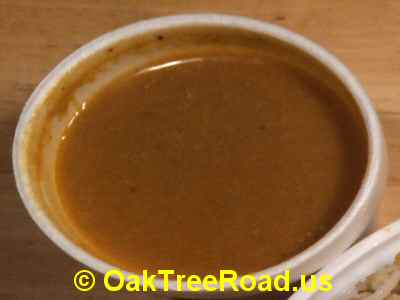 The medium thick, brown colored gravy was spicy and packed a nice green cardamom and curry leaves flavor.
There were two green cardamom pods in the small gravy container.
The gravy was an excellent side and enhanced the overall flavor of both Andhra Style Special Chicken Biryani and Egg Biryani.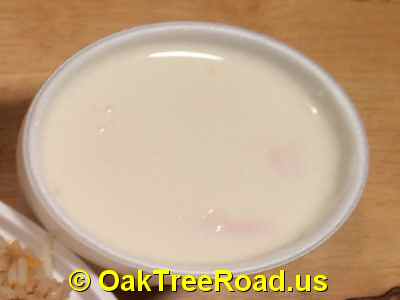 Onion raitha was thick and packed a strong Onion flavor.
But it was too sour leading me to doubt its freshness.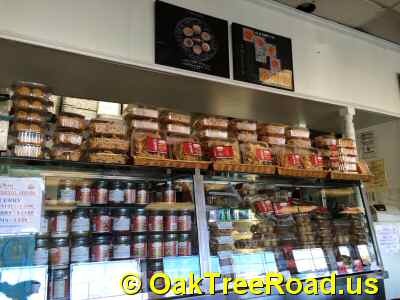 No Bill
Like a lot of Indian restaurants on Oak Tree Road, Dakshin Express did not provide me with a receipt.
The middle-aged Indian at the counter who took my order, mumbled $23.01 and collected the money.
It irritates me greatly when Indian restaurants don't provide me with a receipt unless I pay with a credit card.
Dakshin Express Biryani Rating
Not withstanding the unappealing ambiance and minor irritation for getting Egg Biryani with just one boiled egg and non-receipt of a bill, overall I was pleased with the two Biryanis' flavor and spice level.
If you love Biryani rice dishes, I strongly recommend you stop at Dakshin Express on Oak Tree Road and try their Biryanis.
But given the lousy ambiance, go for a takeout rather than dine-in.- ©
OakTreeRoad.us