Talk of the Town Iselin NJ Review
Talk of the Town Iselin: Not Much To Talk About
Its name notwithstanding, our meal at
Talk of the Town
in Iselin turned out to be not much to talk about.
From the freezing cold Samosa Chaat sprinkled with sandy cilantro leaves to the dry Palak Paneer with burnt flavor and the nuked flavorless Alu Mutter, it was one assault after another on my Indian tastebuds.
Not an Indian restaurant we'd be keen to return to in a hurry.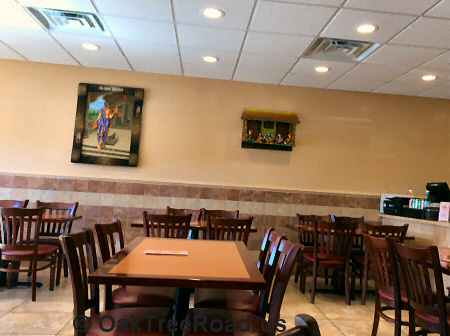 Ambiance
Nestled between
Jassi Sweets Center
and
Kundan Jewelers
in Nazarana Plaza on Marconi Ave (off Oak Tree Road) in Iselin, Talk of the Town is a quick bite vegetarian restaurant.
When we walked into the restaurant around 3PM on a weekend day, the restaurant was mostly empty.
As there were few diners, we could pick a table of our choice.
We asked for Samosa Chaat along with a Thali.
Our table was clean and included a plate with two steel spoons and forks, plastic water glasses, napkin stand and menu.
A restaurant that charges $6 for a Samosa Chaat has
no right
to serve water in plastic glasses.
Samosa Chaat landed first followed by the Thali.
Samosa Chaat
Samosa Chaat looked better than it tasted.
It included one Samosa, chopped Tomato, Onion, Cilantro leaves, few boiled Chickpeas, diced boiled Potato pieces, Sev, Tamarind sauce and Yogurt.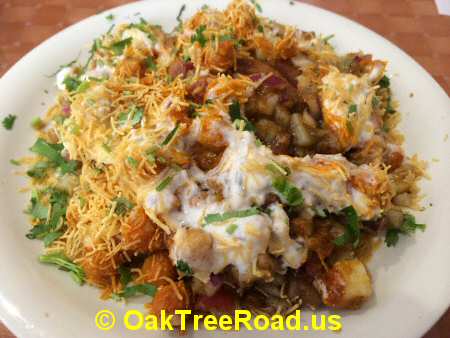 Samosa Chaat - $5.99
But one bite into the Samosa chaat, we quickly retreated in horror as it was freezing cold.
Every thing except Samosa, Sev and Cilantro leaves seem to have been taken out of the cooler seconds earlier and added to the Chaat.
Yogurt, Tomato and diced Potato, boiled Chickpeas were all cold.
Oh, what a shame!
To its credit, Samosa Chaat was tangy owing to the generous amount of Tamarind sauce that went into its preparation.
But the Samosa Chaat was missing on the hot taste that usually comes from either chopped green chillies or red chilli sauce.
With hard edges and bland Potato curry filling inside, the Samosa did not endear itself much to our tastebuds.
The bottom portion of the Chaat had the texture of fine sand that usually comes with uncleaned/improperly washed Cilantro leaves.
Overall, Talk of the Town's Samosa Chaat gets a
C minus
.
Thali
Disappointed with the Samosa Chaat, we trekked on to the Vegetarian Thali.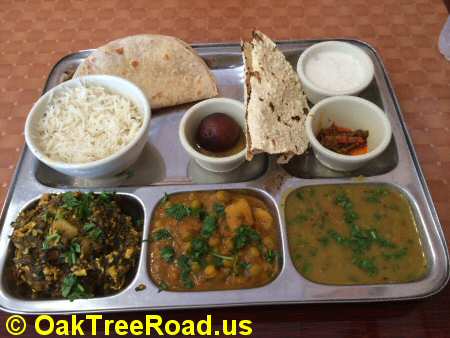 Thali - $9.99
As indicated by the menu, Talk of the Town's thali included two vegetables, pappad, dal, pickle, raita, dessert, small serving of rice and two chapathis.
The two vegetables we got were Palak Paneer and Alu Mutter.
Palak Paneer was not the usual gravy type thick curry. It was dry and included more boiled Potato than Paneer. Paneer pieces were mostly small or in powdered form.
Also, Palak Paneer packed a slight burnt flavor, the kind you get when a curry is heated/reheated several times in a kadai.
Alu Mutter was a nuked affair. Whoever reheated the curry had forgotten to take it out of microwave in time.
Devoid of any spice, flavor or taste, it tasted like a mix of well boiled Potato and Green Peas.
Dal was a close rival to Alu Mutter in terms of taste. It was nothing but finely cooked lentils with Cilantro seasoning minus even a hint of spice.
The small serving of Basmati Rice seemed fresh and included jeera seasoning.
What slightly lifted this otherwise disappointing Thali were the chapathis, Gulab Jamun, Pappad, Raitha and Pickle.
Pappad was crisp, raitha soothing and pickle tasty.
Chapathis were soft and came with a daub of butter inside.
Gulab Jamun was well fried with right amount of sweetness and cardamom flavored sugar syrup.
But in the absence of palatable curries, we had a hard time relishing the Thali. Since we abhor wasting food we shoved the Thali items down our throat.
Service
Service was just average.
The waiter was neither attentive nor indifferent.
He seemed too anxious to sell us items like Rabdi and Kulfi and looked pained when we declined his suggestion.
Talk of the Town Rating
Overall our experience at
Talk of the Town
was disappointing.
Oak Tree Road offers far too much choice for us to have to endure such mediocre Indian food. - ©
OakTreeRoad.us