Calcutta Chinese Edison Oak Tree Road
Calcutta Chinese Edison Review: Awful Indian-Chinese Food
It's really sad when a restaurant like
Calcutta Chinese
fails to maintain their standards and goes downhill.
We had taken a couple of business associates to
Calcutta Chinese
in 2008 for lunch. And we all left praising the place.
During our recent visit we noticed the same ambience, the same six tables, and, of course, the same location.
Alas, a lot has changed for the worse with the things that matter most at a restaurant - food and service.
Gone Bad
What has really gone wrong is that instead of the original chefs who worked magic, the kitchen now appears to be run by some bozos who obviously don't know the first thing about Indian-Chinese cuisine in Calcutta (Supposedly the birth-place of Indian-Chinese cuisine).
It's a shame that not only has Calcutta Chinese's food quality gone down the toilet, their customer service has deteriorated markedly as well.
Here's how the whole thing went down during my recent visit for a takeout.
I got to the restaurant, and saw only two Bengali guys eating in (How could I tell? All the
khub bhalo
gave it away).
A West Indian guy was waiting for his take-out order, and a nurse was there with her daughter for a take-out order.
Calcutta Chinese Oak Tree Road - Our First Food Order
I waited for the guy behind the counter to get off his cell phone so he could take my order.
He eventually did, and I placed the following order:
1. Chilli Chicken with White Rice and Wonton Soup Dinner Combo
2. Chicken with String Beans over Fried Rice Combo with Egg Roll
3. Hakka Noodles with Shrimp
Our Extra Soup Order
The guy told me to wait 25 minutes for my order.
So I sat at one of the six tables watching
Jeopardy
on TV.
After about five minutes, I asked the guy at the counter to add Tom Yum Soup to the order.
The guy kept chatting on his cell-phone in between taking orders on the business phone. After about 15 minutes, the West Indian guy got up and asked the guy loudly,
Yo! Where's my order
? The guy behind the counter replied,
it's going to be another couple of minutes
.
Another Indian guy walks in for his pick up, and asks if he could add fried dumplings to his order, guy behind the counter says that
'll take another 15 minutes 'cause we make it fresh
. The Indian guy says forget it and marches out.
Clueless Service
I go up to the counter to ask about the status of my food, and the guy hands me the Tom Yum Soup, and says it'll be $2.95 plus taxes.
So I ask him, what about the rest of my order?

He goes, what order?

I ask him about the whole big order I placed.

He goes, what are you talking about?

You told my Mom something, and now you are telling me something else.

Who did you order with?

I say YOU, that's who.

He glares, and asks me what I ordered.

I recite the whole list.

He goes to his mother and starts off in Chinese.

Mother points to a package on a table near the kitchen.

He looks at it, picks it up and starts ringing me up. That'll be $xxxxxx.
No Apology
,
no Acknowledgement
that he screwed up.
I mean,
Hello! I talked to your Mom? Dude I don't even know your Mom. I didn't know till a minute ago that she gave birth to you
.
Not a good start, I thought as I picked up the food and headed back to the car.
I get home and immediately open up the containers. Luckily, the containers included all the items we ordered.
The take out package included forks, knives, condiments such as sauces and hot oil. But there were no paper napkins.
Here is our take on Calcutta Chinese.
Calcutta Chinese Edison - Egg Roll
Egg Roll was fairly acceptable in terms of both texture and filling.
But, sadly Calcutta Chinese's Egg Roll had little or no flavor.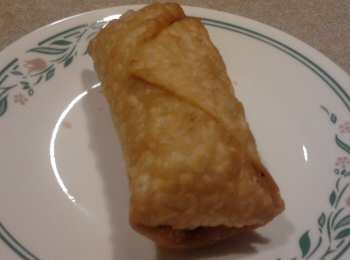 Wonton and Tom Yum Soup
The Wonton Soup was average.
Well, it's really hard to screw up Wonton Soup.
| | |
| --- | --- |
| Average Wonton Soup | Tasteless Tom Yum Soup |
The Tom Yum Soup should have been hot, as in
Spicy Hot
, but it was a whimper compared to what we've had at some of the better restaurants in NY.
We didn't detect any tamarind in there; none of the traditional ingredients of Tom Yum were in there.
In fact, we saw peas and celery in the soup. We didn't touch the Tom Yum again.
Disgustingly Bad Chilli Chicken
I open up the other boxes.
Hmmm, something doesn't look right.
Calcutta Chinese Chilli Chicken looked like General Tso's Chicken to me minus the sweet and tangy sauce.
Did they screw up? I look at the bill and it says Chilli Chicken.
The second container had Hakka noodles that looked like Maggi cooked at home, with scrambled eggs in it.
We start eating the main course.
After the first bite into Chilli Chicken, I honestly didn't want to eat any more.
The Chilli Chicken was atrocious. I felt like crying after the first bite.
| | |
| --- | --- |
| Bad Chilli Chicken with White Rice | Atrociously Bad Hakka Noodles Shrimp |
There was very little sauce, that too not the kind Chilli Chicken is known for.
Just a couple of deep fried pieces of chicken over a bed of cut chillies, and Onions. No flavor, no texture absolutely disgusting (want to throw up thinking about it).
Calcutta Chinese Oak Tree Road - Awful Hakka Noodles Shrimp
Hakka Noodles were dry without any flavor and texture and seemed like it was just rushed out of kitchen without adding the usual flavor agents or cooking sufficiently.
Calcutta Chinese Hakka Noodles looked more like mom cooking noodles for kids at home.
Worse, scrambled egg pieces in the noodles gave us a nauseating feeling. There was no gravy at all.
Hakka Noodles are supposed to be soft, coated with gravy, and moist. Sadly, Calcutta Chinese Hakka Noodles Shrimp had none of these qualities.
Folks, Calcutta Chinese Hakka Noodles was an atrociously repulsive garbage.
We hate to use such strong terms for food but we are helpless where our Calcutta Chinese Hakka Noodles Shrimp order was concerned.
Calcutta Chinese Edison - Pathetic Fried Rice
The Fried rice was so pathetic that we literally had to trash it after the first couple of spoons.
Fried rice was basically just clumps of white rice thrown into soy sauce, with a few pieces of spring onion, and some carrots.
I hate to say, but the rice was equally repulsive.
| | |
| --- | --- |
| Chicken String Beans | Pathetic Fried Rice (bottom middle) |
Calcutta Chinese - Chicken String Beans
Chicken String Beans was the sole saving grace of our otherwise disastrous Calcutta Chinese experience.
The sauce was flavorful, but lacked the heat which had to be incorporated by using the hot oil provided by them.
String beans were cooked just right, not too raw, and not too soft. They were crunchy.
But, String Beans were not cleaned up.
The top and bottom of some of the String Beans were left intact, when they should be cut, and the sides are not peeled, so you would have to pull the mesh out of your mouth.
Also, some of the beans were over-ripe, which we call
paki hui
in Hindi, with big seeds. And beans like these shouldn't be used in dishes.
Mon dieu
, these cooks should not be allowed to enter the kitchen, let alone cook there.
Overall Awful Experience
The bad food obviously has a lot to do with the buffoons manning the kitchen at Calcutta Chinese restaurant on Oak Tree Road.
Whoever these jokers are, they need to be taught how to cook Indian-Chinese food because someone like us who's passionate about food will detect the poor quality in a second.
Plus
desis
have grown up with Indian-Chinese, and if we don't have a good Indian-Chinese fix once in a while we start getting home-sick.
Man, how I miss the
Van Chinese
from New Delhi!
The local Chinese restaurant near our home here cooks much better food, and at a fraction of the price. Their shrimp is always swimming in a thick sauce, the Noodles are tender and moist, and the chicken with Broccoli is very flavorful.
Calcutta Chinese Edison Rating - Skip It
Calcutta Chinese shattered our dream of having a perfect Friday Dinner.
The food quality was lousy, and the service was even worse.
If they want to save this dump, they (the family that owns it) will have to take urgent remedial measures and try to redeem their lost glory.
Also Calcutta Chinese should get a better-mannered person who can handle customers' orders with accuracy at the counter.
Till then, we'll keep searching for the best Indian Chinese in New Jersey. Stay tuned for our reviews.
Our advice, skip
Calcutta Chinese
joint on Oak Tree Road in Edison till they get their food and service act together. - ©
OakTreeRoad.us