Anmol Sweets Edison NJ
Address:


Anmol Sweets

Nirula's Desi Galaxy
Sugartree Plaza
1700 Oak Tree Road
Edison, NJ 08820


Anmol Sweets Edison Review : Good Sweets
Our visit to
Anmol Sweets
in Nirula's Desi Galaxy food court in Sugartree Plaza on Oak Tree Road in Edison turned out to be an unusual experience - We encountered a sullen
desi
monkey behind the counter and delicious goodies inside the counter.
During our visit, the monkey (in the form of an Indian woman) behind the counter did not seem to be in a good mood as evidenced by her sulking demeanor and hostile attitude toward us.
Since we love sweets we ignored her simian antics and quickly ordered a pound of mixed sweets.
Anmol offers a variety of milk based sweets along with two varieties of Laddu.
Gunthia, Anjeer Kaju Katli, Anjeer Kaju Roll, Kesar Pista Roll, ah, the mere look of the various
mithai
inside the counter were so enticing that I almost started drooling.
Mixed sweets at
Anmol
are $9 a pound.
Assorted Indian Sweets
My box of assorted sweets had about 15 pieces including Gunthia, Anjeer Katli, Laddu etc.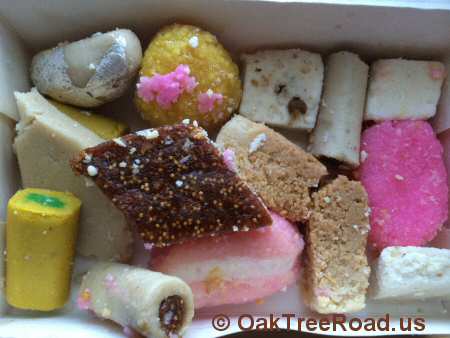 Assorted Sweets - $9 per pound
Kaju Barfi with cardamom flavor and right proportion of sweetness was delicious. Easily one of the best Kaju Barfis I've had in recent times.
Anjeer Kaju Katli was a close competitor to Kaju Barfi in fine taste and freshness.
But Anjeer Kaju Roll turned out to be a big disappointment with outer Kaju layer being hard. Also, it was not as fresh as the other sweets.
Chocolate Burfi, a perennial favorite of ours, turned out to be yummy with a strong flavor of chocolate.
Kaju Gunthia was fresh with a nice mixed dry nut filling.
Mixed Nut Barfi was a little hard compared to other sweets but still tasted delicious.
Milk Cake was yummy with a freshly prepared taste.
Pink Chum Chum was fresh but not sufficiently juicy/moist as it should be. Since it packed the right amount of sweetness, I enjoyed it.
Pink Sandwich suffered from insufficient moisture and was ergo a little dry.
Kesar Pista Roll with a nice flavor of stuffed pista was fresh and delicious. But the pista stuffing was so greenish that I felt uncomfortable over the food colors used.
Poor Service
When it comes to rendering professional and polite service,
Anmol Sweets
gets an
F
grade.
We politely requested the
desi
woman behind the counter for a pound of assorted sweets after inquiring about the price.
The woman at the counter seemed annoyed upon being asked the price and ignored our repeated requests to restrict the sweets to one per variety.
Is it a crime to ask the price before purchase?
Indifferently, she added two to four pieces of each variety to our box.
Vexed with her hostile and negative attitude to a simple request, we checked the box before paying the bill and requested her to remove the extra pieces of same variety and replace them with others but encountered only limited success.
Anmol Sweets Edison Rating - Delicious
If you love Indian sweets like us, do visit Anmol Sweets in Sugartree Plaza on Oak Tree Road in Edison to satisfy your sweet cravings.
But be prepared to endure hostile service toward paying customers. - ©
OakTreeRoad.us