Hot Breads Oak Tree Road Edison
Hot Breads Edison Review: Lousy Plum Cake, Horrid Samosas
Hey, it's Christmas time again.
Back home in India, we always used to get Plum Cakes for Christmas from bakeries run by Mangalorean Christians.
It was with a nostalgic yearning for Plum Cakes that we turned into the Sugar Tree Plaza on Oak Tree Road in Edison the other day.
Besides the yummy Samosa Chaat serving
Desi Galaxy
and the huge Apna Bazaar Indian grocery store, Sugar Tree Plaza also houses the
Hot Breads
Indian bakery.
In addition to cakes, puffs and biscuits, Hot Breads offers Samosas, Chaat and other Indian fast food.
During our visit, Hot Breads was mostly empty except for one other customer.
We walked upto the counter to order a plate of Samosa Chaat for eat-in and, of course, Plum Cake and assorted Cookies for take-out.
The Hispanic fella at the cash counter must have been in a really bad mood because he was downright rude. But more on that later.
Stale Rum Plum Cake
Hot Breads' Rum Plum Cake came packed in an aluminium foil box with a tight lid and seasons greetings sticker on one side.
Rum Plum Cake looked attractive with sliced Almonds toppings.
Alas, as if with so many things in life looks can deceive.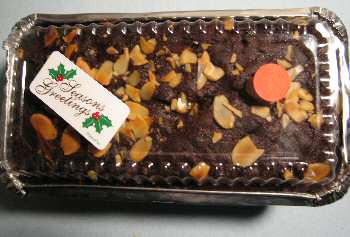 Stale Dry Rum Plum Cake
Other than the packaging and Almonds toppings, Hot Breads Rum Plum Cake ($8.50) did not have anything going for it.
Much to our immense disappointment, the Rum Plum Cake was pathetic.
There were multiple reasons why Hot Breads' Rum Plum Cake did not endear itself to us:
First, the Rum Plum Cake had a stale odor and taste.
Second, it was low on sugar.
Third, it was dry as if it had been prepared in the era of dinosaurs.
Horrid Samosa & Puff
Greatly disappointed with the Plum Cake and cursing Hot Breads for ruining our Christmas celebration, we moved on to the Samosas and Puffs that we added to our order on impulse.
The Samosas did not come with the customary accompaniments like Green Chutney or Tamarind Sauce.
Still, like brave American soldiers attacking the Taliban foes, we relentlessly marched ahead and took a big-bite of the Samosa only to retreat in horror.
Hot Breads' Samosa was big and that's all we can say in its favor.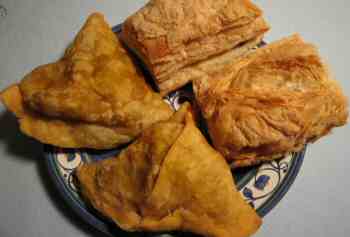 Horrid Samosa and Puff
The problem with the Samosa was the Potato filling inside. As regular Samosa eaters know, it's the filling that gives a magical taste to this popular North Indian snack.
The Potato pieces inside were partially cooked and hard. The quality of the Potato itself seemed bad and the filling was tasteless.
If an Indian eating house can't even get the simple Samosa right, what then is it capable of?
Much as we loath wasting food, we had no choice but to trash the Samosas and move on to the Vegetable Puffs.
To our bad luck, the Puffs too did not give our tastebuds any relief.
Potato filling in the Puffs was so little that it felt like eating baked Maida Flour Flakes rather than a Vegetable Puff.
Assorted Cookies
Our assorted cookies box included biscuits with Tutti Frutti and Almonds toppings, Jeera Biscuits, Salt Biscuits, Butter Biscuits and a weird yellow-colored Biscuit.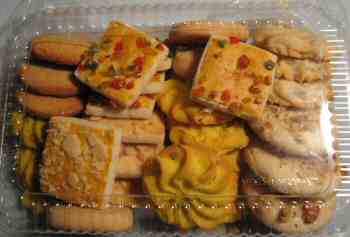 Assorted Cookies
The Biscuits were a mixed bag. They were crisp and we enjoyed some varieties (Tutti Frutti toppings) more than the others.
Unfortunately, some were badly lacking in sugar and tasted as if we were munching baked flour.
We were hoping that there would be one or two pieces of Kara (Chilli) Biscuits common at Iyengar Bakeries in South India. To our rotten luck, there were none.
Overall, we'd put Hot Breads' biscuits in the average category.
Rude Service
Even by Indian restaurant standards, service at Hot Breads is rude and inconsiderate to paying customers.
When we tried to order Samosa chaat, the Hispanic fella at the cash counter screamed
"No Samosa Chaat. 15 minutes, 15 minutes. You want?"
We were taken back at his rude attitude and meekly enquired as to what other Chaats were available for immediate eat-in. The fella indifferently pointed toward the menu on the wall.
Seeing his rude and hostile attitude, we decided against eating in. We just picked up our Rum Plum Cake ($8.50), Assorted Cookies box ($10.00), two Samsosas ($1.25 each) and two Vegetable Puffs ($1.75 each) for our takeout order little realizing that buyers remorse would attack us soon.
We pulled out our Credit Card to make the payment. The Hispanic waiter glared at us and barked, "No Card. Cash, Cash." Luckily we were carrying enough cash, quickly made the payment, picked up our Plum Cake etc and left.
Hot Breads Edison Rating
Avoid Hot Breads on Oak Tree Road if you are hankering for a good Plum Cake this Christmas or for New Year.
Instead, we recommend you head to an American Grocery store or a pastry shop and purchase a Plum Cake, a Fruit Cake or a regular Cake to appease your sweet craving.
Also there are plenty of options available on Oak Tree Road that serve Samosa with Green Chutney etc.
Folks, Hot Breads in Edison does not have much to recommend it.
Oak Tree Road sorely needs a better Indian bakery. - ©
OakTreeRoad.us