Pakvaan Oak Tree Road Edison
Pakvaan Edison: Horrid Idli, Good Dosa
In several decades of gorging on Idlis, we have not encountered as bad an Idli ($3.99) as the one served to us at
Pakvaan
in the Sugar Tree Plaza on Oak Tree Road.
Our plate of Idli had a foul, vomit-inducing smell and the Idli itself was hard.
To make matters worse, the Coconut Chutney accompanying the Idli was not fresh, freezing cold and flavorless crap.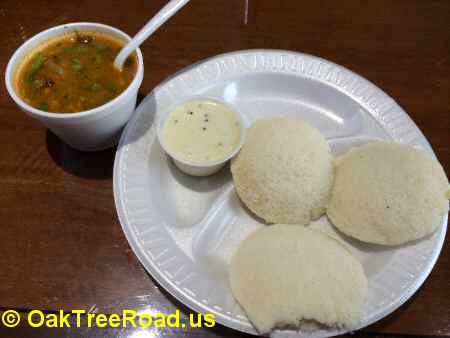 Smelly Idly
To say that we were incensed would be a gross understatement!
Most certainly, not an auspicious beginning to our meal at Pakvaan!
Mysore Masala Dosa - Divine
After the Idli fiasco, we moved to Mysore Masala Dosa with great trepidation!
Wow!
Pakvaan's Mysore Masala Dosa ($5.99) was a treat!
Crisp, with a tasty Potato-Onion filling and a spicy powder layer inside, the Mysore Masala Dosa was divine!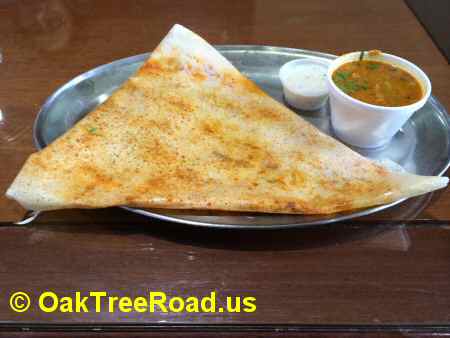 Mysore Masala Dosa - $5.99
The accompanying Sambar with Bell Peppers, Drumstick and Green Squash lacked the South Indian tamarind, dhania flavor, but still packed some nice taste.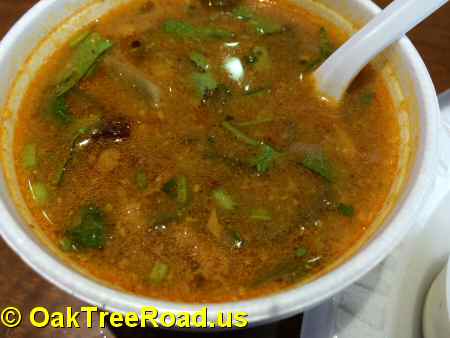 Sambar
Gujarati Thali - Good
Pakvaan's Gujarati Thali included five Pooris, white rice, Cabbage Peas curry, Black Eyed Beans curry, Dal, Dhokla, Dumpling, Chickpeas Garlic Pickle and Gulab Jamun.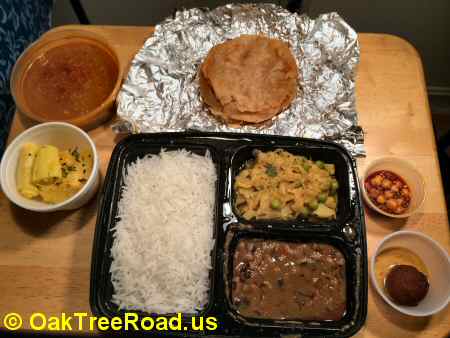 Gujarati Thali - $8.99
Cabbage Peas and Black Eyed Beans curries were flavorful.
Ditto with the sweetish, watery Dal.
Gulab Jamun was alright but nothing much to write home about.
Chickpeas Garlic pickle was a hot treat for Indian palates.
Overall, we had no issues with Pakvaan's Gujarati Thali ($8.99) except that serving size of white rice and curries were small.
But we're not sure if the takeout Thali was worth $8.99.
Ambiance & Service
Pakvaan is the typical Oak Tree Road Indian restaurant with not much of a classy ambiance!
Service at Pakvaan is a mixed bag.
There's no excuse for a restaurant to serve a smelly, spoiled item to diners!
When we brought the foul-smelling Idli to the attention of the fellow at the cash counter, he did not care to apologize or express any regrets but took off the Idli ($3.99) charges from our bill.
Also, there were no napkins on our table.
But our elderly waiter was a polite guy and seemed eager to please!
Our Gujarati Thali takeout was packed neatly but spoons/forks and napkins were not included.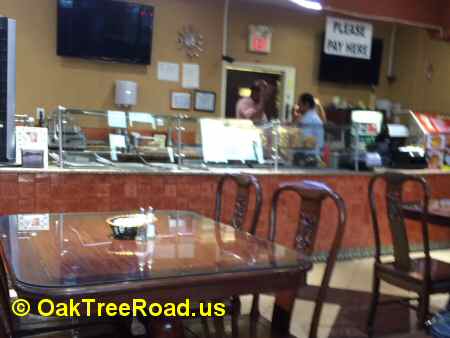 Pakvaan Edison Rating
We would be keen on revisiting Pakvaan for its Dosas and try the other Gujarati and North Indian dishes on the menu.
But we'll definitely stay away from the Idli. - ©
OakTreeRoad.us