Tabaq Sweets Edison
Tabaq Sweets Edison: Hit or Miss
Like a lot of South Asian restaurants on Oak Tree Road (
Shalimar, Raj Bhog, Mithaas, Chowpatty
, etc),
Tabaq
too has a large sweets counter.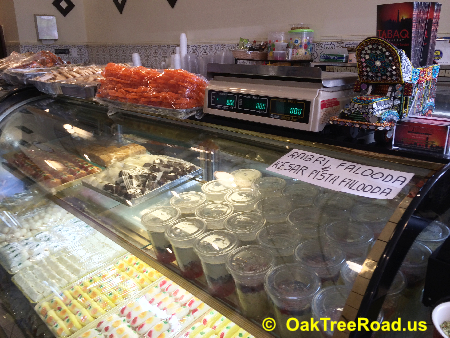 Priced at $9 a pound for assorted sweets, Tabaq's
Mithai
counter included Bengali sweets, Jalebi, Laddu, Rabri Falooda and Kesar Pista Falooda.
Given my long-standing weakness for anything sweet, I quickly picked up a pound of assorted sweets from Tabaq.
My sweets box came with 10 pieces and included one piece each of Milk Cake, Gajar Barfi, Tri-color Barfi, Champakali, Khoya Sandwich, Pista Sandesh, Palki and three pieces of Khoya Barfi.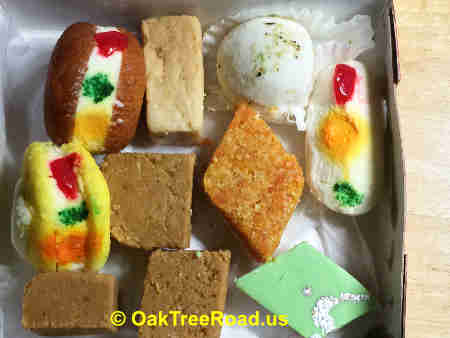 Here's my take on Tabaq's assorted sweets:
With a medium thick layer of carrot on top and a thin layer of khoya at the bottom, Gajar Barfi packed a fresh taste and was decent.
Tri-color Barfi was most disappointing as it was low on sugar and it felt like I was eating Khoya with food color.
Milk Cake was good and I had no issues with it.
Champakali was juicy and decent.
Khoya Sandwich suffered from low sugar leading me to wonder if the Mithaiwala nodded off during its preparation.
Pista Sandesh packed too little Pista to merit the name and tasted like a wet flour ball.
Palki was not bad but could have definitely done with more sugar.
Khoya Barfi with right amount of khoya and sugar was a divine treat that sent me into raptures.
What accounts for the uneven quality of Tabaq's sweets, I wondered.
While there are hundreds of Indian and Pakistani chefs in New Jersey, I suspect there are few
Mithaiwalas
in the state.
Service Issues
Service at Tabaq's sweets counter is below par.
Except for Palki, most of the other sweets trays were not labelled making it difficult for me to pick the sweets.
The old hag at the counter was too lazy to put up name tags for the sweets. Her face showed irritation when I repeatedly asked for names of various sweets on display.
Also, despite requesting her to include one of my eternal favorites (Laddu) in the box, she did not care to do it but added multiple pieces of Khoya Barfi.
Unlike its overall great food, Tabaq's sweets are hit or miss affairs.
Not worth your money! - ©
OakTreeRoad.us
Related Information
Oak Tree Road Indian & Pakistani Sweets Stores
Oak Tree Road Indian Food Demystified