Welcome Back - 200% Fun
Actors
: John Abraham, Nana Patekar, Anil Kapoor, Shruti Haasan, Paresh Rawal
Story
: Anees Bazmee, Rajiv Kaul
Director
: Anees Bazmee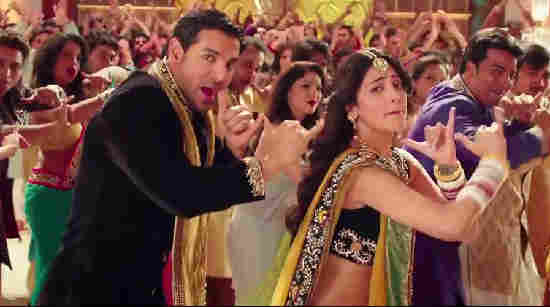 Thank God for an entertaining comedy like
Welcome Back
that requires me to "leave my brains at home" and just soak in the fun.
A sequel of sorts to the 2007 film
Welcome
by director Anees Bazmee,
Welcome Back
features some of the same stars Paresh Rawal, Anil Kapoor and Nana Patekar (Akshay Kumar is missing) who made
Welcome
a huge hit.
Don't waste time trying to make sense of the goings-on in
Welcome Back
because they don't for the most part.
Surrender to the nonsense on the screen and I promise you'll have a great time.
Keep in mind that
Welcome Back
is a Bollywood slapstick comedy not an avant-garde film vying for top honors at the Cannes film festival.
Great Fun
Familiar Mafia dons Uday Shetty (Nana Patekar) and Majnu (Anil Kapoor) have given up their criminal life, turned legit businessmen and moved to Dubai whose towering highrises make Manhattan skyscrapers look like pygmies.
All's well in Dubai until Uday's father drops by one day with the bombshell revelation that Uday now has another sister called Ranjhana (South Indian beauty Shruti Hassan) in Mumbai.
After some initial 'deaf and dumb' confusion, a Mumbai
goonda
Ajju Bhai, who knows 2006 ways to break the 206 bones in his enemies' bodies, and Ranjhana become inseparable lovers.
Director Anees Bazmee, who's also co-authored the story and screenplay, keeps the comedic momentum going by introducing a gaggle of weirdos - A blind super don in the form of
Wanted Bhai
(Naseeruddin Shah) and his junkie son
Honey
(Shiney Ahuja); a fake Maharani (Dimple Kapadia) and her lissome beauty princess daughter (Ankita Shrivastava); and above all a total nut-case in the form of Rajpal Yadav.
Together, this cocktail of oddballs bring the house down with one hilarious escapade after another.
The sight of both Uday and Majnu running after the bikini-clad 'Princess Chandni' is a hoot.
Music turned out to be the only letdown of this comedy.
Not to be Missed
Some of the dialogs by Paresh Rawal's character Dr.Ghungroo are so funny I nearly fell off the chair.
Ignore the clueless highbrow critics who've slammed this solid comedy as the dregs of Indian cinema.
Have fun at the movies this
Labor Day
weekend with a non-stop entertainer like
Welcome Back
.
I can't wait for the sequel to
Welcome Back
.
More Bollywood Movie Reviews
Phantom Review - Every Indian's Wild Fantasy
Baby Review - Maximum Fun, Minimum Junk