Dosa Treats on Oak Tree Road

If you ask me,
Masala Dosa
is one of the great creations of humans.
On par with the Taj Mahal, Hanging gardens of Babylon, the library at Alexandria and other great splendors of the world.
Dosas
are popular in South India and a novelty in the north.
What is Dosa?
Dosa is a crepe prepared with fermented batter from finely ground black gram dal, rice and a few methi seeds.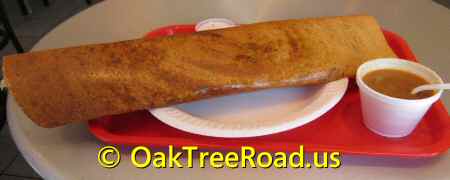 When you add Potato Onion Curry stuffing inside the Dosa, it turns into a
Masala Dosa
.
A Mysore Masala Dosa has Potato Onion Curry filling plus spicy chutney powder smeared on the inside of the Dosa.
These days, Oak Tree Road Indian restaurants offer several varieties of Dosas including Set Dosa, Onion Dosa, Paper Dosa, Rava Dosa, Ghee Roast Dosa, Plain Dosa, Masala Dosa, Mysore Masala Dosa, Cheese Dosas etc.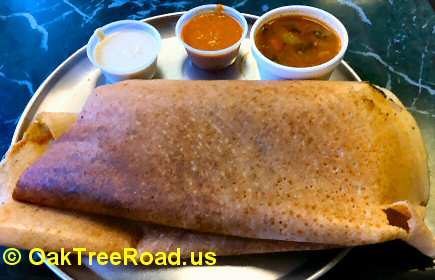 Dosa is usually served with Coconut Chutney, Tomato and or Ginger Chutney and Sambar.
Uttapam
is the fat cousin of Dosa.
Uttapam too comes in several varieties like Chilli Uttapam, Onion Uttapam, Tomato Uttapam etc.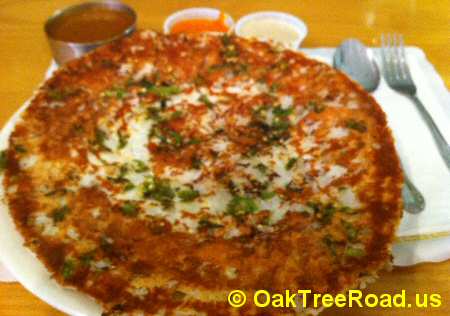 Finding Dosas on Oak Tree Rd?
Several Indian restaurants on Oak Tree Road in both Iselin and Edison offer Dosas including
Swadisht, Dosa Express, Saravanaa Bhavan
etc.
Here's a list of Indian restaurants offering Dosas and Uttapams on Oak Tree Road in Edison and Iselin:

1396 Oak Tree Road
Iselin, NJ 08830


Edison, NJ 08820


Edison, NJ 08820


1734 Oak Tree Road
Edison, NJ 08820

Iselin, NJ 08830


1700 Oak Tree Road
Edison, NJ 08820


1700 Oak Tree Road
Edison, NJ 08820
Related Indian Food Links
Indian Curry Packets on Oak Tree Road
Oak Tree Rd Biryani Restaurants