Sher E Punjab Edison Oak Tree Road
Sher-E-Punjab Edison: Horrid Vegetable Biryani and Oily Entrees
If we have a weakness in life, it's an inordinate fondness for
Biryani
, the flavorful rice dish from India.
And in our search for a good Biryani we have been known to travel far and near.
The other day as we were scouting to pickup some Indian food on Oak Tree Road in Edison, New Jersey we hit upon
Sher-E-Punjab
.
Besides several Punjabi and North Indian vegetarian and non-vegetarian Entrees, Sher-E-Punjab also offers a variety of Biryanis - Vegetable, Lamb, Goat and Chicken.
Since one of our friends was a vegetarian, we opted for Vegetable Biryani.
Along with the Vegetable Biryani ($5.99) we ordered Kashmiri Baingan ($7.99), Punjabi Kadhi ($7.99) and a plate of Vegetable Samosa ($2.00).
Sher E Punjab is primarily a takeout restaurant with a few tables. When we walked in around 2:30 pm, the other day the restaurant was empty and we quickly placed our order.
Like most Indians we love our food spicy. So, we requested the lady who took our order to make everything spicy.
A big mistake folks. Truly a Himalayan blunder. More about this later.
After placing the order, we went to the nearby
Apna Bazaar
to buy some Indian groceries and by the time we returned in about twenty minutes, our food was ready.
No Plain Rice or Roti, No Plates, Napkins & Spoons
Our takeout order was hot temperature-wise and seemed freshly prepared.
Though we ordered two entrees paying $7.99 each, our order did not come with plain rice or roti.
What is worse we were never told by the lady who took our order that the entrees do not come with rice. Even the menu does not mention anywhere that rice has to be ordered separately. Plain rice often comes with entrees at Indian restaurants.
Also our takeout order did not come with plates, napkins and spoons. Sher-E-Punjab touts itself as a Eat "N" Take Out place yet spoons, napkins and plates were not included with our takeout order.
WTF
Disgustingly Bad Vegetable Biryani
We opened the Sher E Punjab's Vegetable Biryani box with high hopes of eating an aromatic and flavorful Biryani like the one we had at
Dakshin Express
.
Ahhhhhhhhhhhh!
OMG, we were not pleased one bit with the look of the Vegetable Biryani.
Folks, it looked like red chilli powder rice and not Vegetable Biryani.
But since looks can be deceptive sometimes, like brave soldiers we marched ahead and tasted a spoon of Sher E Punjab's Vegetable Biryani.
No sooner did the Biryani touch our tongue than we were gasping for water. For it was like eating raw red chilli powder than eating Vegetable Biryani.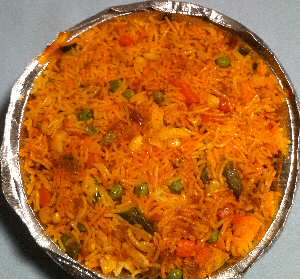 Horrid Vegetable Biryani
Sure, the Biryani included Beans, Green Peas, Cubed Carrots and Corn. But there were too many issues with Sher-E-Punjab's Vegetable Biryani:
First, it lacked the fine enticing aroma of a fine Biryani
Second, it did not taste in the least bit like a good Vegetable Biryani.
Third, in the name of Vegetable Biryani we ended up eating red chilli powder mixed with oil and clumps of rice and a bunch of vegetables.
Fourth, the Boondi Raita that came with Vegetable Biryani was insipid with a milk-like taste rather than yogurt.


Vegetable Biryani was so bad that we had to throw it away out of fear of getting heartburn. The buffoons inside the Sher E Punjab kitchen never bothered to sync the excess red chilli powder used in Biryani with other ingredients like salt etc.
All in all, our Vegetable Biryani takeout order from Sher E Punjab turned out to be a Himalayan disaster.
Sher-E-Punjab Punjabi Kadhi - Oil Slick
With sunken hearts and burning tongue, we turned our attention to the two entrees we ordered from Sher-E-Punjab.
Since Kadhi is one of our favorites, we dug into it first. You see we have had Andhra, Tamil Nadu and Gujarati versions of Kadhi in the past. But never did such a yellow-coloreded oil spill masquerading as Punjabi Kadhi make contact with our tastebuds.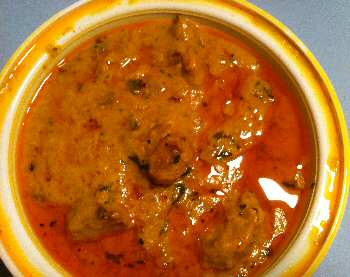 Oil Slick - Punjabi Kadhi
Also the pakora in Punjabi Kadi were tasteless. It was like eating hard flour balls than Pakoras.
Our request to make Kadhi spicy fell on deaf ears of the Sher E Punjab kitchen. What we got instead was a yellow-colored bland oil spill.
Disgusted with the oil slick floating on top and the bland curse that we were subjected to, we finally flung much of the Punjabi Kadhi into the trash can.
Tasteless Samosas
Samosas were big and that's all we can say in their favor.
Potato filling inside the Samosas tasted like mashed potatoes you get in an American Grocery store deli.
Yuck!
Delicious Kashmiri Baingan
By now, we were in despair with much of the Vegetable Biryani, Punjabi Kadhi and one Samosa in the trash bin.
With trepidation in our hearts and chanting loudly
Devuda, Devuda, Devuda
, we opened the Kashmiri Baingan container.
Boy, Sher-E-Punjab's Kashmiri Baingan turned out to be a delicious delight although too oily.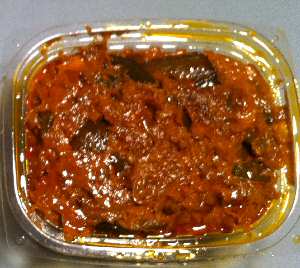 Good Kashmiri Baingan but Oily
Set in a brown-colored oily smooth gravy paste, Sher E Punjab's Kashmir Baingan was very tasty with the fresh plain Basmati rice we prepared at Oak Tree Road Home.
Yes, even after bringing a takeout we had to make rice as both
entrees
did not come with plain rice.
Sher-E-Punjab Rating - Stay Away
Unless you are in a terrible rush to pick up some Indian food, Sher-E-Punjab is not for connoiseurs of good Indian cuisiine.
Sure the takeout orders get ready qucikly.
But if you care about your Cholesterol levels and are conscious about your health, Sher E Punjab is not for you. Because even items like Kadhi are oil slicks at Sher-E-Punjab.
Considering our miserable experience with Vegetable Biryani a.k.a Red Chilli Powder Rice, the Oil Slick a.k.a Punjabi Kadhi and tasteless Samosas we are not likely to return anytime soon.
Sure Kashmiri Baingan was delicious but again that too was far too oily.
Also, none of the $8 vegetable entrees we ordered came with rice or roti.
There are other Indian restaurants on Oak Tree Road like
Khusboo
that serve sumptuous mini thalis with three curries, roti and rice all for the price of a single vegetarian entree ($7.99) at
Sher-E-Punjab
. ©
OakTreeRoad.us