Quality Sweets Iselin Oak Tree Road
Quality Sweets Iselin: Not So Good Quality Sweets, OK Samosa
Given my abiding love for anything sweet, I picked up a pound of mixed sweets from
Quality Sweets
on Oak Tree Road in Iselin the other day.
Pricing and Ambience
Quality Sweets are sold at three different prices - Some are $8 per pound and others $10. Mixed Sweets are $9 per pound.
Since I like variety, I opted for the $9 mixed sweets - Manpasand, Anarkali, Anjeer, Khoya Kalakhand, Pineapple Chum Chum, Angoor Rasogolla Pink, Kaju Katri and Chaina Mango went into my box.
Like a lot of food establishments on Oak Tree Road, Quality Sweets is a cramped place. As you enter, there are two tables on the left and the Sweets Counter is on the right.
Quality Sweets also sells snacks like Samosa, Chaats and beverages like tea etc.
I stuck to Mixed Sweets and Samosa.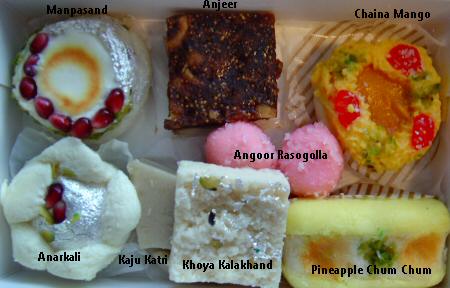 So So Indian Sweets
Not So Good Sweets
Overall, the sweets from Quality Sweets did not appeal to my tastebuds with the exception of Manpasand and Anarkali.
Khoya Kalakhand was low on sugar and not very tasty overall.
Kaju Katri, a standard fixture these days at most Indian/Pakistani sweet stores, had a slight burnt flavor.
Anjeer with cashew nuts was the most disappointing. Quality Sweets' version of Anjeer was slightly sour and not in the least bit tasty. If you have a craving for Anjeer, I suggest you visit Maharaja Sweets in Jackson Heights, NYC.
Pineapple Chum Chum was alright. But the Pineapple flavor was so mild that it did not qualify for the prefix Pineapple.
Chaina Mango - Ditto with Chaina Mango which came with a very mild flavor of Mango.
Angoor Rasogolla Pink was a little rubbery and I did not relish it much. Angoor Rasogolla comes in white and pink colors at Quality Sweets.
Manpasand with eight Promigranate seeds on top was delicious. If at all I revisit Quality Sweets, it would be for Manpasand.
Anarkali was yet another milk based sweet that found favor with my tastebuds. The lotus shaped sweet came with two Promigranate seeds and was decent.


Nuked Samosas
My order of Samosas came so hot to the table as if they'd been run through a nuclear reactor.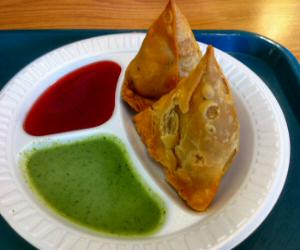 Nuked Samosas, Green & Sweet Chutneys
They were so hot that I had to wait for a full five minute to allow them to cool down a bit.
I got two pieces of Samosa with green chutney and sweet chutney.
Samosas were big and evenly cooked with tasty Potato filling.
Of the two chutneys, I used the sweet chutney with rose flavor as the side for my Samosas. Sweet Chutney was good and, more importantly, it did not have stale smell and taste of green chutney.
Green Chutney was borderline stale and a little smelly.
Quality Sweets Oak Tree Road - Bad Service
To say that service at Quality Sweets was bad is an understatement.
Service issues cropped up right in the begining. While selecting the sweets, I specifically requested the lady to put only one piece per variety.
Yet when I opened the box on my way back home, I found two pieces each of Kaju Katri and Angoor Rasagolla.
When I ordered a plate of Samosas, the same lady opened a brown bag lying near the counter and took two Samosas out and went inside the kitchen.
I go to a restaurant to eat freshly prepared food not for nuked/reaheated Samsoas taken out of a brown bag.
Hey, if I want to eat reheated Samosas, I can pick up a bag of frozen samosas from nearby Patel Brothers Indian grocery and reheat them in my microwave at home.
Also, Quality Sweets accepts only cash and does not accept credit cards or debit cards. They do not give you a receipt unless you ask for it specifically.
Quality Sweets Rating - Avoid
Mixed Sweets at Qualtiy Sweets are not of that good quality.
Though Samosa was OK, I prefer freshly prepared snacks rather than nuked/reheated stuff.
Given my so-so experience with Quality Sweets, it's unlikely I'll return there any time soon. - ©
OakTreeRoad.us