Dimple's Khasiyat Iselin Oak Tree Road
Address:


Khasiyat Iselin

77 Middlesex Avenue
(Sardar Patel Plaza)
Iselin, NJ 08830



Other Oak Tree Road Restaurants




Serves in Disposable Plates;
Imposes 12% Service Charge
Khasiyat Iselin Review: Good Bajra Roti, Paratha and Horrid Sambar
Along with a visiting friend from India, we were walking down Oak Tree Road the other day when hunger pangs overtook us all. Our Mudaliar friend from India wanted to have a Paratha or a Bajra Roti for a change.
So anon we stepped into Khasiyat in the Sardar Patel Plaza.
Khasiyat has earned a reputation as the go-to place for Parathas. With its 100 types of Parathas, Khasiyat was an obvious choice.
Overall our visit to Khasiyat was a decent road-trip with only an occasional pothole or two.
When we walked into Khasiyat around 1:15 p.m, its tiny, cramped dining room had four or five diners. We were greeted warmly by a turbaned Sikh waiter and promptly shown a table. Yet another smiling waiter brought plastic glasses, a water jug and the menu.
As we were poring over the lengthy list of Parathas, our Mudaliar friend spotted the
Today's Special
card with Bajra Roti and Baingan Bartha. We immediately placed our order of Khasiyat Special Platter ($12.95), Bajra Roti with Baingan Bartha ($7.99) and Mysore Masala Dosa ($8.25).
No, we did not shortchange our Paratha itch.
Khasiyat Special Platter
comes with a choice of any Paratha (2 pieces same variety), rice dish and some curries. Whereas Paratha comes only with Raita and Pickle. Since we wanted something substantial, we opted for the
Khasiyat Special Platter
($12.95). We chose Alu Gobi Spring Onion Basil Paratha for our platter.
Our order of Bajra Roti came first followed by Mysore Masala Dosa and Khasiyat Special Platter.
Delicious Baingan Bartha and Bajra Roti
Bajra Roti order came with two small-sized medium thick Bajra Rotis with an adequate serving size of Baingan Bartha, Boondi Raita and Red Chilli Sauce.
Bajra Roti was hot and tasty and the accompanying Baingan Bartha delicious. We enjoyed the rotis with Baingan Bartha and Red Chilli Sauce.
But Boondi Raita was way too sour for our taste buds. Our only grouse with Bajra Roti was it included only two small rotis for $7.99.
Khasiyat Special Platter - A Mixed Bag
Our Khasiyat Special Platter came with two pieces of Alu Gobi Spring Onion Basil Paratha, Gooseberry Pickles, Vegetable Pulao, Paneer Masala, Channa Masala, Tadka Dal, Mixed Vegetable Curry and Boondi Raita.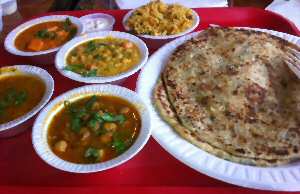 Tasty Parathas, Yummy Paneer Masala
Alu Gobi Spring Onion Basil Paratha was large, came hot to the table. The Parathas were quite tasty to eat as it is and were much relished with the curries that came as sides.
The rice granules in Vegetable Pulao were overcooked and not flavorful.
Paneer Masala was yummy as the spicy gravy seeped well into the soft cubed Paneer.
With a surfeit of turmeric powder, the Tadka Dal tasted awful. The turmeric powder smell was so strong that we had to let the Tadka Dal go waste.
Channa Masala was another disappointment and tasted as if boiled Channa was added to the gravy as an afterthought rather cooked togther.
Mixed Vegetable Curry a creamy melange of Carrot, Green Peas, Beans tasted a bit sweet to our spice hardened taste buds but was still flavorful.
Mysore Masala Dosa - Not Bad
Our Order of Mysore Masala Dosa came hot to the table with Coconut Chutney and Sambar accompaniments.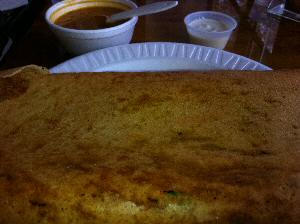 Crisp Dosa, Horrid Sambar & Chutney
Khasiyat's Mysore Masala Dosa was large, crisp with masala powder spread evenly inside the dosa. It came with a large serving size of Potato Curry.
While the Dosa was tasty, we did not relish the accompaniments and the Potato Curry filling much.
Coconut Chutney was way too bland and tasteless.
Ditto with Sambar with no evidence of Toor Dal or Tamarind or Sambar Spices being added. Khasiyat's Sambar tasted like boiled flour water with Red Chilli Powder floating on top.
Potato Curry filling had a slight burnt taste and we pushed the curry aside and ate the Dosa with Paneer Masala and Baingan Bartha that came with our Khasiyat Special Thali and Bajra Roti order.
Quick Service
We were greeted warmly, shown a table within seconds, our order was taken within a few minutes and the food arrived within ten minutes of ordering. No issues at all.
Our food came in disposable plates with plastic spoons and forks and plenty of napkins. Used plates were also removed promptly.
Khasiyat Oak Tree Road Rating - Not for Everyone
By the way, Khasiyat is not for everyone. If you are one of those finicky types expecting to be pampered and looking for a leisurely meal avoid Khasiyat.
For it is a cramped place and serves food in disposable plates and, worse, the greedy swines levy a
12% service charge on all table bills without exceptions
.
Notwithstanding our disappointment with some of the curries and the irritation over the compulsory 12% service charge, we may consider revisiting
Khasiyat
for its tasty Parathas and Bajra Roti. ©
OakTreeRoad.us