Shalimar Grill Oak Tree Road
Address:


Shalimar Grill

1388 Oak Tree Road
Iselin, NJ 08830
Open 24x7
Lunch Buffet:
Weekdays - $8.99 11AM-5PM
Weekends - $11.99 11AM-5PM



Other Oak Tree Road Restaurants
Shalimar Grill Iselin: Dealicious ($8.99) Lunch Buffet
If there's one thing I give credit to Pakistanis for, it is food.
They have stayed true to their recipes, and spices.
Be it pickles, Chutneys or food, it's hard not to swoon over Pakistani food.
I just had a buffet lunch at
Shalimar Grill
, a hole in the wall restaurant in the middle of Oak Tree Road in Iselin.
Busy Place
I was surprised to see the place packed even at 3PM on a Monday afternoon.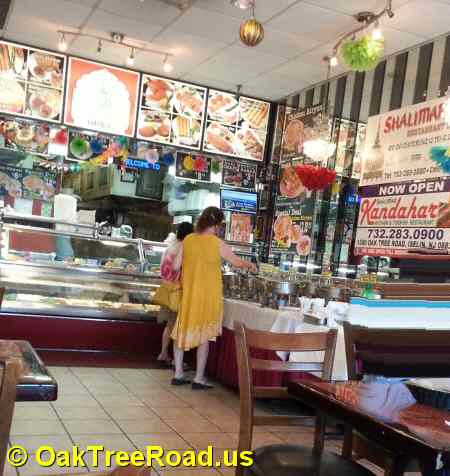 Five out of the six tables were occupied.
There were three families (Pakistani), two Oriental women, one Caucasian guy, and me.
$8.99 Lunch Buffet
There were eight medium trays of food on two tables covered with a white table cloth.
That's a lot of choice for $8.99.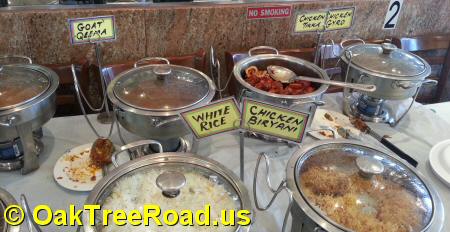 Chicken and Goat Entrees
You get proper China plates, as well as forks, spoons, sodas, pickles, and chutneys standard.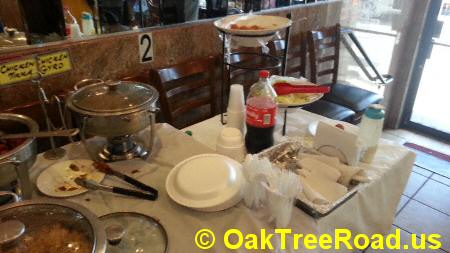 Buffet Salad and Condiments
Naan Bread
Piping hot Naan bread will be brought to your table.
I consider Naan to be the main ingredient of a meal, because without a hot Naan the rest of the food is dull and boring.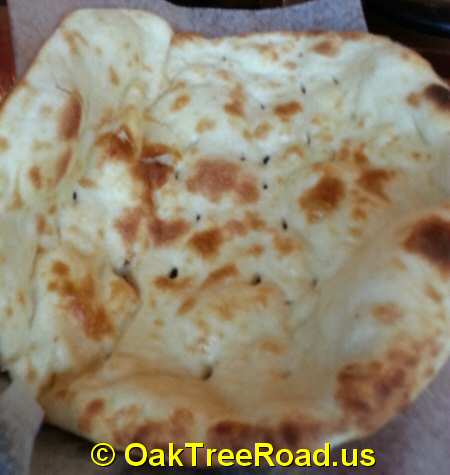 Naan Bread
I helped myself to Goat Kheema, Butter Chicken, Chicken Barbeque, as well as some Chicken Curry, a mound of Chicken Biryani and pickles.
Folks, you can eat at other restaurants for a lot more, but the quality and the flavor would be nowhere near Shalimar Grill's.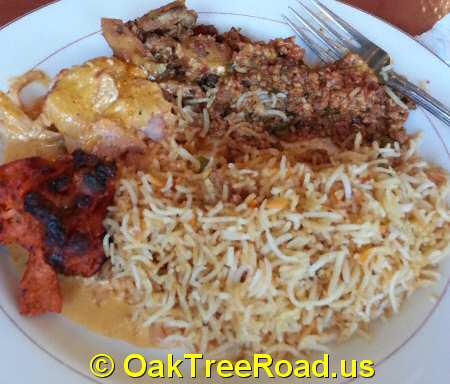 Chicken Biryani (bottom) Goat Kheema (top)
Chicken Gyro (top left)
Chicken Barbeque & Butter Chicken (bottom left)
Chicken Entrees
The pieces of chicken were moist, and even though the spice level was above my tolerance level they were beautifully spiced.
Each dish had its unique sauce and flavor.
What a shame that a lot of Indian restaurants cut corners and use similar sauces for every dish.
Biryani
Biryani was a typical Pakistani affair.
Most Pakistani restaurants serve the same, but delicious Biryani.
The biggest difference between a Pakistani Biryani, and a Hyderabadi Biryani is the spice level, and aroma.
The latter is spicy to the point of being toxic (apologies to all my Hyderabadi friends in advance).
Butter Chicken
Butter chicken was very, very delicious.
It sent me down memory lane, back to the truck driver
dhabas
of Delhi, where we used to sit and enjoy butter chicken over some whisky, and loud cheap music blasting out of a radio.
Vegetarian Entrees
Other condiments were provided, as were vegetarian dishes.
But one wouldn't/shouldn't waste their appetite on their vegetarian stuff as they did not look appetizing.
Truth be said, to a hardcore meat-lover like yours truly it's hard for vegetarian dishes to look appetizing. :)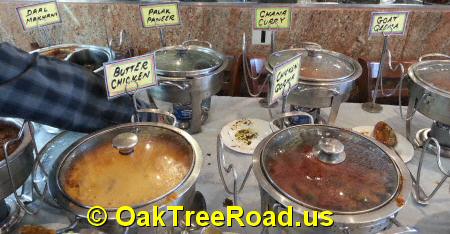 Veg & Chicken Entrees
Just for the record, they had Daal Makhani, Saag Paneer, and Chhole.
Correct me if I am wrong, but you will find these three dishes in all Pakistani restaurants, or maybe an Aloo dish, or Eggplant dish.
Go for It
If you happen to be in Iselin/Edison in the afternoon, you'd be a fool not to visit Shalimar Grill for the meal of your life.
I promise you, it would be your best meal under $10.
The kitchen is manned by a couple of Pakistanis, as well as Mexicans, and the guy behind the counter is a friendly Malayali guy (go figure).
Shalimar Grill Ratings
Taste
- 11 out of 10
Ambience
- uh, what's that?
Service
- 11 out of 10
Variety
- 10 out of 10 (considering you are a meat lover like me).
Value
- Hey buddy, $10
mein kya Taj Mahal chahiye
? lol. Jokes apart, this is superb value for money. Others can only try to copy these guys.- ©
OakTreeRoad.us