Maiyas Akki Rotti with Chutney Review
Akki Rotti with Chutney

Available at Oak Tree Road
Indian Grocery Stores
Edison / Iselin, NJ



Maiyas Akki Rotti with Chutney - $3.99
Akki Rotti with Chutney: A Blessing
When it comes to flattened breads, South India is not far behind North India.
You have a mind boggling variety in the south - Rice Bread a.k.a Akki Rotti, Ragi Rotti, Joladu (Jowar) Rotti, Chettinad Egg Paratha, Malabar Parottas, plain Parottas and more.
But unlike North Indian Naan Breads and Tandoori Rotis, unfortunately most South Indian breads (with the exception of Malabar Parottas) have been slow to make inroads into frozen food sections of Indian grocery stores in Edison and Iselin.
So I was delighted when I stumbled upon Maiyas' frozen
Akki Roti
($3.99) with Chutney in the frozen Indian curry packets section of Patel Brothers on Oak Tree Road in Iselin.
Inside the Box
Manufactured in Kanakapura Taluk in Ramanagaram district of Karnataka, Maiyas Akki Rotti with Chutney rice bread box included 10 frozen Akki Rottis.
There was a small packet of frozen Chuteny too.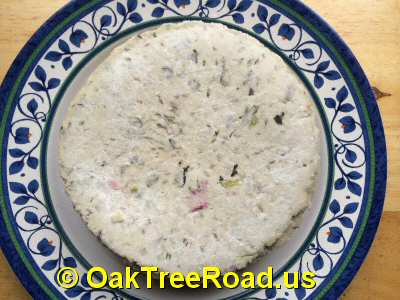 A Frozen Akki Rotti
Akki Rottis were neatly packed in a sealed thick plastic bag.
Ditto with the Chutney packaging which was included in a separate pouch.
Good Instructions
The back of the Akki Rotti box included heating instructions for both the Rottis and the accompanying Chutney.
It recommends direct heating of the Akki Rotti on a medium-flame
tawa
and immersion of the Chutney pouch in warm water until it thaws.
As instructed, I placed the frozen Akki Rotti one at a time on a medium flame hot
tawa
and heated the rice bread for two minutes on each side.
I added a few drops of olive oil to both sides as per instructions. Adding a few drops of oil helped to turn the rice bread easily for heating on the other side.
It took 22 minutes to heat the 10 Rottis. Since I was ravenously hungry I heated them all together.
By the time all the Rottis were done, the Chutney was also thawed and ready.
Here's my take on Maiyas frozen Akki Rotti with Chutney:
Heavenly Akki Rotti
Without exaggerating, I'd say the Akki Rottis were "Heavenly".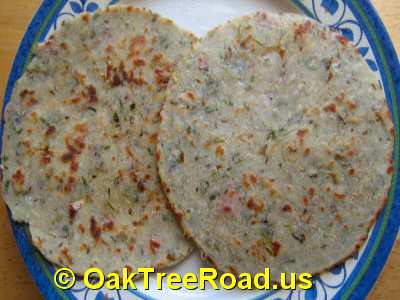 Tawa Heated Akki Rotti
Easily the most authentic Akki Rottis I have had in the U.S.
I would say Maiyas frozen Akki Rottis beat both my home-made ones as well as the one I ate at Hoysala Indian restaurant in New Jersey a few years back.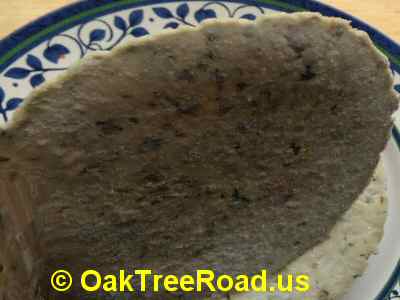 Akki Rotti Thickness
There were several things right with Maiyas frozen
Akki Rotti
:
A key thing with Akki Rotti is thickness and texture. To my great delight, the Akki Rotti was neither too thin nor too thick but had the right texture. Truth be said, when I make Akki Rottis at home they sometimes turn into hard and crispy inedible disasters.
Second, Akki Rotti tasted divine with a combination of Cumin, Onion, Curry Leaves, Green Chilli, Coriander Leaves, Coconut water and Dil Leaves flavor. The proportion of spices was just right with none of them dominating over the other.
Hey, even the plastic bag containing the frozen Akki Rottis gave out an excellent aroma of the spices.
Third, Akki Rotti was tasty and flavorful even without the Chutney.
Fourth, the texture of the Akki Rotti did not change though I consumed some of them nearly 10 minutes after they were done.
Finally, ten small pieces of Akki Rotti with Chutney for $3.99 is superb value for money. Easily enough for two meals.
Yummy Coconut Chutney
With its tangy and Green Chilli spicy flavor, the Chutney, oozing freshness, was a close rival to the Akki Rotti in taste.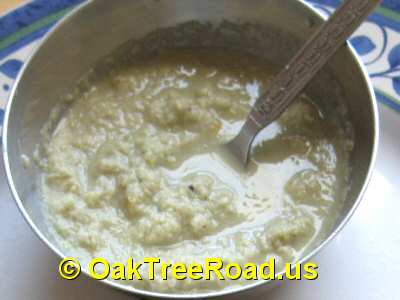 Coconut Chutney
Once thawed, the frozen Coconut Chutney turned into a medium thick side. It was neither too thick nor watery but packed right thickness suitable for the Akki Rotti (flattened rice bread). One of the best frozen Coconut Chutney sides I have had in a long time. When I checked the back of the box, I quickly realized the secret behind the tangy sour flavor of the Chutney. It is the combination of Mango Ginger, Tamarind, Green Chillies and Coconut that infused the divine flavor into the Chutney. Besides the great flavor, I liked its texture too. Chutney in my opinion tastes better when it packs a coarse texture rather than a finely ground smooth paste. Akki Rotti Chutney texture was coarse and appealed immensely to my South Indian tastebuds. My only complaint is about the quantity of Chutney - Far too little for 10 Akki Rottis.
Nutrition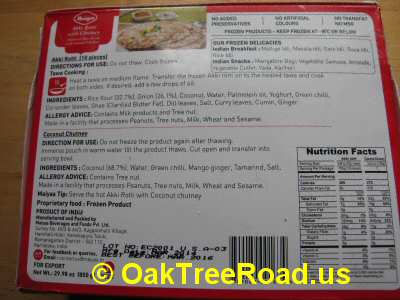 Nutrition Info
Serving Size: 1 Piece (2.64oz/75g)
Servings Per Package : 10
Serving Size: 1 Coconut Chutney (3.52oz/100g)
Calories for Serving of Rotti: 200
Calories per Serving of Coconut Chutney: 270
Calories from Fat for Akki Rotti: 80
Calories from Fat for Coconut Chutney: 210
Maiyas Akki Rotti with Chutney Rating - Must for Kannadigas
Surely, South Indians hailing from the state of Karnataka will fall into a swoon when they discover their favorite Akki Rotti. I bet others will enjoy it as much as Kannadigas.
I regretted not picking another three or four boxes from the Indian grocery store on Oak Tree Road.
For Kannadigas in Edison, Princeton, Iselin and neighboring cities, Maiyas' Akki Rotti is a delicious treat.
Very filling, sufficent for two meals, easy to cook and a heavenly delight.
I can't wait to get back to Patel Brothers on Oak Tree Road to pick up a few more packets of these frozen Akki Rottis with Chutney. - ©
OakTreeRoad.us