Maharani's Choice Parippuvada Review
Parippuvada

Available at Oak Tree Road
Indian Grocery Stores
Edison / Iselin, NJ


Maharani's Parippuvada: Horrid
I flew into a rage after eating Maharani's Choice "
Parippuvada
". Never has such a spiceless, tasteless Parippuvada monstrosity made contact with my spice hardened Indian tastebuds. Usually, Parippuvada is a spicy snack that goes well with Beer or piping hot Madras Coffee or even Masala Chai. But not the fresh frozen Parippuvada peddled by Maharani's Choice available at Oak Tree Road and other New Jersey Indian grocery stores.
Packaging & Instructions
Parippuvada box included a total of 7 medium-sized pieces in a sealed plastic bag.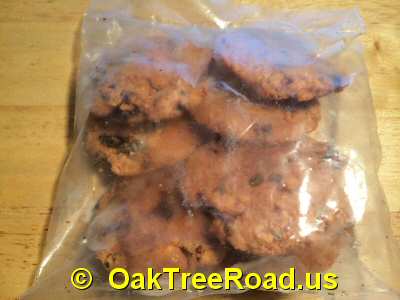 Inside Story
Instructions on the back of the box suggested the Vadas be thawed first to room temperature and then to either steam or microwave them.
I followed both methods - Steamed three pieces in the Indian rice cooker without the pressure nozzle for 15 minutes and microwaved the remaining four pieces on high for four minutes.
The results were same with both methods.
Horrid Experience
One bite into the Parippuvada, I retreated in horror.
Because the Parippuvada failed miserably in both spice and taste.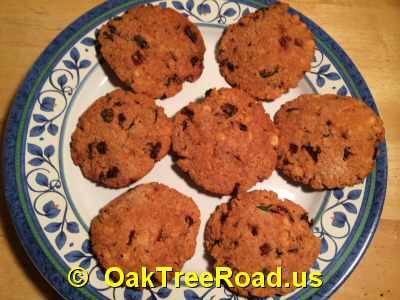 Maharani's Parippuvadas
Green Chilli and Ginger were badly lacking in Maharani's Choice Parippuvada.
The Parippuvadas were so hopelessly low on Green Chilli and Ginger that it felt like I was eating fried split gram batter.
Besides the near absence of Green Chilli and Ginger, the flavor of Curry Leaves and Onion was uneven.
Some Parippuvadas packed a very faint flavor while others were a bit better.
Also, the Parippuvadas could have done with a little more Curry Leaves and Onion.
To its credit, the texture of Parippuvada was as it should be - a little hard and crisp and mercifully was not oily.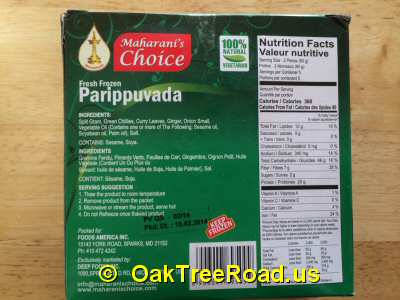 Nutrition Info
Nutrition
Serving Size: 2 Piece (60g)
Servings Per Container: 7
Calories per Serving: 360
Calories from Fat: 90
Parippuvada Rating
If you love Masala Vadas and Parippuvadas like me, I suggest you give a miss to Maharani's Chocie Parippuvada.
For they are not in the least bit spicy or tasty like Parippuvadas. - ©
OakTreeRoad.us