DEEP Total Bhel Review
DEEP Total BHEL
Available at Oak Tree Road
Indian Grocery Stores
Edison / Iselin, NJ


DEEP Total BHEL Review: Not Worth It
When I noticed
DEEP Total Bhel
in an attractive "ready to enjoy bowl" at the local Indian grocery store, my joy knew no bounds.
Hey, is there any Indian who does not love Bhel Puri, a wildly popular Indian street food.
Priced at $1.49, Total BHEL ingredients include puffed rice, sev (Chickpea Noodles), dried onion, tomato, cilantro leaves and a sachet of chutney.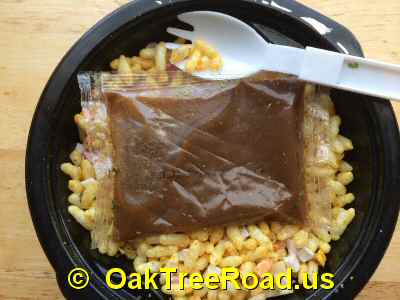 Inside Story
A plastic spoon is neatly wrapped in a small bag for mixing chutney and Bhel Puri.
Serving size of Bhel is decent for $1.49.
The concept is to mix Chutney with Bhel Puri for a quick anytime snack.
While the concept is novel, DEEP's Total Bhel failed at a fundamental level - taste.
Here are the issues that earned DEEP's Total Bhel a fail grade: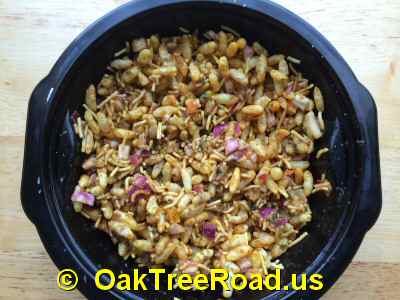 DEEP Total BHEL - Dry & Spiceless
First, it lacked the heat that comes with a good Bhel Puri chaat.
Second, it was slightly tangy but totally lacked the pungent spicy flavor common to Chaats.
Third, the serving size of chutney was small for the quantity of Bhel Puri. The small serving of Chutney resulted in a somewhat dry Bhel Puri.
Fourth, it included more dry Onion pieces leading it to dominate over Tomato and Cilantro.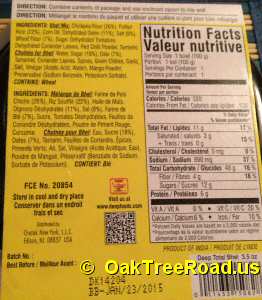 Nutrition Info
Nutrition
Serving Size 1 bowl: 100g
Servings Per Container: 1
Calories per Serving: 320
Calories from Fat: 100
DEEP Total BHEL Rating
If you are a big Bhel Puri fan like me, I suggest you avoid Deep Total Bhel in the ready to enjoy bowl.
For it lacks the heat and spice that is common to Indian street snack food like Bhel Puri Chaat.
All in all,
DEEP Total BHEL
turned out to be a big disappointment. - ©
OakTreeRoad.us