Mirch Masala Malaysian Style Plain Paratha Review
Mirch Masala Plain Paratha

(Malaysian-Style)
Available at Oak Tree Road
Indian Grocery Stores
Edison / Iselin, NJ


Mirch Masala Malaysian Paratha: Blithering Idiots
Some people are congenital idiots.
I'm talking of the
Mirch Masala
Indian frozen food people.
More on their idiocy later!
Malaysian Parathas
When I saw Mirch Masala frozen Malaysian Paratha family value pack (25 pieces) for $6.39, I eagerly added it to my Indian grocery cart.
I love Malaysian and Malabar Parathas.
Also, my cheapo
desi
mind quickly calculated that each paratha would cost just 26 cents.
So definitely worth a try.
Neat Packaging
The Parathas were packed neatly in two layers. I would give
A+
for packaging.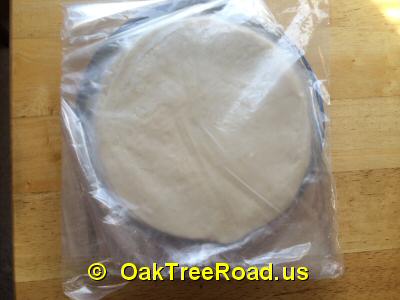 Parathas Inside Plastic Bag
First, each individual Paratha was packed between two thin plastic layers so that they do not stick to each other.
Second, the Paratha packet included 5 small plastic bags each with 5 individual parathas.
The packaging was convenient and I was able to open one small bag of five at a time and store the remaining in the freezer without worries.
Good Instructions
Then the pictorial cum text instructions for heating Parathas were crystal clear. I followed them and ended up with excellent results.
As instructed, I preheated a pan and placed the Paratha without thawing on medium to high heat for two minutes each side.
The round flat Parathas not only got roasted evenly but even puffed up a bit during the heating process.
In six minutes, I could roast two Parathas, sufficient for a light eater like me.
Parathas Taste
Now for the taste of Parathas.
I tried the Parathas with a variety of Indian side dishes like Paneer Masala, Alu Mutter, Gobi Whole Moong Curry, Mango Pickles, Gooseberry Pickles and so on.
And I'm happy to report they were a treat in every instance.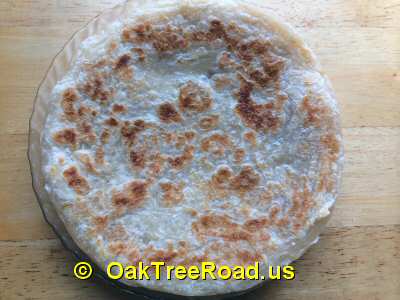 Pan Roasted Parathas
The roasted Parathas remained soft even after 20 minutes.
I found Mirch Masala Malaysian style Parathas to be yummy with every single Indian curry and pickles I tried.
Nutrition
Serving Size 1 Piece: 80g
Servings Per Container: 25
Calories per Serving: 250
Calories from Fat: 90
Mirch Masala Malaysian Style Plain Parathas Rating
Like me, if you prefer a quick fix Paratha meal I recommend you stop at an Indian grocery store on Oak Tree Road and pick up a family value pack.
The packaging is convenient and you can use only the required number of Parathas without worrying about storing the rest.
Parathas were layered and tasty with both Indian curries and pickles.
The Mirch Masala people are
blithering idiots
because if I were in their shoes I'd charge at least $15 for these 25 yummy Parathas. - ©
OakTreeRoad.us