Udupi Masala Idli Review
Udupi Masala Idli

Available at Oak Tree Road
Indian Grocery Stores
Edison / Iselin, NJ


Udupi Masala Idli: Yummy Breakfast Item
As South Indians growing up in
Mera Bharat Mahaan
, we used to have Idli for breakfast at least four times a week. Idli is considered healthy since it's steam cooked and nutritious (it includes protein in the form of Black Gram). Idli is often served with Chutney and Toor Dal Sambar prepared with vegetables. But preparing Idli is not an easy task in the U.S., especially in winter months, due to absence of required temperature for fermentation of Idli batter. Hence I am always scouting for good Idlis of all varieties - frozen, instant mixes all the time. When I spotted Udupi Masala Idli packet for $1.99, I picked it up without a second thought.
Packaging & Instructions
Udupi Masala Idli included six small Idlis packed neatly in a plastic bag. The Idlis looked attractive with Paprika, Mustard Seeds and Curry Leaves seasoning on top and had a nice aroma too.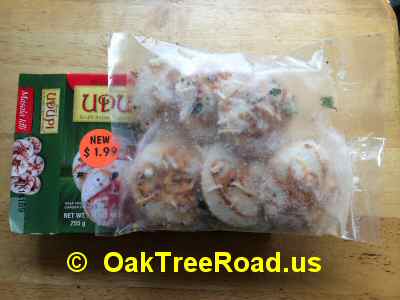 Masala Idli Packet
As instructed, I punctured the plastic bag several times and heated the Idlis on high setting for three minutes in a microwave. As per instructions, I waited another three minutes to complete the cooking process.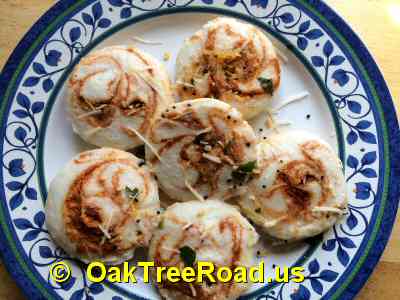 Cooked Masala Idli
One bite into the soft Idlis and I realized that I had a winner in my hands (and mouth, of course).
Voila
, it was worth the six-minutes heating time and the $1.99 price I paid.
Udupi Masala Idlis were soft texture wise and packed a nice flavor of Mustard, Curry Leaves and Paprika seasoning.
I could eat the Idlis without any Chutney or Sambar side dish. You really don't need any side.
Since my family members insist on a side for Idli, Dosa and Medhu Vada, I quickly made some Coconut Chutney and used it as a side.
Udupi Idlis were great with Coconut Chutney as well.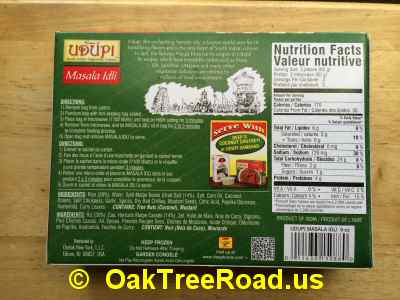 Nutrition Info
Nutrition
Serving Size 2 Pieces : 85g
Servings Per Container: 3
Calories per Serving: 170
Calories from Fat: 50
Udupi Masala Idli Rating
If you are looking for a quick, sumptuous, nutritious and easy to cook breakfast item, I recommend you pick up a few packets of Udupi Masala Idli boxes from one of the Indian grocery stores on Oak Tree Road in Edison and Iselin.
Folks, Udupi Masala Idlis are a delicious South Indian treat.
My only regret - Not picking up four or five Udupi Masala Idli packets. - ©
OakTreeRoad.us