MTR Idli with Sambar & Chutney Review
MTR Idli with Sambar & Chutney

Available at Oak Tree Road
Indian Grocery Stores
Edison / Iselin, NJ



MTR Idli Sambar & Chutney - $2.99
MTR Idli with Sambar & Chutney: Delicious Idli, So, So Sambar, Awful Chutney
In my quest for finding a best Idli option for winter months in the U.S., I have tried every thing from Gits, Deep, MTR, Priya instant Idli mixes to frozen Idlis.
When I spotted MTR frozen Idli with Sambar & Chutney box at Patel Brothers on Oak Tree Road, I impulsively picked one to check it out.
As any South Indian knows MTR is hugely popular for its Masala Dosa, Idli and Vada tiffin items.
Pricing and Contents
Priced at $2.99, MTR Idli with Sambar and Chutney included three frozen Idlis along with frozen Sambar and Chutney.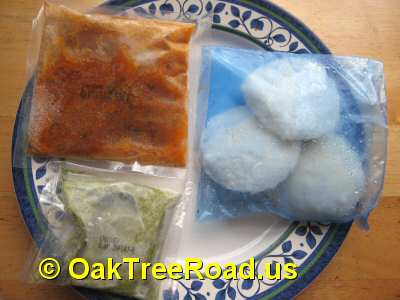 MTR Idli, Sambar & Chutney Packets
The Idlis, Sambar and Chutney were all neatly packed in three separate sealed medium thick plastic bags.
Simple Heat & Eat
The back of the box included clear heating instructions for all three items.
The heating instructions for Idlis included both Microwave and traditional steaming method in a rice cooker.
I used the traditional steaming method by placing the Idlis on the Idli plate in a rice cooker and heated it for 5 minutes
And the instructions for frozen Sambar were 3 minutes heating on high in a microwave.
But, three minutes, however, were not sufficient and I had to heat the Sambar for a total of five minutes to get evenly hot temperature.
Now the Chutney. According to the package instructions it is to be thawed by immersing the pouch in warm water. It took about 5 minutes for the Chutney to thaw.
Delicious Idli
MTR Idlis were simply delicious.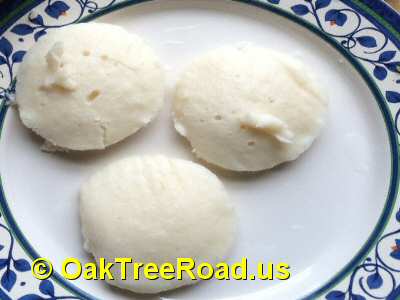 MTR Idlis
The three Idlis were feather soft, fluffy light and most importantly tasty. My main grouse with the MTR Idlis is the package included only three medium pieces.
So, So Sambar
While the Idlis were delicious, the Sambar and Chutney turned out to be a mighty disappointment. The Sambar did not pack the usual South Indian Toor Dal, Dhania, Black Pepper Seeds and Coconut flavor.
MTR Idli Sambar
Nor did it come with the Tamarind sour and spicy taste so common to the South Indian Sambar. It was bland, badly lacking on sourness that comes with Tamarind and a wee bit high on Turemeric powder. Also, the serving size of Sambar was small for three Idlis. And naturally the Sambar did not enchance the taste of Idli pieces dipped in to it. It was so bad that I ate the Idlis without using the Sambar.
Awful Chutney
And now comes the Chutney. What about it? The ingredients specified for the Chutney include water, Chickpea splits, Coriander Leaves, Coconut, Green Chilli, Ginger, Salt, Mustard, Curry Leaves, Red Chilli and Sunflower Oil.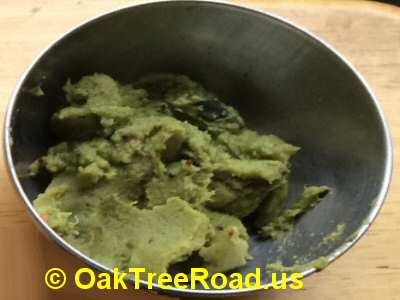 MTR Idli Chutney
Sure the Chutney was green in color and had the texture of finely ground peas which usually comes from using Coriander Leaves and Chickpea splits. It also included mustard seeds. But, inclusion of Green Chilli, Coconut, Ginger and Red Chilli seemed a big lie to me. Because the MTR Chutney was a bland abomination devoid of any taste, spice and flavor that usually comes with inclusion of Green Chilli, Coconut, Ginger and Red Chilli. And it was so finely ground and smooth that I felt like eating toothpaste rather than the South Indian yummy and spicy Idli Chutney that I am so used to. Then like the Sambar, the serving size of Chutey was small.
Nutrition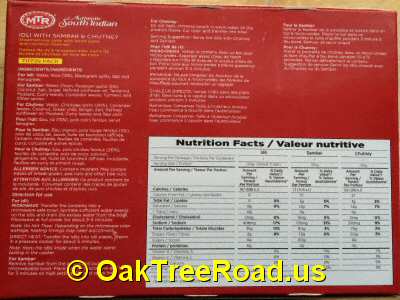 Nutrition Info
Serving Size 3 Idlis : 120g
Serving Size 1 Sambar : 150g
Serving Size 1 Chutney : 50g
Servings Per Container: 1
Calories per Serving Idli: 167
Calories per Serving Sambar: 73
Calories per Serving Chutney: 69
Calories from Fat Idli: 0
Calories from Fat Sambar & Chutney: 27 each
MTR Idli with Sambar & Chutney Rating
While the MTR frozen Idlis were delicious, the Sambar and Chutney failed to appeal to my South Indian palate.
It is really bizzare that a brand like MTR peddled such disappointing Sambar and bland abomination of a Chutney with its frozen Idlis.
Go for the delicious Idlis and be prepared to use your own Chutney and Sambar to go with them. - ©
OakTreeRoad.us