Garvi Gujarat Puran Poli Review
Address:


Puran Poli

Available at Oak Tree Road
Indian Grocery Stores
Edison / Iselin, NJ



Puran Poli - $2.49
Garvi Gujarat Puran Poli: Yummy Sweet Flat Bread
It's been eons since I had the popular Indian sweet flat bread known by diverse names -
Bobbattu
(Andhra Pradesh),
Obbattu
or
Holige
(Karnataka), Puran Poli (Maharashtra), Poli (Gujarat), Boli (Tamil Nadu) - in different parts of India.
I am not good at making Puran Poli as they take up a lot of time.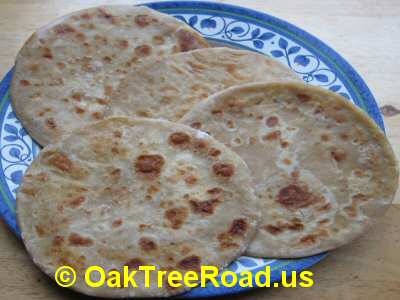 Frozen Puran Poli - $2.49 for 4
So the other day when I spotted frozen Puran Poli at Patel Brothers on Oak Tree Road Indian grocery store, I quickly added it to my basket.
What is Puran Poli
Puran Poli is a Wheat flour based sweet flat bread stuffed with Green Cardamom flavored paste of split Chickpea Gram or Bengal Gram Dal and Sugar.
In South Indian states of Tamil Nadu, Karnataka and Andhra Pradesh, Jaggery is used in the place of Sugar and is usually prepared with Maida rather than Wheat flour.
Puran Poli, Pooran Poli, Poli, Boli, Obbattu, Holige or Bobbattu is usually served hot with a dash of ghee or clarified butter on both sides.
Yummy Puran Poli
Garvi Gujarat brand frozen Puran Poli included four pieces.
Pieces were neatly separated by a thin plastic film.
Cooking instructions are simple. As instructed, I placed Puran Poli, one at a time, on a griddle with medium flame for two minutes on each side by gently moving it and applying pressure.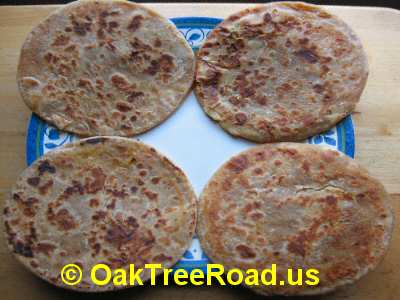 Griddle Roasted Puran Poli
It took eight minutes to cook all four Puran Polis on the griddle.
I applied a dash of ghee to roasted Puran Polis on both sides the moment I removed them from the griddle.
Yummy! Simply yummy with the right proportion of Bengal Gram, Sugar and Green Cardamom.
Though I prefer Jaggery instead of Sugar as the sweetening agent for Puran Poli, I am not going to complain.
Serving size is decent for the price ($2.49) and was easily sufficient for two persons with a light appetite.
Nutrition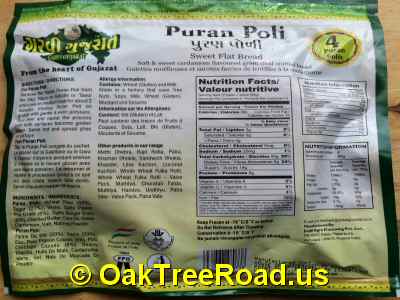 Nutrition Info
Serving Size 1 Piece : 95g
Servings Per Container : 4
Calories for Serving : 300
Calories from Fat: 35
Puran Poli Rating
If you're Tamil, Kannadiga, Gujarati, Telugu or Marathi, I recommend you pick up a few frozen packets from a Oak Tree Road Indian grocery stores.
You'll thank me soon. These Garvi Gujarat Puran Polis are delicious, easy to cook and good value for your bucks. - ©
OakTreeRoad.us