DEEP Paneer Chilli Samosa Review
DEEP Paneer Chilli Samosa

Available at Oak Tree Road
Indian Grocery Stores
Edison / Iselin, NJ


DEEP Paneer Chilli Samosa: Good But includes MSG
Like all Indians, I love Samosas.
Freshly made, frozen, vegetable or chicken, I won't say 'no" to any kind of Samosas. In the U.S., I've had frozen Samosas from Trader Joe's, Whole Foods, from Indian grocery stores on Oak Tree Road and at countless restaurants. Of all the frozen Samosas I have had so far, Paneer Chilli Samosa peddled by DEEP is easily the best vegetarian Samosa. On price, quantity and taste, I can't think of a better frozen Samosa in the U.S.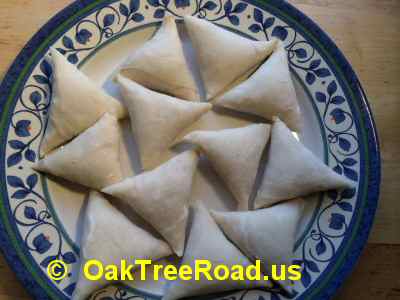 $3.99 - 12 Pieces
Still, I will not recommend it to every one. Because sometimes even good things of life come with a catch.
And the catch with DEEP Paneer Chilli Samosas is that they include Monosodium Glutamate (MSG) to which some people are allergic.
Here are the good things about Paneer Chilli Samosa: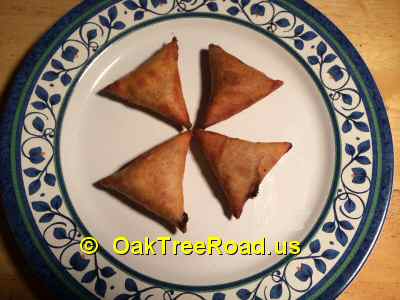 Deep Fried Paneer Chilli Samosas
First, pricing is reasonable. For $3.99, DEEP Paneer Chilli Samosa included 12 small pieces.
Second, packaging is good. Frozen samosas were packed in a self locking bag. So you can use the required quantity and store the remaining easily.
Third, the outer texture of the Samosa is medium thick keeping the Paneer Chilli stuffing inside intact.
Fourth, the deep fried Samosas turned out to be a crispy delight texture wise.
Fifth, the Paneer Chilli stuffing inside the Samosa was tasty. Paneer Chilli stuffing included grated Paneer, Green Bell Peppers, Green Chilli and Onion. I would have been happier if the Samosas had packed little more heat for my chilli/spice hardened South Indian palate.
Now coming to the not so good things:
Heating instructions were not up to the mark especially the 2 to 3 minutes time specified. I had to fry the Samosas (4) for six minutes to get the golden brown outer color.
And the bad thing about DEEP Paneer Chilli Samosa is inclusion of Monosodium Glutamate (MSG), a migraine trigger for many.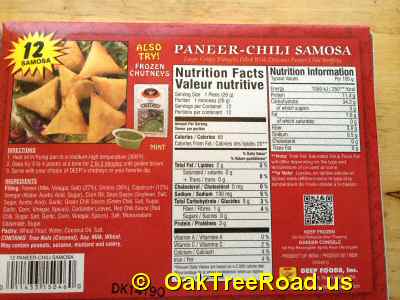 Nutrition Info
Nutrition
Serving Size 1 Piece: 26g
Servings Per Container: 12
Calories per Serving: 60
Calories from Fat: 20
DEEP Paneer Chilli Samosa Rating
If you are looking for a quick snack while watching a Hindi, Tamil or a Telugu movie, DEEP Paneer Chilli Samosa is a nice companion.
The Samosas were crisp, the Paneer Chilli stuffing tasty and the $3.99 price for 12 pieces not bad.
But avoid DEEP Paneer Chilli Samosa if you are allergic to MSG. - ©
OakTreeRoad.us