Haldiram Hyderabadi Biryani Review
Haldiram Hyderabadi Biryani

Available at Oak Tree Road
Indian Grocery Stores
Edison / Iselin, NJ


Haldiram Hyderabadi Biryani: Imposter, Not Worth a Penny
It was my eternal craving for
Hyderabadi Biryani
that led me to try the frozen version peddled by
Haldiram's minute khana
.
If you love Hyderabadi Biryani, I strongly suggest you shun the imposter offered by Haldiram in frozen curry aisles of Indian grocery stores.
At best it can be described as a mildly flavored Tomato Bath rice.
And definitely not Hyderabadi Biryani.
For, an authentic Hyderabadi Biryani oozes spice, strong flavor, packs a lot of heat and is a yummy rice delight.
Haldiram's version of Hyderabadi Biryani is Zero on heat.
Not a Biryani
forget about Hyderabadi Biryani, there were multiple reasons why I did not feel I was even eating even Biryani.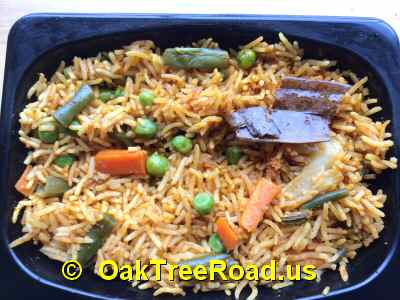 Does not Live Upto the Name
Haldiram Hyderabadi Biryani failed at a basic level - spice, heat, strong flavor unique to Hyderabadi Biryanis.
Worse, it tasted more like Tomato bath rice with a mild flavor of Nutmeg rather than the spicy Hyderabadi Biryani delight that I am so used to eating.
Sure it included Cauliflower, Carrot, Green Peas, Green Beans, Tomato, Bay Leaves, Green Cardamom. But adding Bay Leaves and Cardamom does not make a rice dish a Biryani. It is the proportion of Biryani Spices that makes the big difference to merit the name Hyderabadi Biryani.
To its credit, Haldiram Hyderabadi Biryani was neither too dry nor oily and the rice texture after heating was perfect.
Packaging & Instructions
Packaging is neat and the Biryani rice tray was sealed with a plastic film.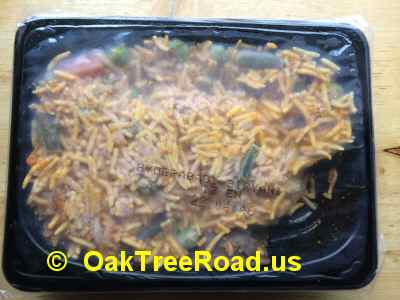 Hyderabadi Biryani Tray
If there's one thing I liked about Haldiram Hyderabadi Biryani, it's the heating instructions.
Three minutes heating before and after removing the plastic film were perfect.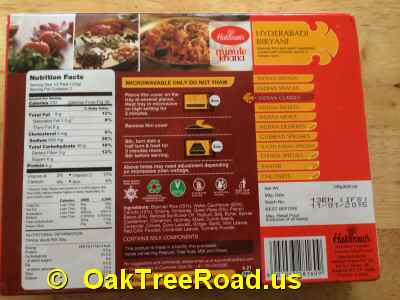 Instructions, Nutrition
Nutrition
Serving Size 1/2 Pack: 125g
Servings Per Container: 2
Calories per Serving: 210
Calories from Fat: 70
Haldiram's Hyderabadi Biryani Rating
If you enjoy Hyderabadi Biryani, I recommend you avoid Haldiram's Hyderabadi Biryani frozen rice dish like a plague.
Instead, walk upto
Dakshin Express
on Oak Tree Road in Edison or
Trupti Biryani
on Green St in Iselin and order a plate of Biryani dine-in or takeout.
For the Hyderabadi Biryani peddled by
Haldiram minute khana
is zero on heat, low on spice and flavor and worse tasted like Tomato rice. - ©
OakTreeRoad.us